Study shows 35 percent of employees feel "lonely and lost" due to the prevailing work from home culture.
Work from Home (WFH) further affects the mental health of employees to a large extent.  A study of the impact of WFH on the mental health of Information Technology company employees shows that 35 percent of employees felt 'lonely and lost' while working alone. Another survey in the same study shows that 47 percent felt 'disconnected from the real world'.  Around 53 percent employees mentioned that no efforts were made by their organisations to reduce the mental health impact of working from home. The study was conducted by Asia-Pacific Journal of Health Management.
During the pandemic, it was necessary to take such measures to prevent the spreading of the deadly virus. But according to the study, the continued WFH is directly affecting the mental health of employees. It showed that 67 percent of the employees have mentioned that their workload has increased significantly during work from home.
Misha Arora, an employee at KPMG Global Services said, "Coordinating with the team over calls and messages is a huge task and sometimes it becomes difficult to explain certain things over calls. Also, now we tend to sit longer hours at our desk because unlike earlier, when we had fixed timings to leave from office. Now, due to working from home we don't have any fixed logging off timings. It is majorly affecting me physically as well as mentally."
Karan (name changed) an employee at Amazon said, "I have been working within the four walls for more than two years now. Since I was already dealing with anxiety issues before COVID-19, work from home after the pandemic made it even worse. Before WFH, I used to socialise with people, but now it is just me, sitting alone in a room working extra shifts which makes me more anxious."
He added, "While working in office, I used to work for nine hours but now I have to work overtime because everybody is doing that. So, unfortunately, due to the competition, I have to work unwillingly for extra hours which give a lot of pressure and put burden on me."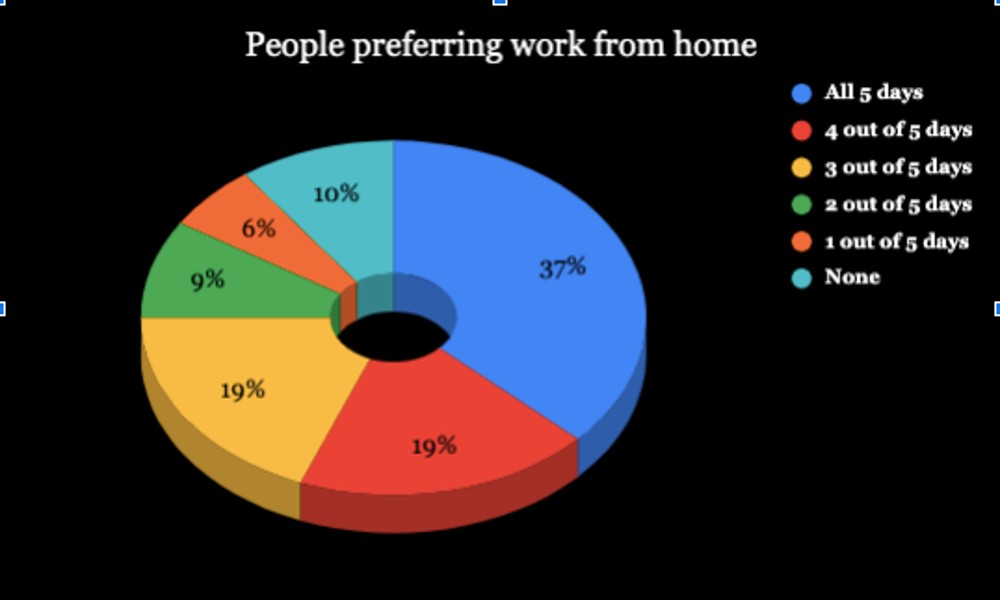 Akhil Varghese, Talent Acquisition Recruiter at Amazon said, "50-60 percent of our employees are currently working from home. We prefer WFH because the employees have the flexibility to manage work and family simultaneously."
One Senior Executive at Human Resource Department of Dentsu International said, "Companies prefer WFH because many of them who had leased out properties did not continue with them after the pandemic. Office space has become a challenge. Also, a lot of investment was made in technology to enable remote working. This has enabled the companies to hire employees for remote work directly at a lower cost."
She added, "Over 70 percent of our employees are working from home but employees have requested for a hybrid culture where they can come in once or twice a week for conversations which are best had face to face. We have supported this request because it also helps in building connections. We have a lot of new joiners and this ensures that they get to meet their teams once a week and get to know them personally outside of virtual meetings."
Thejita V M, Personality Development Teacher and Counsellor said, "Work from home is severely affecting the mental health of employees because there is no particular routine they follow while working from home. Also, I feel it is a personal choice that every employee deserves to choose. The company should only worry about productivity."