Senior citizens said that civic authorities have done little to improve the shoddy condition of footpaths.
*Aruna walks slowly towards a fruit and vegetable shop which is just a few blocks away from her house in Jayanagar. Wearing her favourite pink and cream saree, the 73-year-old walks with an unusual enjoyment in her steps. She smiles and says she is excited—her day is often very lively and active, with friends and family often pouring into her house for a meal or a coffee. Suddenly, she trips—luckily, she gains her balance and looks down—the uneven footpath, she says, are not an unusual obstacle that she and her friends face every day.
"It is like playing one of those video games my grandson plays, you know? I have to watch every step I take. Because the very next moment, there might be a shop, tree or vehicle on the footpath,"Aruna said.
Other senior citizens echo her concerns. *Vanaja is a 64-year-old advocate who has often pushed for civic changes like street light installations and footpath maintenance. "It took me countless calls to even get the authorities to hear me—the footpaths outside my house were so uneven. Yes, they finally evened it up, but it takes so much time to get anything done. I cannot even walk in some areas the footpaths are that bad," she said.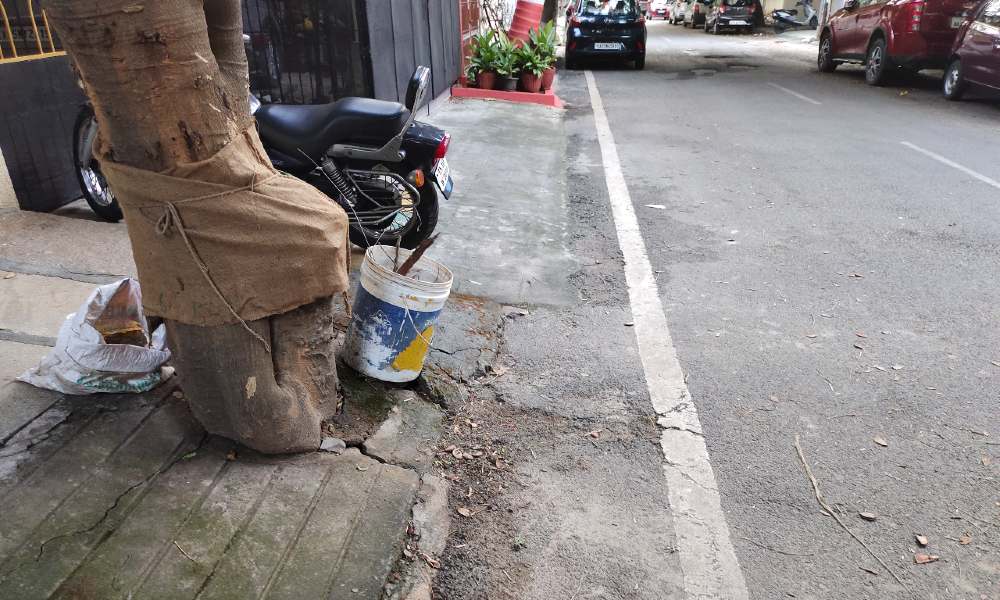 The Indian Road Congress stated in their guidelines that footpaths should be even and between 1.5 m – 1.8 m.
"Sometimes these footpaths are so narrow, I am afraid I will be hit by vehicles. I walk slowly because of my weak knees. In a way, this helps me at least be careful about the uneven parts. But it is a pain," said *Vijaya, a 75-year-old on her way to her neighborhood temple.
In Karnataka
In November 2021, National Crime Records Bureau (NCRB) released data about pedestrian deaths in India—a whopping 13 percent (1,536 out of 11,901) were from Karnataka alone.
Vijaykumar, chief engineer, Rajarajeshwari Zone, Bruhat Bengaluru MahanagaraPalike (BBMP), said that a population rise has increased the challenges in footpath construction. "I agree there are problems. But in fact, major, bustling areas all have good footpaths. Only the areas which are not so major may not have such good footpaths," he said.
He added that there is a shortage of staff and a shortage of resources. "Also, sometimes other public institutions like BESCOM and BMRCL tamper with the roads—actually, if all these bodies came under one umbrella, I feel things would be more coordinated," he said.
Vijaykumar said that many citizens do not do their part in footpath maintenance. "They plant trees right in the middle of a footpath. Then they complain. And when we do build a nice footpath, vendors settle there. And if we widen the footpaths, the roads get smaller. What to do?" he said.
However, senior citizens say they want a solution to the situation.
Aruna said that the condition of footpaths has deteriorated. "I have lived in Bengaluru since 1971. As the years went by, more people have come here from different parts of the country. As a result, there is more crowd, more vehicles—but the roads and footpaths are not able to accommodate this," she said.
Geriatric experts, , said that footpaths need to be more senior-citizen friendly. Jayalakshmi, a geriatric nurse for almost 40 years and a senior citizen herself, empathizedwith the challenges of the elderly. "Up and down, up and down, that is how our footpaths go. I find it so difficult to walk these days," she said.
She added that footpath engineers must prioritize the comfort of the elderly. "When it comes to development, we must always look at what is convenient for the weakest section. Now, rich people can afford a caretaker. What happens to the old people from other parts of society? How can they walk peacefully on our damaged footpaths?" she said.
She added that the most obvious solution is to fix footpaths. "But if we have to manage, maybe appoint a public caretaker for the elderly," she said.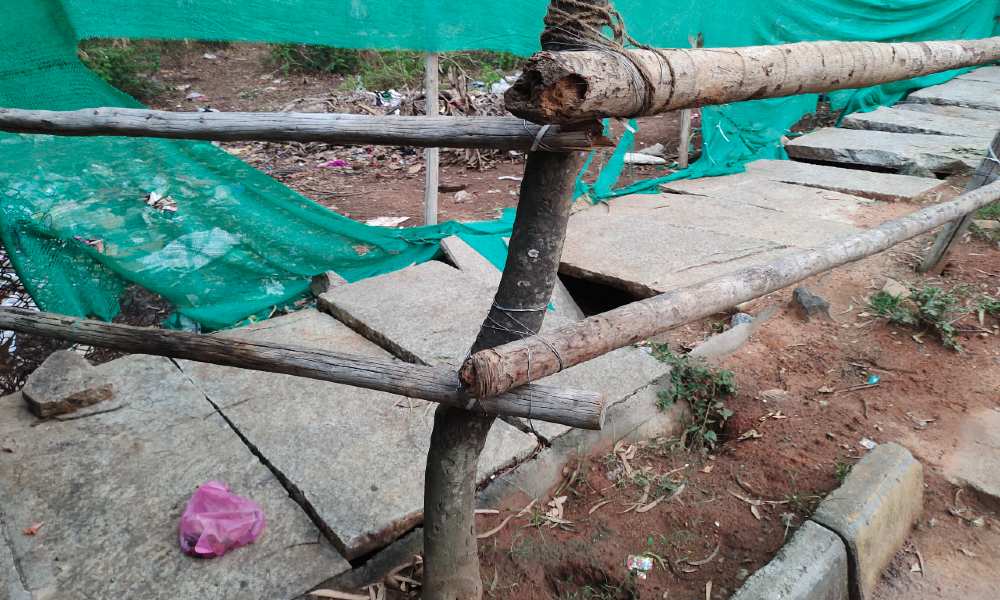 Vanaja said that good footpaths are a necessity, but citizens and civic authorities need to work together to have a neater city. "The work is mutual. It is easy to complain—but as citizens, we can also do our part—maybe by not parking on the footpath or planting trees in the middle. Ultimately, it is our Bengaluru," she said.