Despite issuing a public notice on September 14, 2021 Bruhat Bengaluru Mahanagara Palike (BBMP) has failed to ensure that there are no wires on trees.
Bengaluru: Internet service providing agencies and TV Cable Operators continue to thread wires through trees despite a public notice issued by BBMP Tree Officer and Deputy Conservator of Forests on September 14, 2021.
Shailesh Kumar Tiwari, 47, owner of Banaras Pan Shop at RV Road, South End Circle said that dangling TV cables from trees get tangled around people's legs. "Many people, especially school kids and old people fall on footpaths because of this; so they prefer to walk on roads instead of footpaths which is very dangerous," he said.
He added that a few months ago, BBMP Forest Department's workers came to remove wires as per the court's order but they only removed half of them.
The Tree Officer and Deputy Conservator of Forests, BBMP issued a public notice stating that the banners, wires, and nails are to be removed by the person concerned within seven days from the issue to the circular (from September 14). However, months after, wires are still hanging from many trees in the city.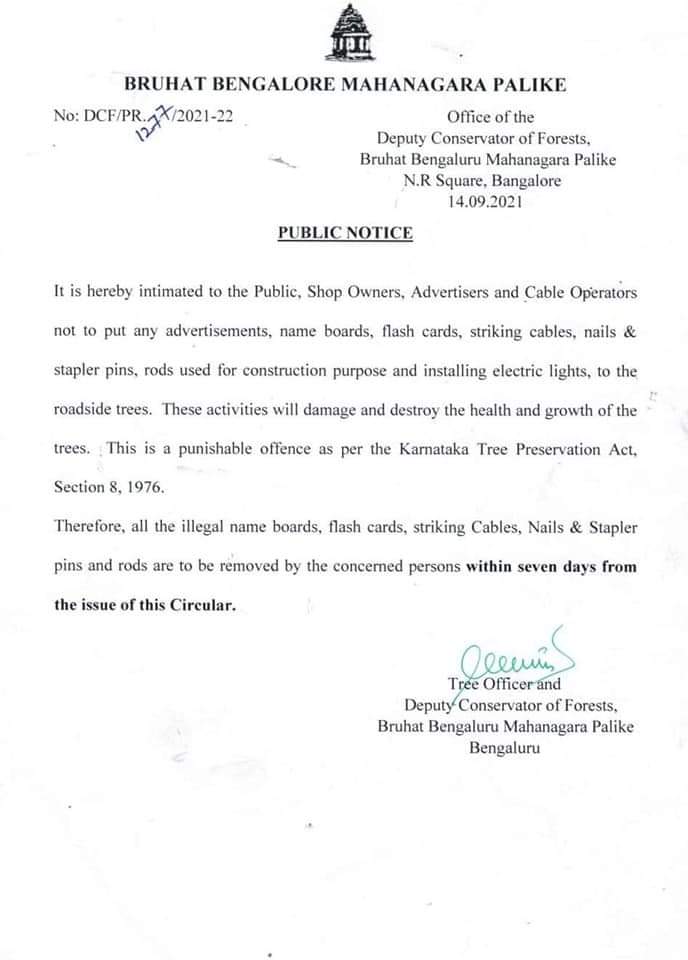 Javed Pasha, 54, owner of Southend Service Centre at South End Circle said, "A few months ago, we (he and his neighboring shop owners) ourselves had to cut the wires dangling on trees because they were on the road.
"About three months back, these wires got stuck under a bus' tire restricting the movement of the bus. A policeman came to rescue, cut the wire, and tied it to the nearby pole," he added.
Kumar, 28, owner of Cake of the Day bakery at South End Circle said, "I have been running this shop for three years now, the wires on trees are there since then."
Praveen, a general store owner at South End Circle said that in 2019, the BBMP Forest Department's workers came to take off the wires as the residents complained. However, the internet service providers put them back as always, he added.
Kumar MS, 40, a driver at BBMP Office, South End Circle said that the Forest Department of the BBMP doesn't care enough to remove the wires on trees in front of the BBMP South End Circle Office.
"Even the commissioner and the higher authorities of the BBMP South End Circle don't file complaints for wires on trees to the Forest department," he added.
Mohan, 35, owner of Venkateshwara Cable TV, Munekollal said that he has put his main cable wires underground but not the rest because BBMP usually dig the roads for construction and damage the cables underground.
Rajesh, 42, owner of Raj Cable Network, New Tippasandra said that his cable wires go from building to building and he doesn't put wires on trees.
He further said that he has never faced any issue for not putting wires underground.
Vijay Nishanth, Environmentalist, Vruksha.com, said that according to the Karnataka Tree Preservation Act advertisements, name boards, flashcards, striking cables, nails, stapler pins, and rods used for construction and electric lights on trees is illegal and a punishable offense.
"Anything wrapped or nailed on a tree damages its tissues and affects the overall growth of the tree. The wires entangled around the trees give them a choking experience. The Karnataka Preservation act clearly states that whatever is obstructing the growth of tree is illegal, thus, nothing should be on the trees," he said.
He further said that installing wires underground can solve this problem as there is no space beside the roads and these wires keep falling on the roads causing accidents and this will also prevent harm to the trees as well.
V. Govindhara JU, Tree Officer and Deputy Conservator of Forests, BBMP said that the public notice on September 2021 was issued for public awareness. The law is there but the forest department doesn't implement it because the people who put the wires on trees remove them whenever a public notice is issued, he added.
"Our staff usually goes and takes off wires, nails, buntings, banners, etc. from the trees when we receive any complaints but we don't file any cases against anyone because we haven't received any major complaints," he explained.
Dr. AN Yellappa Reddy, Environmentalist, member of Foundation for Ecological Security of India said, "In spite of issuing orders from the highest authorities, the grass root level officials fail to recognize the importance of saving trees and injuries to the trees."
Therefore, the government should take action against the people who are putting wires, banners, etc. on trees and the officials who are not implementing the law and order, he added.