Veteran journalist P. Ramaiah highlighted media ownership issues and laid importance on development and investigative journalism.
Journalists demanded bus passes, health cards and other amenities at the swearing-in ceremony of new office bearers of the Karnataka Working Journalists' Association (KWJA). Covid-19 protocols at the gathering of almost 100 people were amiss.
President of KWJA, Shivananda Tagadur raised the demands, especially for newly accredited journalists living in rural areas. He demanded free bus passes and health cards for all the journalists.
Senior journalist and ex Member of Legislative Council (MLC), P. Ramaiah highlighted that journalists get less salaries compared to other professions like software engineers. He said that working as a journalist is not easy since it is a full-time job and affects the life of the individual as well. He urged the government to grant financial support to journalists. He also made a case for compensation for those children who lose their parents to the profession of journalism. He called for scholarships and quotas for children of journalists.
He laid importance on development journalism and said real journalism starts at the Taluk, Zila and Panchayat level. He said that one of the main tasks of a journalist is to write about the social issues prevalent in the society.
At district levels, there are a lot of agricultural-related developments and the journalists must focus on them, he said. He also asked the budding journalists to focus on investigative journalism.
PS Harsha, Information Technology (IT) department commissioner said that a lot of development works are being done by the government at the taluk level. Journalists must write about those developments to promote the steps taken by the government. He said that this is necessary to make more people aware of such endeavours so that maximum people can avail the benefits of government schemes.
Ramaiah laid importance on media ethics and objectivity in journalism. Highlighting the ownership issues in media, he said that small newspapers have to give 30 per cent of their space for advertisements for survival.
New office bearers of KWJA were sworn in during the ceremony at Nayana Auditorium in Kannada Bhavan. District unit presidents, general secretaries and state committee executive members of 31 districts were present to take the oath.
Along with Ramaiah and Harsha, Basavaraj Horahatti, Chairman of the Karnataka Legislative Council was amongst the delegates present at the event.
Basavaraj who hails from the Haveri district in north Karnataka said that a sum of Rs. 1.9 lakh was distributed among the journalists of four districts—Gokak, Karwar, Haveri and Dharwad. He added that at the behest of Shivananda they would be distributing it further to more districts.
Harsha said that there are a lot of issues in the media today and the state government is recognizing them. Earlier only permanent employees of a media agency were given health cards but now they are issued to more people. But not all journalists can get a health card. Only those who have media cards from the Karnataka government are eligible for it.
Further, Harsha highlighted issues with the online portal for issuance of the card and said that the government is working to solve those issues.
While the event saw almost 100 attendees, it lacked proper covid-19 protocols. Shivananda attributed this to the lack of serious reportable events (SRE) and a high number of vaccinated people in BBMP areas. Though he clarified, "All wearing masks should be a must."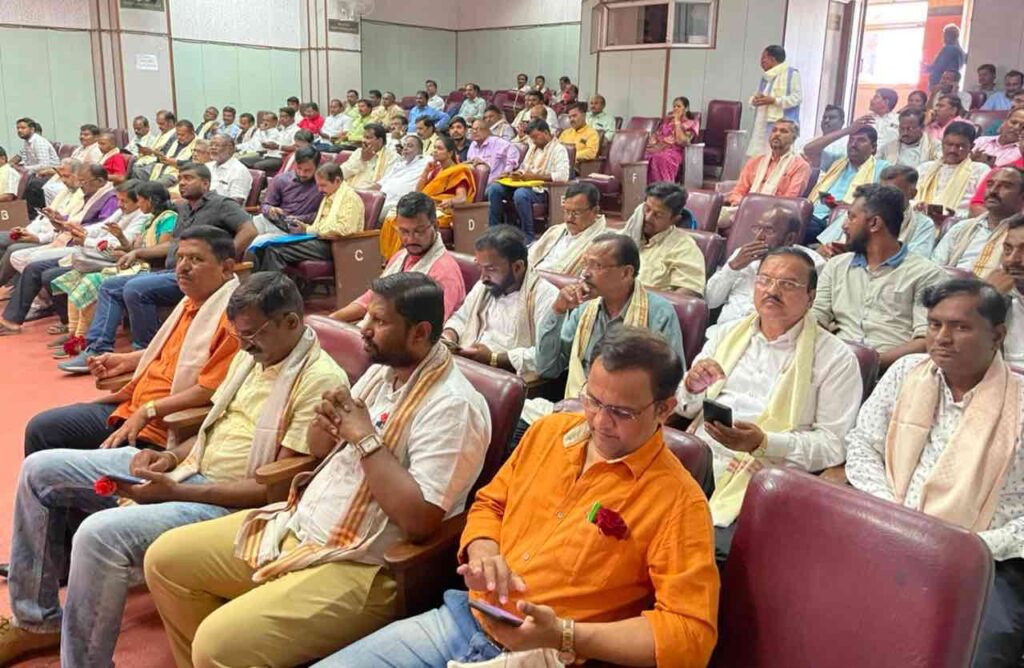 Lochanesh Hugar, District president of Dharwad district for KWJA said that the government of Karnataka had cancelled the mask mandate 10 to 15 days back.
On the contrary, the government had mulled about removing the mask mandate but had not taken any decision yet.
Gujjar one of the attendees and consultant of R&A for Karnataka State said, "People have a misconception that corona is gone. The government has also become lenient. Most of these functions are being organized without the mandate of masks."
Dr Shubhangi, an epidemiologist said that masks have proven to be 80 per cent effective in controlling the virus. Some states had issued guidelines that made masks optional but they had to backtrack from this decision.
Recently, the Delhi government had to make masks mandatory again after a surge in Covid cases.
Dr Shubhangi added that people must follow the World Health Organization's (WHO) guidelines as well as the government's guidelines. "Journalists are amongst the role models for the general public and they have an added responsibility to do the right thing," she said .