The Congress threatened to gherao the chief minister's residence if no action is taken against KS Eshwarappa after a contractor committed suicide.
Bengaluru: The Congress on Tuesday demanded the arrest of KS Eshwarappa, Karnataka Minister of Rural Development, and Panchayat Raj because a contractor committed suicide after accusing Eshwarappa of corruption.
The allegations arose as a result of the suicide of Santosh Patil, a contractor who accused Eshwarappa of asking for commission for a project in a suicide note. The police are currently investigating the matter.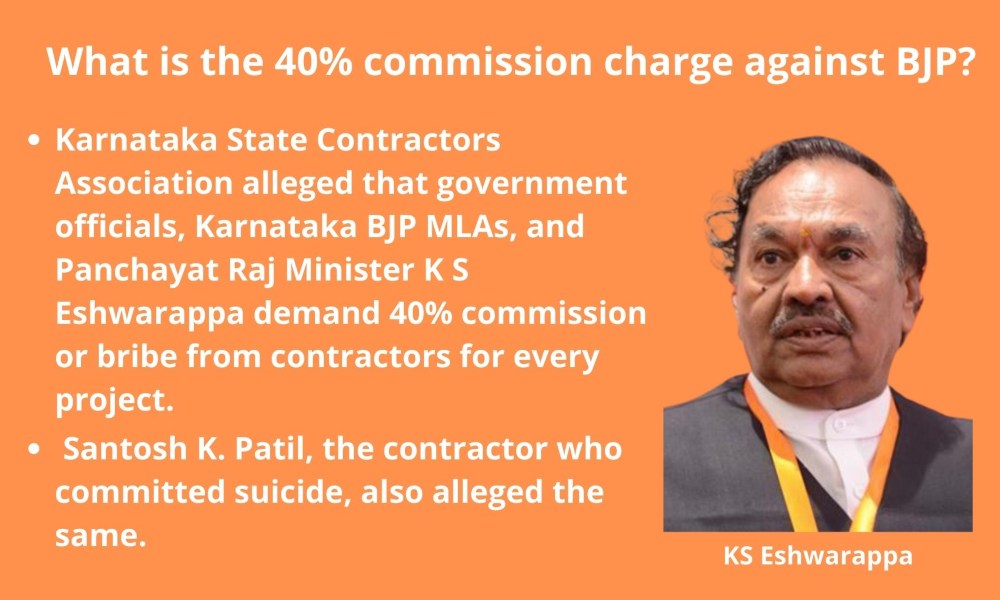 The General Secretary of All India Congress Committee and Karnataka-in-charge Randeep Singh Surjewala said, "Right from head to toe the Bharatiya Janata Party (BJP) is engulfed with corruption."
He further said, "Let people of Karnataka judge, when the corrupt government under Mr. Bommai does not even spare its own workers, what could they be doing to the people of Karnataka."
Echoing Surjewala's words, the leader of the opposition at the Karnataka Legislative Assembly, Siddaramaiah asked chief minister Basavaraj Bommai to immediately arrest Eshwarappa and dismiss him from his cabinet. He said, "The government should register a case against Eshwarappa under section 302 . . . this is a serious offense, punishable with life imprisonment or the death penalty."
Surjewala also accused the BJP's central leadership of corruption. He said, "The prime minister always says 'na khaunga ya khane dunga' but instead there is 'khaunga aur khilaunga' in Karnataka."
Moreover, he alleged that the recent communal tensions in the state are there to 'put a lid over corruption.'
Surjewala also said that the Congress might gherao Bommai's residence if the government does not take any action against Eshwarappa.
However, Captain Ganesh Karnik, the spokesperson of the BJP said that the matter of resignation is 'out of question.' He said since the matter is under investigation the chief minister cannot ask a member of his cabinet to resign based on a suicide note.
He also said that the Karnataka state leadership of Congress has failed in its role as opposition. So people in Delhi like Surjewala, are 'calling the shots' for the state unit.