The registration process for 2022 was to start on April 5 but has been delayed till April 12 now.
The waiting area at the Common Entrance Test (CET) cell just outside the Karnataka Examination Authority (KEA) was filled with students and their guardians. With hands full of documents and bags on their shoulders, they all patiently waited for their turn to come. Many would jump up and latch on to the iron railing on one end against which the help desk was located. The students waiting were complaining that they were getting vague answers from the help desk when they asked for any sort of information. They were being asked to wait for their turn to come.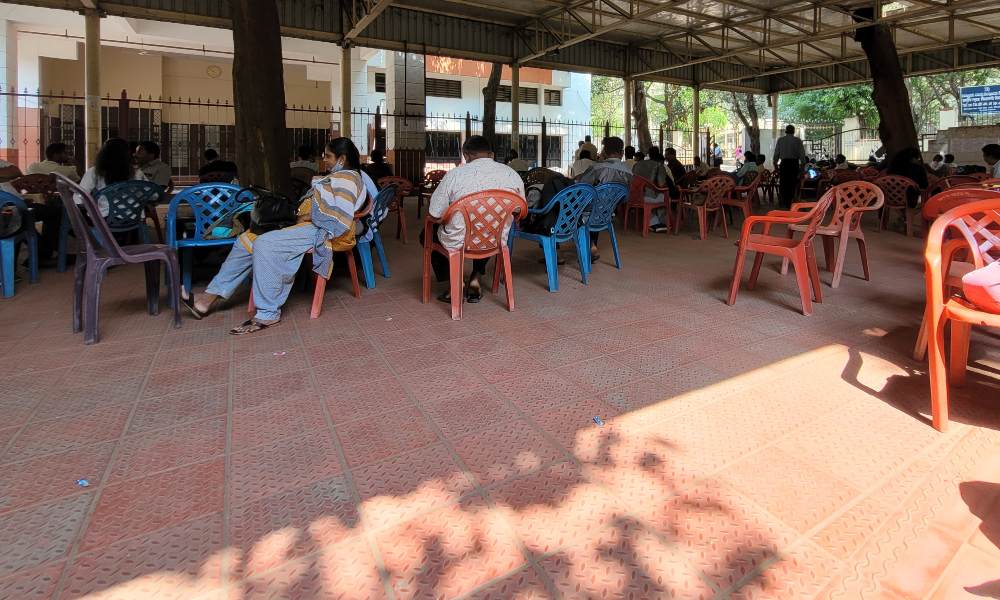 The CET exam for 2021 was conducted in August last year, and the results were announced in March 2022, said Sushma, an electrical engineer. She spoke about the delay as she waited with her sibling for her admission. "The exam had taken place in August and the results were not declared until last week, we did not get much time to gather all the documents for verification process," she said. She also explained how her sibling's education was getting affected as the colleges started two months ago.
The students who were waiting for CET results had not gotten admission anywhere. Now she would have to cope with the assignments and courses that she missed because of the delay, she said.
She also explained how her sister would not have any time to prepare, as she would complete her registration process today and will have to join college from tomorrow. For people like her who were travelling from faraway places, it will be difficult to handle , she said.
| | | |
| --- | --- | --- |
| PARTICULARS | NUMBER OF CANDIDATES | PERCENTAGE OF STUDENTS |
| Total number of candidates registered for KCET 2022 exam | 2.01,834 | — |
| Candidates appeared for Biology | 1,62,439 | 80.48% |
| Candidates appeared for Mathematics | 1,89,522 | 93.90% |
| Candidates appeared for Physics | 1,93,588 | 95.91% |
| Candidates appeared for Chemistry | 1,93,522 | 95.88% |

KCET Exam 2022 – Previous Year Statistics
| | |
| --- | --- |
| PARTICULARS | NUMBER OF CANDIDATES |
| Total candidates appeared | 1,83,231 |
| Total number of boys | 90,601 |
| Total number of girls | 92,630 |
KCET Exam 2022 – Previous Year Statistics (Gender-wise)
A 2021 report states that Karnataka Common Entrance Test (KCET) 2021 results were announced on September 2020 last year but KEA was still verifying details which had led to delays in publishing the schedule for counselling. It also mentioned that the delays were causing inconvenience to all other institutions, including the Consortium of Medical Engineering and Dental Colleges of Karnataka (COMEDK) and private universities, which wait for KEA's schedule to decide their counselling dates.
Even the registrations for 2022 have been delayed, Initially they were supposed to start on April 5, and the students have now been asked to keep an eye on the website for latest dates so they don't miss the registration deadlines. As per the schedule released, the registrations for the entrance exam are supposed to end on April 20, 2022.
The authorities, email enquiries or helpline numbers have not been very helpful, said Deepti Reddy (18), a Horamavu resident. The server would keep crashing and enquiries seemed to give no response, she said Due to this, she and her father made multiple visits to KEA to complete her registration process.
She also spoke about the daily schedule and how it would keep getting delayed. She said that the website showed that the counselling will start at 9 a.m. on Monday, later it got delayed to 11 a.m., and eventually it would start around 3 p.m. "By the time my turn came for seat allotment it was almost 9:30-10 p.m. in the night. I had to wait all day and eventually comeback next day as well," she added.
The authorities at the KEA said they were under a lot of pressure currently, they said that the daily processes were going on and today the allotment for B Pharma students was taking place. They did not give much clarity about what was the reason for delays and server issues with the official website.