Many long-term contract workers of the Indian Telephone Industries Limited (ITI) who were laid off without notice are protesting in Bengaluru for the last 86 days.
Hemanth Kumar has been heading the contract workers' protest from day one. He has been arranging meetings, gathering all the workers, and planning the next steps of the protest. He explained that the workers are demanding their jobs back and the payment of their wages for their work during Covid-19. They are also demanding a hike in their wages because the impact of Covid-19 has drastically changed their lives.
"I hope it is not wrong of these workers to demand what they deserve. They were laid-off from their jobs without any notice from the company. Alongside the workers who were laid-off, some other workers, who are still working in the company, are not paid for the work they did during the initial days of Covid -19," he said.
Workers at ITI do various types of work ranging from equipment development to delivering services. Other than this, the company produces goods like access and subscriber premises equipment, etc.
Worker's plea
Many workers have families to take care of, children whose education has been disturbed, house rent dues, etc. For some workers, the job at ITI is about the survival of themselves and their families.
A protester said that he cannot afford to lose a job now. "I am the breadwinner of my family. If I do not earn anything, I don't know what will happen to my family," he added.
Guru K, a former cleaning staff member at ITI explained about the low wages he used to get. "Most of the workers used to get monthly wages around Rs 6000 to Rs 9000. Some workers got Rs 10,000. With the drastic changes of Covid-19, we all felt that we were paid very less.
We are demanding our jobs back and a raise in the pay scale to a minimum of Rs 12,000 to Rs 13,000 for everyone," he added.
On December 1, 2021, many workers of the ITI were not allowed to enter the premises of the company's plant in the KR Puram area of Bengaluru. Later, on the same day, they were informed by a human resource representative that their employment had been terminated by the company stating that the contracting agency attached to the company had been changed. Since that day, these workers have been protesting outside the ITI plant's main office.
All India Central Council of Trade Unions (AICCTU), which has been at the forefront of the protests, took out a rally with the protestors on February 24 from the ITI main gate. Veerakumar, president of Karnataka State AICCTU said that they will not stop the protest until the demands are met. "These workers have nowhere to go. Most of them could not read and write and cannot apply for other jobs. ITI must give them their jobs back," he added.
Veerakumar said that many companies hire contract workers so that they can cut their costs. "Another reason why these companies hire contract workers is because they do not have to give these workers benefits like provident funds, health and life insurance, etc.
Many of these workers do not know of their rights and various social benefits. We are trying to make them aware of their rights," he added.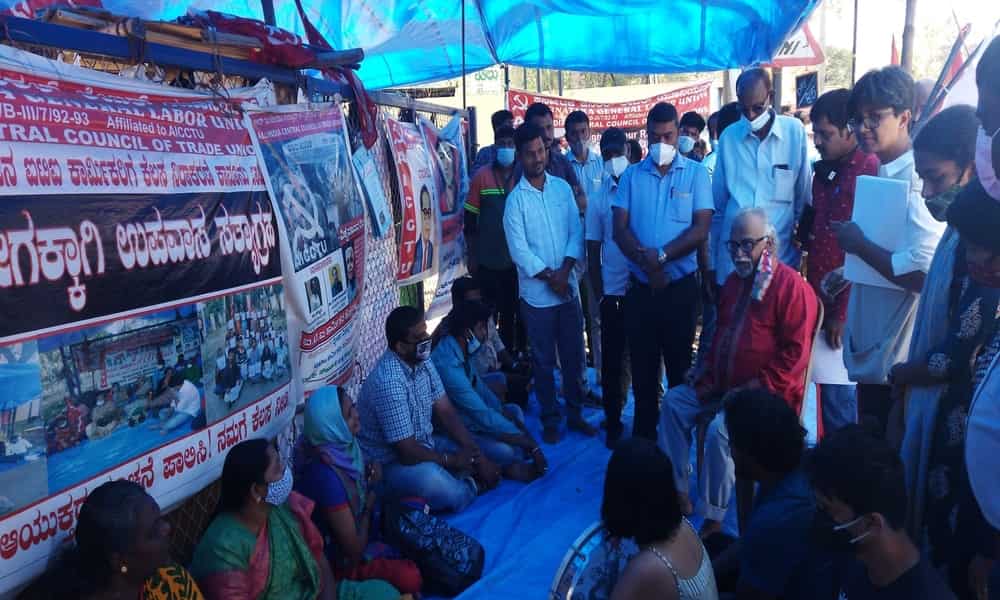 H Mahadevan, former deputy general secretary of World Federation of Trade Unions (WFTU) and member of All India Trade Union Congress (AITUC) slammed the ITI's management. "This is the company's fifth new management team change in the last four-five years. Whenever the management is changed, they bring out a new set of rules and regulations.
A few years back, the ITI management set out a list of rules for the workers. The workers rejected these rules and protested. Later, the workers presented their modifications to the prescribed rules. The management accepted those," he said.
ITI in a letter to the National Stock Exchange (NSE) and Bombay Stock Exchange (BSE) titled Disclosure on impact of COVID-19 pandemic on the Company, explained the impact of Covid-19 on its overall functioning. ITI mentioned that the requisite systems are in place to tackle the impact of COVID-19 in the future, even though there is some uncertainty.
It further said that due to delays in getting components, raw materials, orders, working capital constraints, the production and project execution is likely to be affected, which may impact the company's operation.
Veerakumar questions that if the functioning of ITI during Covid-19 was good, why did it sack so many contract workers? "In 1996-2000, the IT boom in Bengaluru boosted the telecom industry's work. I still remember buses full of employees were running day in day out in the ITI colony near Bengaluru's ITI plant. Around 10-15 years ago, some workers were laid off. A similar incident happened in 2017 or 2018. The management then cited the reasons as shortage of funds and a new government policy.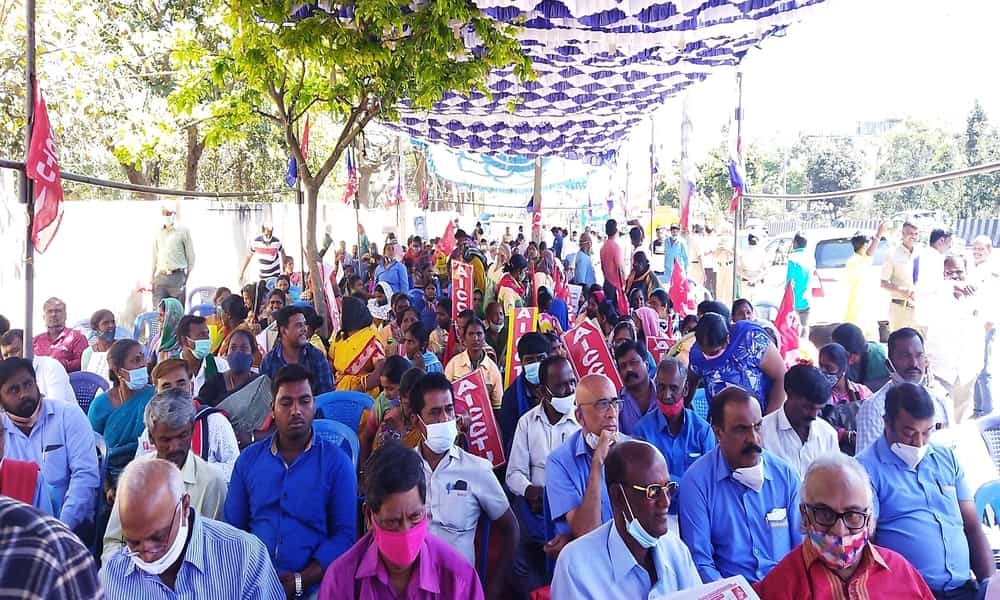 Anurag Bhatia, a telecommunications expert explained that with the introduction of new technology in the telecommunications industry, many traditional workers do not have the required skills. "Telecom operators have moved to Gigabit ethernet Passive Optical Network (GPON) and Voice-overInternet Protocol (VoIT) technology. These methods use fiber cables whereas traditional telecommunications methods use copper. Many workers who have been working for years in ITI may not have the knowledge of the skills and technical elements," he added.
M.D. Dwivedy, the deputy general manager, human resources and public information office at ITI said that there are new workers in place because they have changed the contracting agency. "We do not keep the record of how long these contract workers are working for us. Whenever we change the contractor agency for manpower requirements, the contractor makes decisions on the supply of manpower to the company," he added.