LPG auto drivers are hesitant about buying e-autos as they are expensive and give less mileage.
High maintenance costs of electric auto rickshaws are keeping Liquefied Petroleum Gas (LPG) auto drivers at bay. Apart from their high buying and maintenance cost, e-autos take four to five hours to charge completely at an Electric Vehicle (EV) charging station. Moreover, fully charged e-auto can cover 60 kms whereas an LPG auto requires 2.6l of LPG for the same distance. This makes an LPG auto more preferable.
Akram Pasha, an LPG auto driver in Banashankari said, "I rent an LPG auto for Rs. 200 everyday, whereas for e-auto the rent is Rs.300 per day. LPG autos, on the other hand, run approximately 125 km on about 6l of LPG and hardly take two minutes to get filled. At the end of the day, after paying for LPG, food, and the auto rent to the owner, I am left with Rs.400."
Srinath, the Deputy General Manager of Smart Grid and Electric Vehicle (SG & EV) at Bengaluru Electricity Supply Company Limited (BESCOM) said, "An Alternating Current (AC) charger takes about four to five hours to charge an e-auto, whereas a Direct Current (DC) charger charges it in half an hour. To reduce the long wait for charging we are making more DC-EV charging stations which we introduced two year ago. BESCOM is installing them on its own without the government's financial help."
As E-autos cannot take more load (than LPG autos) and often run out of battery quickly, it further increases the 'range anxiety' amongst its drivers. Dr. H. N. Narasimha Murthy, Professor and Dean (R&D) of Material Science, R. V College of Engineering said, "The power of the batteries can be increased for getting higher range. But then, charging time and cost would also increase proportionately."
Mr Srinath said that there are 334 EV charging facilities by BESCOM, and that installing an EV charging station costs about Rs 10 lakhs. The battery life depends upon the manufacturer of the battery and the loading condition of the auto as the mileage for carrying one passenger is very different to that of four passengers.
As an alternative to the long waiting hours at EV charging stations, and to increase the adoption of electric vehicles, Finance Minister Nirmala Sitharaman in the 2022-23 Budget speech said, "The private sector will be encouraged to develop sustainable and innovative business models for 'Battery or Energy as a Service'." The intention of the government was to bring in standardisation and inter-operability, to enable e-auto drivers to use batteries from any swappable battery charging station. Finance Minister added, "This will improve efficiency in the EV eco-system."
DGM of SG & EV, Srinath said, "BESCOM does not have any battery swapping stations, we only provide EV charging stations. For now, we are not at all into swapping battery charging, we are yet to look at the pros and cons of it." Under this policy, private companies like Honda, E-technology, and Sun Mobility have installed battery swapping stations at Banashankari Metro Station, National College Metro Station, and Kormangala Metro Station.
Other companies like Infinity Bounce have installed EV charging stations at Jayanagar Metro Station, M.G. Road Metro Station and Indiranagar Metro Station.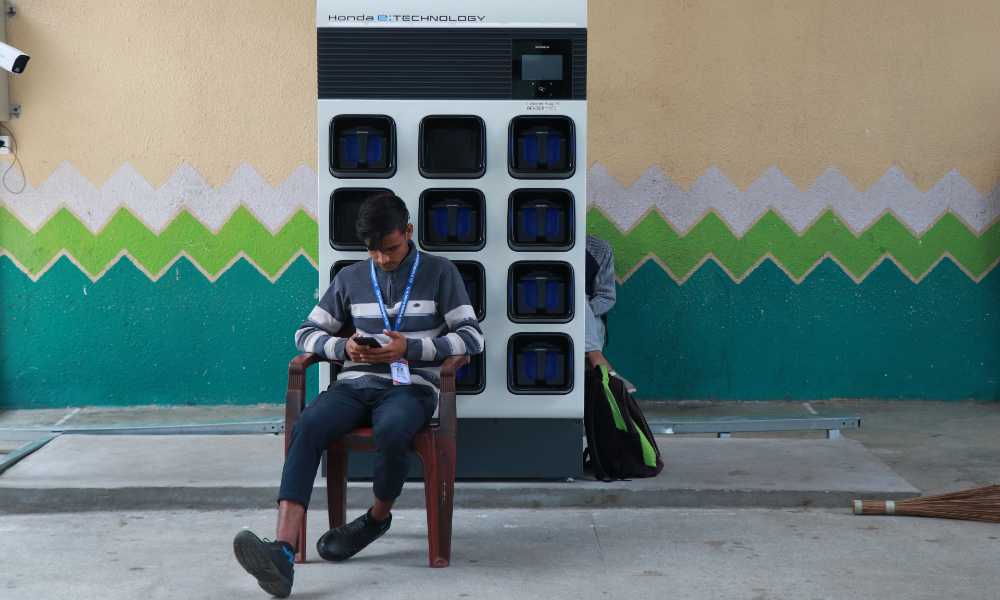 Janardhan, co-founder of Plug easy.in, a charge management software company said, "The distance that one E-Auto can cover depends on the road, if it is a declining road, the e-Autos are unable to use regeneration facility unlike other electric vehicles hence, end up using more power during inclination as well. And the power usage also depends on the load carried by e-Auto."
Poyej Ahmed, security guard of an automobile company, E-technology at Banashankari said, "Swappable batteries are easy to handle, there is no need to wait. The auto drivers can exchange their batteries with charged ones for Rs. 50 to Rs. 60 and leave." Despite opening the swappable battery charging stations around two to three months ago, the same company's e-technology charging station receives three to four e-autos every day. The EV charging station at the BESCOM Head Office, however, gets five to six e-autos every day which is more compared to the recently installed swappable battery stations of private companies.
Except for BESCOM Head Office and certain locations where private firms have installed the charging stations, EV charging stations are provided at all the Bruhat Bengaluru Mahanagara Palike (BBMP) offices and other government offices.
E-Autos are being introduced as an alternative to increasing pollution. To promote EVs, Government of India rolled out FAME-I (Faster Adoption and Manufacturing of Hybrid & Electric Vehicles) scheme in 2015 with a total outlay of Rs.895 crores. Itwas followed by FAME-II scheme in March 2019 with an outlay package of Rs.10,000 crores.
Despite these schemes, the less revenue earned due to the less mileage given after long hours of battery charging further adds to the expenses of LPG auto drivers making it difficult for them to opt for clean energy alternatives like e-auto. Dr. H. N. Narasimha Murthy, Professor and Dean (R&D) of Material Science said, "Government can provide incentives in terms of reducing cost of raw materials for making auto components and reducing taxes. Government can also provide subsidies for the buyers willing to switch to EV."