At least five buildings collapsed in Bangalore over a span of three weeks.
Bengaluru Bruhat Mahanagara Palike (BBMP) has not taken any action after conducting a survey in October to identify dilapidated buildings. The buildings in Bengaluru are collapsing because of improper implementation of National Building Code and BBMP Act of 2020 by BBMP, said T. Raghavendra, professor at R V College of Engineering.
Nagraj KAS, joint commissioner of RR Nagar Zone of BBMP said, "We have identified 23 weak buildings and are issuing notices to the owners but we are facing challenges in order to locate the owners because most of them have rented the houses and are living somewhere else."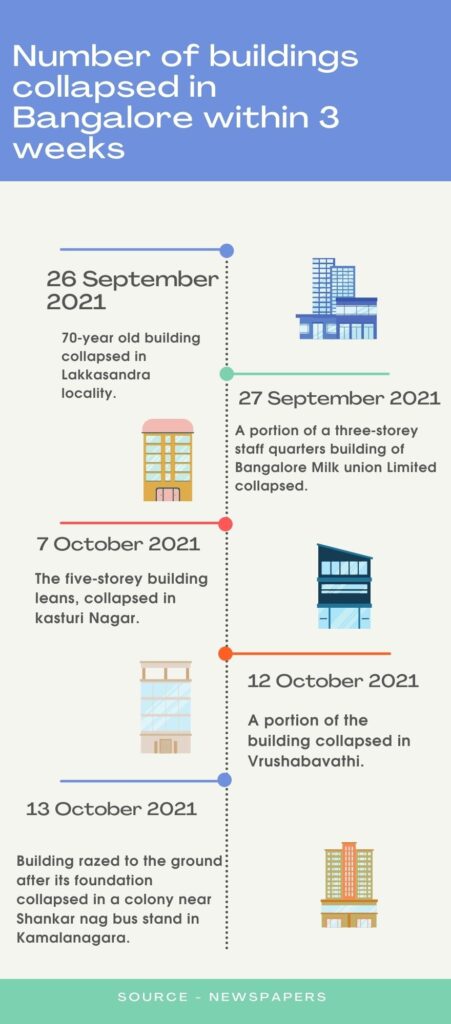 Atleast five buildings collapsed in a span of three weeks in Bengaluru Urban because of heavy rain. Even the new buildings are collapsing. Many buildings have lost their structural integrity and are on the verge of falling down. A three-storey building collapsed on October 7, 2021 and later it was revealed that the building did not have Occupancy Certificate. Another five-story building in East Bengaluru collapsed due to poor construction on October 8, 2021.
Professor Raghavendra said, "Most of the buildings don't have occupancy certificates and are built on wetland. The soil gets eroded due to rain and the buildings collapse."
Nagendraprasad K., secretary of Karnataka Real Estate Regulatory Authority (K-RERA) said, "We have posted a list of illegal buildings on our website to warn people. We are issuing notices to the builders who construct additional floors or do not follow the sanctioned structure."
Aman Agarwal[2] who lives in a Bangalore Development Authority (BDA) apartment at Mysore Road said, "I have been living here on rent for the past six months. A few weeks back I complained about the poor sewage system and I came to know that this building was built illegally and has not been registered with K-RERA."
On September 29, 2021, Gaurav Gupta, chief commissioner of BBMP directed the joint zonal commissioners to conduct surveys to identify dilapidated buildings in their area within a month. A total of 572 buildings were identified.
Rudra Pratap Singh, a lawyer, said that the BBMP Act 2020 lacks necessary legal provisions to stop illegal constructions. The a ct gives power to the zonal commissioners to issue notice but it does not specify the actions that can be taken to stop constructor from indulging in illegal constructions.
In a 2019 survey, BBMP identified 194 dilapidated buildings in the Bengaluru Urban but only 77 owners were sent notices. Out of 77 only 10 buildings were demolished. Further, no action was taken.
Sanjay S., owner of Majestic Constructions, said that most of the builders do not conduct soil testing before construction and they often do not use the materials according to the National Building Code of India (NBC).