NIFTY index of Small and Marginal Enterprises (SMEs) outperform NIFTY index of top 50 companies
Small and Marginal enterprises (SMEs) make a comeback after the pandemic with 43 percent growth in six months, performing better than big capital companies.
Small companies believe that their flexible structure is the reason behind their good comeback after the pandemic. Vandana Krishamurthy, Chief Executive Officer (CEO) of UrbanMali said, "The scale of our operations is much smaller; therefore, the effect of pandemic is definitely lesser than larger companies. Also, there is a lot more flexibility in the structure and the way we function."
SME listed in the NIFTY is Aarvi Encon Limited that specializes in manpower services. Mahesh Repal, General Manager in Aarvi Encon Limited, said, "Like other companies, our company was also pressurized. Our presence is there in the oil and gas sector which comes under essential services and that is why the manpower that we deployed was working round the clock.
However, he said, "Our pandemic effect was not so much. We sustained it sufficiently. Our quality of service was welcomed by the people."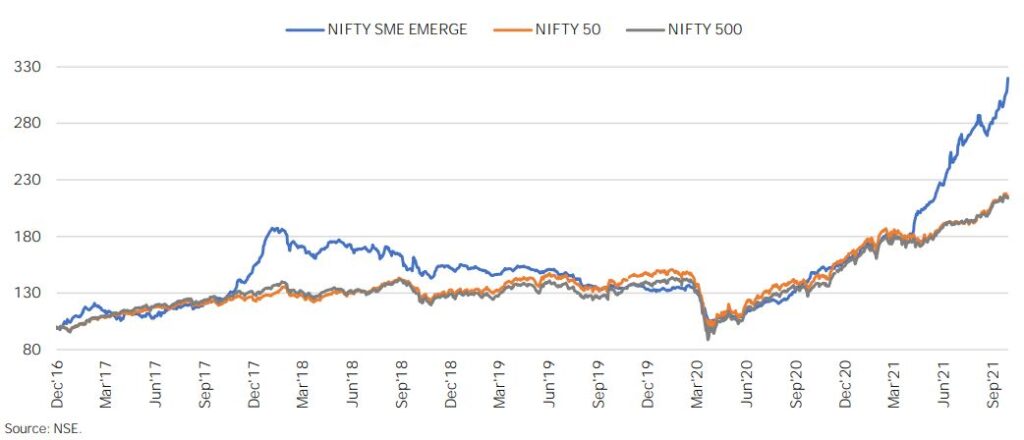 Moreover, the National Index of Fifty (NIFTY) for SMEs reached the highest ever in September 2021, rising to 320 points from 90 points in December 2016. The NIFTY of top 500 companies and 50 big capital companies lies below the NIFTY SME Emerge index.
J. Harsha, a stock analyst said, "SMEs always have bigger scope compared to the NIFTY 50 because the momentum of NIFTY 50 is quite gradual. But the SMEs have high volatility. The NIFTY 50 is all big capital companies, and hence they do not have to worry about the volatility even if the fall is big. But in SMEs, the fall has a big effect, and hence the recovery starts first in SMEs."
Harsha said, "The rise of SMEs is also due to natural uptrend and it was a bullish trend. Hence the stocks were picking up. We have to wait and watch if there is any wave upward or this is the maximum. It is also very difficult to choose a SME stock unless you are optimistic about it."
The limited area of operations can be a boon and a bane for SMEs. Santhosh Kumar, Chartered Accountant in Bangalore said, "SMEs are the mass producer of employment. At the same time, they are dependent on the big companies. One of the main advantages of the SME is that they are managed well. Big companies are ready to go for a five thousand crore rupees or 10 thousand crore rupees loss but SMEs manage their own show to safeguard their future."
Jalpa Ghosh, Company Secretary in Bombay Super Hybrid Seeds Limited said, "Our company is going well in the same way it was going before the pandemic now."
Her company has more flexibility because the operations are limited to 50 to 60 employees. There is no confusion in the division of labour and the burden of salary, she added.
External Influences
Krishna Raj, professor at the Institute of Economic and Social Change, said, " SMEs are doing well, mainly due to some incentives provided by the government to emerging companies. The old companies are not making any profit. The new start-ups in the service sector have a promising business. This will create a good environment to start, but we have to see," he said.
In Nov 2017, NIFTY had 98 listed SMEs, which rose to 180 in Dec 2018. There are 194 small and mid-cap start-up companies that have contributed to this index.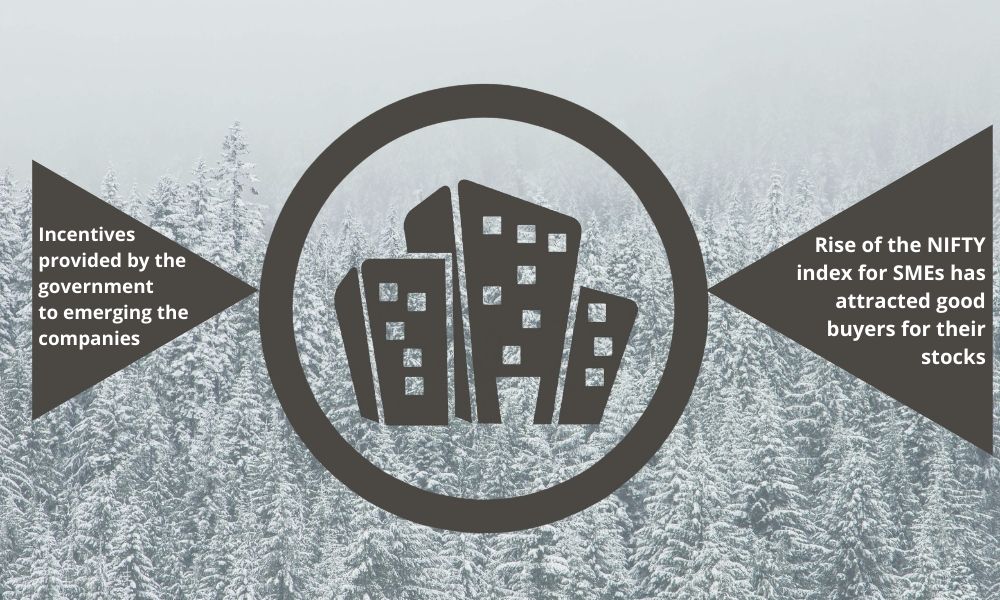 The rise of the NIFTY index for SMEs has attracted good buyers for their stocks. Banuprakash, a stock trader, said, "Small companies have more risk. Yet, the demand is increasing for SMEs. Covid management was better in Indian companies. Investments are coming more and more into the country. The trading is high, beyond any company's limitation at bullish prices."
The work from home culture during the pandemic also resulted in more investments towards the stock exchange who preferably bought small shares of SMEs. Banuprakash said that 60 to 70 percent of shares that the market has at present were influenced by the pandemic. "It's a hike creation," he said.
Future Predictions
However, experts fear that some of these companies can be a bubble whose stock values raised due to no significant reason and that they can burst at any time causing a bearish trend for investors. Harsha said, "NIFTY 50 is all saturated stuff. In SMEs, a share which is 100 may go up to 200 but a downward risk is always there. Also, the survival of SMEs is tough. Some companies are bleeding now."
Raj said, "The economy is now performing well, but the stock market is doing good means that something is fishy." He added that the rate of interest in returns for these companies has come down.
Similar to that, Harsha said that some of the SMEs can be bubble companies. He added, "There is no fundamental reason for going up. This is not the right time for someone to start their investment in SMEs.