The growth of the ready-to-stitch market has slowly taken over the local tailoring industry, leaving the tailors to cut corners.
Bengaluru: Manjunath's tailor shop in Kambipura was empty without a single customer. He sat alone, stitching a few fabrics that he had on his table.
He said, "I have seen my share of ups and downs during the lockdown. I used to get at least 10 customers before lockdown and now I hardly get any.. I bring fabrics and other materials from the K.R Market. I charge Rs.300 for stitching any piece of cloth with lining. I have to pay Rs.400 as rent a day to the owner with the money I make."
"I don't know how to use WhatsApp and that's why I haven't tied-up with any retail company as I don't have much knowledge about it," he added.
As the ready-to-stitch market is growing in India, the plight of local tailors too increases. Entry and expansion of international and domestic brands led to the increase of the ready-to-wear segment. Gradually, the online shopping industry has grown rapidly and outpaced the traditional tailoring services. Many local tailors have no business as people have switched to ready-made or custom-fit fabrics.. They have a few helpers, limited orders, and hardly any money in the family.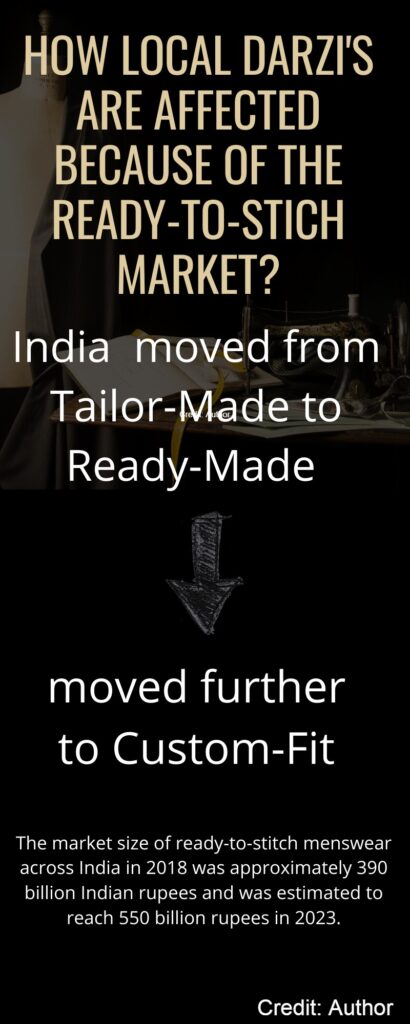 G. Kousar owner of Parimala – Lady Tailoring classes said, "I am into the tailoring business for the last seven to eight years. I had six members who attended the classes before in each batch, now it has come down to three. Apart from stitching classes I also stitch clothes and make some money from that business. My customers have reduced by half because of the pandemic and most of the orders I get are from my family and friends.
Until the late 1990s, most Indians depended on local tailoring services People didn't have many options to choose from ready-to-wear clothes due to a lack of size standardization. According to a report by India retailing bureau, people now prefer going for ready-to-stitch (RTS) fabric and make garments according to their sizes. "During the festive season, I earned a good amount of money but now due to the pandemic people don't celebrate any festivals much so my business has gone down completely. I earn Rs 10,000-20,000 every month. It is very hard to look after all the household expenses now," she added.
Most local tailors have started designing and producing masks to survive this pandemic. A few local tailors have contracts with offline and online retail companies. Some of these companies hire tailors through third-party vendors to fix flaws such as variations in sizes and lining.
Sumith Sunder, a resident of Maruthi Nagar who enjoys shopping online said,"I prefer buying online because it is branded and I trust the online shopping applications. Also, I get a lot of offers while shopping and it's attractive to buy clothes online."
Pushpa Krishnan, a resident of Kumbalgodu said, "I don't give my clothes to stitch to a local tailor because of Covid-19. Also, there is no guarantee as they are not professionals."
The Karnataka Film Chamber of Commerce (KFCC) had requested the Karnataka government to help the tailoring community as their business was completely shut due to the lockdown (link report) The state government did not announce any package during the lockdown for the tailoring community.
V. Vasanth, General Secretary of Karnataka Tailors Association said," Tailors work hard every day and do their work diligently but don't get paid enough for their work. Currently, they are doing better after the lockdown. We have hired a few tailors who stitch fabrics for us. We give commission to the tailors depending on the amount of work they do for us." He added that the commission ranges from Rs 110 to Rs 500 Farhan Mathdi, owner of Epitome stitches said, "Before lockdown we had seven tailors and now we have four tailors who work for us. They do the stitching work for the orders we get. The quantity of orders have decreased because of the pandemic , and we pay them according to the market rate and demand."
Many factors like easy availability, variety of colours and selection of range gave customers enough reasons to shift their preferences to ready-to-stitch market. The demand for RTS is growing at an annual rate of 5.5 percent.
Dr. T. Rajendraprasad, labour economics professor of Bangalore University said, " Covid-19 had a severe impact on the local tailoring industry. Ready-to-stitch segment is growing because it is an easier purchase process and provides more options to the customers." He added that currently, Indian tailoring industry can be divided into three segments, one focus on local market, second sector is organized apparel brands and third is premium tailoring unit which consist of designers and luxury segment. "Local tailors lack knowledge about these new trends so it is important to make them aware of them," he added.