Ninety-five percent of hosiery industries in the city are running in losses.
Ludhiana: While people stay indoors in their pyjamas, the people making these pyjamas struggle. The hosiery industry in the city has been suffering losses since the pandemic. Vipul Goel, owner of Makhan Hosiery Works (Goel Industries), said that 95 percent of the hosiery industry is running in losses. "Since there is no demand in the local market, only the industries that work for exports are able to function decently."
He added that they were unable to sell much in the summer season due to COVID restrictions. This is likely to impact the winter sales massively.
Makhan Hosiery Works is about 35 to 40 years old now, and they are one of the main hosiery manufacturers in the city. "We have a big consumer base in states like Madhya Pradesh, Maharashtra, Gujarat and Uttar Pradesh. Owing to the stringent lockdown restrictions in these states, the consumers hardly step out to buy clothes. This has brought the demand down to almost zero," Vipul added.
Many industrialists, manufacturers, wholesalers and retailers complain about their outstanding payments. Because the past payments are on hold, new orders can't be placed. This leads to a halt in the cash flow chain in the market.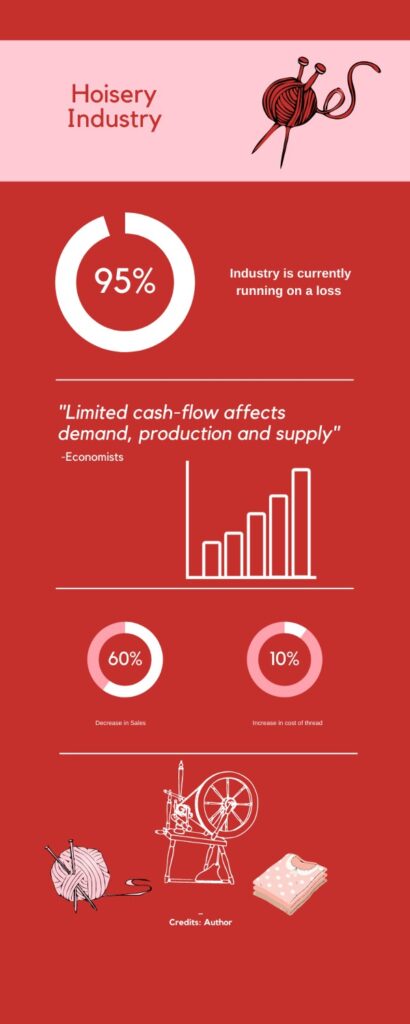 Vicky Chhabra, owner of Lifestyle Garments, a retail store in Model Town, said that his sales have come down by 60 percent. "The cost of thread used to make the fabric has increased leading to an overall increase in the cost. We expect a 10 percent rise in the cost of production because of this."
Since the store stays open for three to four hours only, Vicky hardly sees any customers in his shop. "By the time you would expect people to come, the policemen come and ask us to close. Because of less sale and losses, we have kept our purchase from the manufacturers and wholesalers on hold," he added.
The textile industry in the city is pushed back to 30 years according to reports.
Shivam, a student from the city said, "I have not bought new clothes from stores for a long time now. I did order a few t-shirts online but since we are avoiding stepping out, going and shopping from stores is not an option now."
Industrialists, who work on export orders, are functioning better than the others. Vipul said that his industry has a strong consumer base in Afghanistan. "We work for exports on advance payments. Mass production for civil (national distribution) is zero because of no payments. If you ask any factory owner, you would see him cribbing about how his old payments are not cleared," he added.
He explained that a sum of Rs. 50 lakh is required as working capital for a medium scale producer. The market is currently lacking liquidity, affecting the chain of production and supply. You would see traders selling their products on a cost-to-cost basis because of this cash crunch."
"Most factories are shut because of less working capital. This year is bad for the garment and related industries. Dyeing units, button industry, finishing industries are also affected intensively. The production cost itself is 80 percent, rest expenses add on to the cost," Vipul added.
The flow of cash is affected in industries as well as households. Shalini Dogra, an economics expert from the city, said that it is difficult for the industry to function till the consumer's buying capacity is stable. "Most of the families are facing a cut in their earnings. This has a strong impact on the buying capacity of the consumer. People would prioritise buying essentials over clothes. This is anyway going to affect the demand in markets."
"Unless the flow of cash gains back its pace, it is going to be difficult for the industry to see an upward graph. As and when the health scenario in the state improves, probably then the industry could function better," she added.