BBMP trucks and vehicles are dumping un-segregated waste in the land opposite Mylasandra bus stand on the Mysuru road. The dumping is in close proximity to the upcoming Kengeri Metro station.
By Sheikh Saquib
In clear violation of the Solid Waste Management guidelines, BBMP is dumping un-segregated waste near the upcoming Kengeri Metro station on Mysuru Road. This has led to a stench in the area.
The residents have tweeted against dumping of the waste on twitter and tagged the Bruhat Bengaluru Mahanagara Palike (BBMP). . Sumantha, a resident, complains of bad stench from the illegal dumping which makes it impossible to walk on the road. Residents fear the garbage dumping will lead to clogging of storm-water drains and give rise to diseases like dengue and malaria.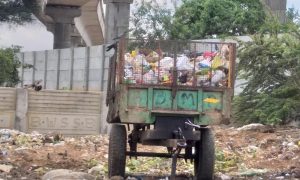 BBMP workers are seen in the video shot by a twitter user @sunsumantha dumping garbage close to the Vrishabhavathi River and the Raja Kaalve. The BBMP corporator of Hemmigepura, Ward 198, Arya Srinivas, is unaware of the dumping.  He says, "People just throw garbage at the location from where BBMP collects garbage."
The video shot by Sumantha shows BBMP vehicle at the location and JCB taking garbage and dumping it beneath the ground.
On October of 2018 BBMP was fined Rs. 5 crore by National Green Tribunal (NGT) for illegal garbage dumping in Bagalur quarry pits in north Bengaluru.
Sumantha said that after the complaints were made, there is no more stench in the area as BBMP have covered the garbage with soil. In the past,similar incident happened with the residents of Mandur Villagers.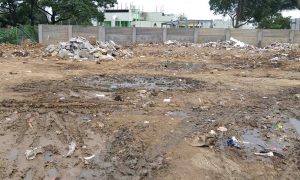 Jayaram, the BBMP ward supervisor, said on the issue of illegal dumping that people who are dumping waste will be imposed with hefty fines. The officials do not accept the illegal dumping by BBMP.
Sandeep, founder at Citizens Agenda for Bengaluru, said "The illegal landfills across the city is a failure of the BBMP. Bengaluru has one of the best waste management laws in the country but it still stands last in the survey of clean city. Theoretically, no waste should leave the ward. Every ward should have bio- gas plant and segregation of waste at ward level. This will reduce waste in large percent. Holding the officials responsible will improve the condition of waste management and GPS-savvy BBMP vehicle will stop illegal dumping."