The anti-superstition law in Karnataka banned a traditional and age-old custom followed by the Kadugolla community.
The practice of isolating women during menstruation and the postpartum period in secluded shelters is still followed by a tribal community not far from Bangalore city. The practice has been termed as one of the evil, sinister, and inhuman practices under the Karnataka Prevention and Eradication of Inhuman Evil Practices and Black Magic Act.
The women of the Kadugolla community near the Aralalasandra village of Ramanagara district step out of their homes into small shacks during their periods and after they have given birth. Often, they sleep under shacks made of dried grass and sticks and use plastic sheets as mats.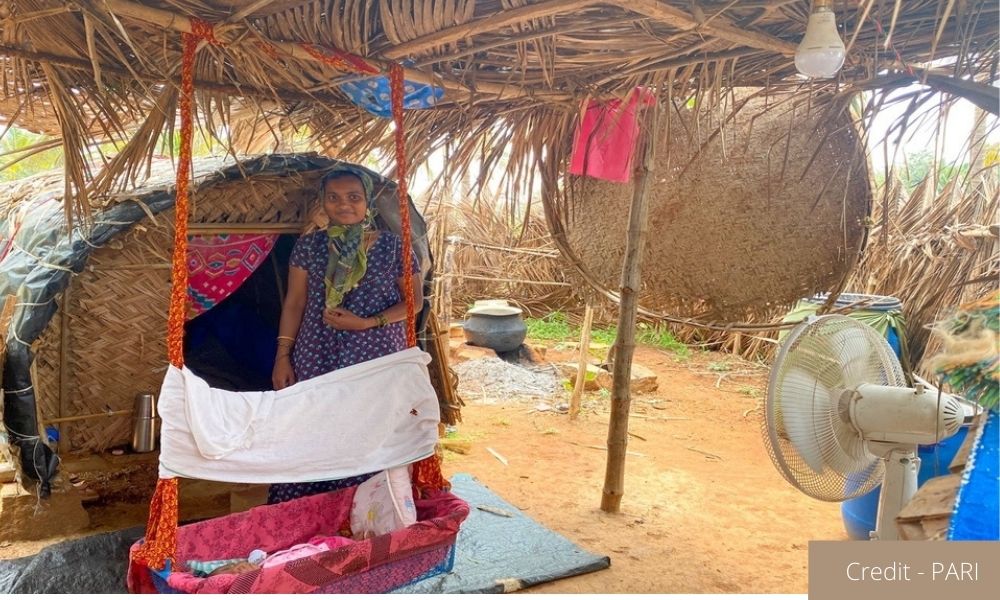 "We have built a small hut where my daughter and I rest during our menstruation days," said Laxmi, a member of the Kadugolla community. She admits that sleeping on plastic sheets is uncomfortable sometimes and gives her a bad backache,but added, "We are doing this for years because we believe that our god will be upset with us if we don't follow this custom."
Aadithi, Laxmi's daughter said that the hut becomes very hot during the day and cold at night but she does not want to break the custom. "During menstruation, I do feel like being at home but I have faith in this practice and hence, I follow it," she said.
They seem to have little choice, the community would not allow it to be otherwise. Earlier, Laxmi explained, if they did not follow this practice in the village, they would be ignored by some community members for days. "But now members of the village do not do this," she said.
The need of the law and its punishment
An official from the Public Information Office of the Karnataka State Law Commission on anonymity said that the law is a step ahead in the eradication of the custom practiced by the community.
"People who are practicing the superstitious practices which are listed under the Karnataka Prevention and Eradication of Inhuman Evil Practices and Black Magic Act are punishable for up to seven years of imprisonment and a maximum fine of Rs 50,000," said Chandrashekar P, a lawyer practicing in the Bangalore Civil Court.
Venkatesh, a police constable from the Akkuru Police Station said that no cases of anti-superstition practices have been registered in 2021 from Aralalasandra village.
"Lack of awareness about the various religious and social aspects among the members of the community is an issue," said Brajakishor Pradhan, Vice President of the Aawahan Foundation based out of Jayanagar, Bengaluru. "For the people of various backward communities, it is important to create awareness about things that are relevant to their social upliftment in the way they would prefer," he said.
Pradhan added that the communities in rural areas believe in their traditions first, and then in the laws.
"It is important to note that one should not impose a law on a community. Instead, the non-governmental organisations (NGOs) in collaboration with government agencies should collaborate to educate the community members about the law," Chandrashekar added.
Health hazards due to this custom
"Menstruating women need more energy and nutrition to keep their body healthy," said Dr. Poornima Jayadev, an obstetrician and gynaecologist based out of Koramangala, Bengaluru. "Physical as well as the mental health of women is affected drastically if they do not get the needed emotional support during menstruation," she added.
Dr Jayadev added that if there is excessive and uneasy bleeding and the necessary healthcare is not available, women can get a sudden cardiac arrest and can even die..
"Some have fallen sick and contracted weakness but no women have died in our community after giving birth," said Laxmi.
"If women are kept in unhygienic and improper resting conditions after giving birth, they can get Postpartum Haemorrhage (PPH)," said Dr Jayadev.
Dr. Hanumappa Sudarshan, a Padma Shri awardee social and tribal rights activist said that the women of the community resting in the shelters should be given proper food and hygiene. "Also, their nutrition must be taken care of," he added.