Alcohol withdrawal proved to be a big problem during the months of the pandemic, for hospitals and patients alike.
Hospitals in Bengaluru said that they were not prepared to deal with the sudden rise in alcohol withdrawal cases during the Covid lockdowns.
Most beds in the hospitals were reserved for Covid patients and the Maternal and Child Health (MCH) wing, leaving just 50 beds out of 300 for all other illnesses, said Dr. Poornima, the Resident Medical Officer (RMO) of Jayanagar General Hospital. "We picked up people from the streets—those with no identification or family. Almost all of them were suffering from alcohol withdrawal," she said.
"For up to three to six months, we were unable to effectively deal with the influx of withdrawal cases, as we were overwhelmed by Covid cases," said Dr. Sandeep, the Out-patient department (OPD) doctor at Jayanagar General Hospital. He said the rising cases have led to the opening of a new alcohol-focused wing with 10 beds at the hospital a month ago.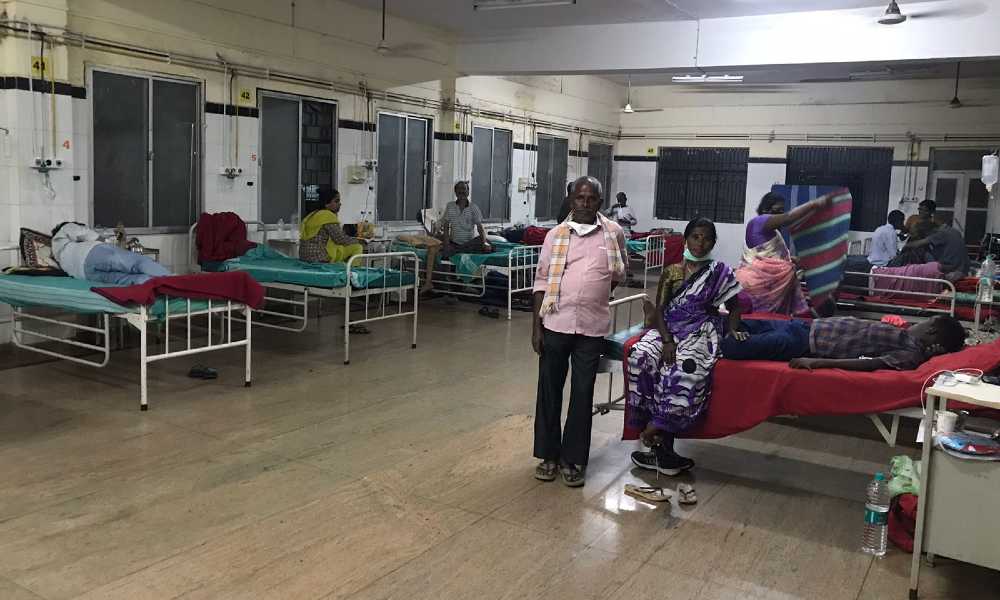 There was no specific state or central government scheme for the addiction department during the pandemic, according to the accounts department at National Institute of Mental Health and Neuro Sciences (NIMHANS).
The staff at Victoria Hospital said that while the government provided funding for Covid medicine, there was no such provision for withdrawal medications and treatments—which was a significant problem. According to Manjunath, a pharmacist near Jayanagar General Hospital, while the medicines for treating withdrawal are inexpensive, they are not easily available. During the lockdown, patients' treatment often got delayed.
Even destitute homes found that most of the people they received suffered from alcohol withdrawal. "We had no means of dealing with them. We had to send them to NIMHANS," said the staff at RVM Foundation, a non-government organization (NGO) in Banerghatta.
The Karnataka government had shut down alcohol shops from March 31, 2020 – May 4, 2020 in the first lockdown, and from May 10, 2021 – June 21, 2021 in the second lockdown. According to reports, there were several cases of liquor shops being robbed, suicides and sale of illegal liquor. There were also reports of people consuming diluted hand sanitizer as a substitute for alcohol.
A study by NIMHANS stated that the pandemic caused a sudden increase in alcohol withdrawal cases, especially in the poorer sections of society. They assessed the number of cases of withdrawal for two weeks after the pandemic, and found that the highest number of such cases—around 76 percent—were among the daily wage earners and people on welfare.
Migrant and daily wage workers are more susceptible to alcohol abuse, studies show. As most informal sector jobs shut down during the pandemic, they were unable to access alcohol and fell into withdrawal. A patient's relative said, "Earlier, my uncle would get brandy at Rs 200 – 250. During the lockdown, the illicit sales pushed the cost to Rs 1200. He couldn't afford it and fell very ill."
Alcohol withdrawal is of two types—mild to moderate, and severe. The severe type of withdrawal happens to people with a history of sustained drinking, or even binge drinking. Symptoms include delirium, tremors, and Wernicke-Korsakoff syndrome (brain damage in the memory area) in malnourished patients. Other complications like age and medical disorders add to it, according to a study by AIIMS "Alcohol is a central nervous system depressant. Withdrawal leads to hyper-excitement of the nervous system. It can lead to several complications, which are treatable. However, in the absence of treatment, it becomes problematic," said Dr. Milind Potdar, an addiction expert.
Dr. Lehkansh Shukla from the addiction department at NIMHANS said that the shift from unrestricted access to total prohibition during the lockdowns is the real issue here. There is a need to enforce sustained alcohol control measures throughout the country to avoid such a situation again.