A Hague District court ruled that the oil giant, Royal Dutch Shell, has to cut down on its net carbon emissions by 45 percent by 2030.
New Delhi– As the world rejoices over the landmark judgement that ordered Royal Dutch Shell (RDS) to cut its carbon emissions, lawyers say that India still lacks a robust environmental litigation movement.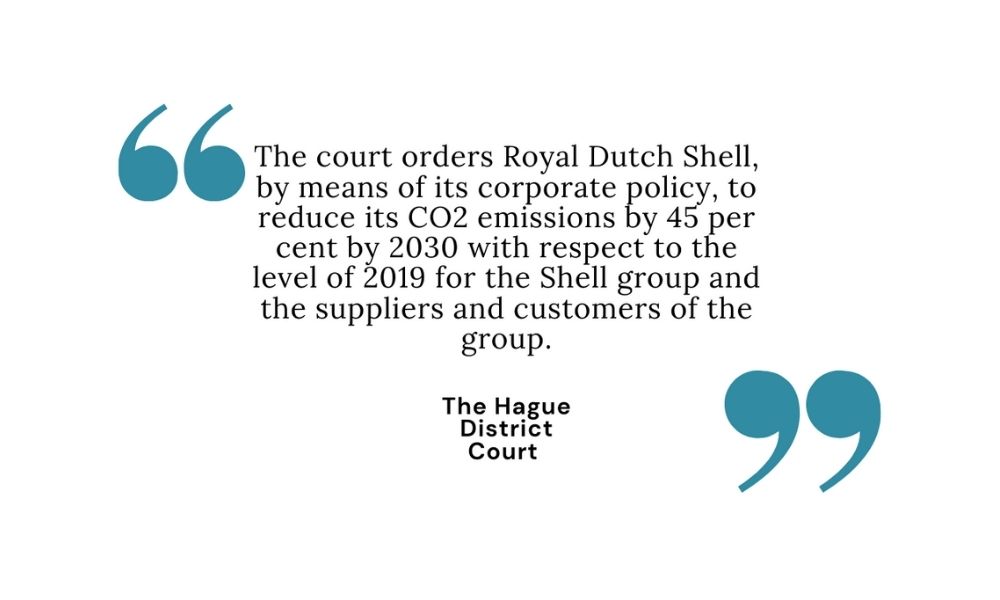 With no scope of earning money by bringing up environmental concerns, lawyers in the country prefer to not touch the subject. Rahul Ranjan, a lawyer and Chief Executive Officer (CEO) of Libertatem, a legal magazine, said, "The issue in the lawyer community in India is that lawyers can make money in litigating civil and criminal cases. However, in environmental law, there is no scope in earning and that is why it is not a very attractive prospect for young lawyers." He added that another option that many choose is to represent corporations that pay a lot of money. "There is a very small percentage of lawyers who specialize in the environment, maybe less than one percent."
In 2020, Moulika Arabhi, Advisor, Centre for Environment Law, WWF India, had said that there are only a handful of environmental lawyers in India today. "If you consider those who only focus on the environment, then there are not more than four to five," she said. Ashish Sharma, a lawyer in Allahabad High Court who is also an environment activist, said, "There is a dearth of environment lawyers in dealing with the climate emergency."
"There have been giants like Advocate Mahesh Chandra Mehta who has dedicated his litigation career to work in environmental law. But names like that do not exist anymore," Ranjan said. MC Mehta has a foundation that works for the protection of the environment. However, Ranjan said that lawyers are getting employed by Non-Government Organisations (NGOs) and hopefully things will change slowly. He said, "This issue of environmental law being ignored is multi-faceted as not only lawyers but the media also ignores it." He added that his legal reporting website also does not carry a lot of environmental reportage because the National Green Tribunal does not hear a lot of cases and decisions are not very major.
But Sharma says that there is still cause for hope. In April 2021, the Supreme Court-appointed Central Empowered Committee (CEC) issued recommendations to the SC against the three projects that were going to cut through the Mollem National Park and Wildlife Sanctuary in Goa. Activists have been protesting the three projects since the pandemic as they claim that it will irreversibly damage the ecology and biodiversity in Goa.
Bram Karst, press officer of Greenpeace Netherland said, "Climate justice won't be stopped. More will follow. We think it's only a matter of time before other companies are going to be sued as well." He added that Greenpeace is already involved in cases against oil companies in the Philippines and Poland, and against the coal energy producer Polska Grupa Energetyczna (PGE). He said that if not Greenpeace then other NGOs will file cases.
"Countries that are hit by two hurricanes in one week, that kind of extreme weather is not normal. We need to put an end to this heating of the planet," Karst said. India was hit by two severe cyclones – Tauktae and Yaas – in the gap of eight days.
Read the entire Dutch court ruling here