The process of administering vaccine on a priority basis is still too slow and not uniform, say bank employees
DELHI: Many bank employees feel dissatisfied with the government's efforts to vaccinate them on a priority basis since they have been working every day through the lockdown.
Rituparna Mohapatra works at the Rourkela branch of Canara Bank and has been going for duty on all working days despite the lockdown. "The government has said that bank branches who have more than six employees should have alternative day attendance but because of the second wave affecting many of my colleagues, I have to go every day."
However, Mohapatra added that she feels lucky to have received the first dose of the vaccine when the vaccination drive for 18 plus years started in Rourkela in May. "I did not get any priority when I got the vaccine. Now people are facing trouble to find slots but since this is a small town, it has been manageable."
On May 14, Debasish Panda, Secretary of the Department of Financial Services (DFS), Ministry of finance, released a letter "re-emphasizing" the need to vaccinate staff members of banks and other insurance companies. However, this is not the first time such a letter has been sent as an advisory to prioritize vaccination for bank employees. Similar letters have been sent on April 7 and April 22. However, many are still waiting for the vaccination.
Meanwhile, video and pictures on Twitter show a huge crowd outside Gramin banks to roll out schemes like PM-KISAN SAMMAN NIDHI. "There is definitely a risk to get infected since people go in and out of here every day," said Anil Pattnaik, from another Canara Bank branch. He also does not have the luxury of going on alternative days as many of his colleagues have been sick.
Pattnaik said, "Around 44 people have died so far in Canara Bank alone. They have started circulating a form where they are filling in details of the people who have not been vaccinated yet. But it will take time to get everyone at this pace." He added that the government should have taken out that notice earlier as employees had been demanding it for a while now.
On May 13, the All-India Bank Employee Association (AIBEA) said that around 1.5 lakh bankers have been infected and over 1200 have died. One bank employee who wishes to remain anonymous said that it is after this report that a high-ranking official from the Department of Financial Services (DFS) published that letter on May 14. A Twitter post on May 18 shows that 26 out of 8500 bank employees have died in Baroda UP Gramin Bank in just 40 days; between March 26 and May 6. Another list shows that 66 people died in one of the branches of the Central Bank of India in April 2021.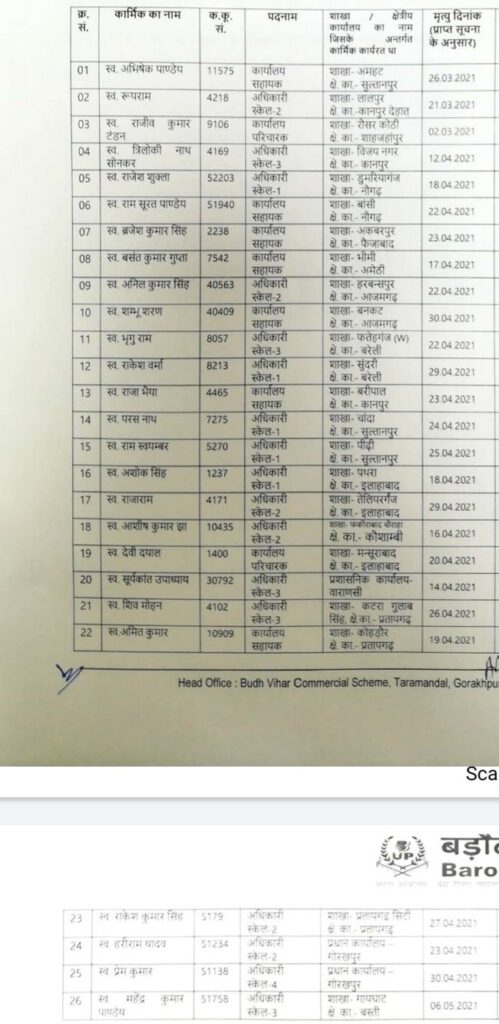 Binod Mohanty, a retired bank manager of State Bank of India said, "In the first wave, things were not so bad. The Association had asked everyone to reduce the working hours and many banks' branches were working on 30 percent capacity so people had to go only two days in a week." He added that this time a lot more people have been affected and only when people started dying did the government pay any attention to what was happening on ground.
Dr. Biplab Jamatia, a community health professor at Indira Gandhi Open University said that banking services are always very essential, especially for the disadvantaged sections who might not use internet banking. "Bank employees and staff in the accounting sector life insurance companies are being infected because they are directly dealing with money. The government has to make sure they get vaccinated soon."