Telangana junior doctors have declared an indefinite strike. They will continue covid emergency services for the next two days
Hyderabad: The Telangana Junior Doctors Association (T-JUDA) to go on strike from May 26, 2021. Except for Covid emergency services, junior doctors are boycotting all other medical services. T-JUDA is demanding a 15 percent hike in stipends for postgraduates (PG) and interns which is due from January 2020. They also want the government to announce ex gratia payment for doctors who died on the job and to provide beds in hospitals for families of junior doctors if they contract covid-19.
Dr. Rahul Naik, MD General Medicine, and T-JUDA Spokesperson said that it has been a year since Telangana's chief minister announced a pay increase for health employees. "Nearly 25 doctors have died in Telangana, yet not a single individual has received an ex gratia. We have the right to seek ex gratia. There is no such thing as a good time to go on strike. We experienced the first wave of covid-19 last year, and now we are in the second wave, with experts predicting the third wave. We are the frontline employees, and the government should look after us. It's not like we're boycotting services without warning. We notified the chief minister and the state health department two weeks ago. We clearly said in the notice that if our demands are not satisfied, we would go on strike," he added.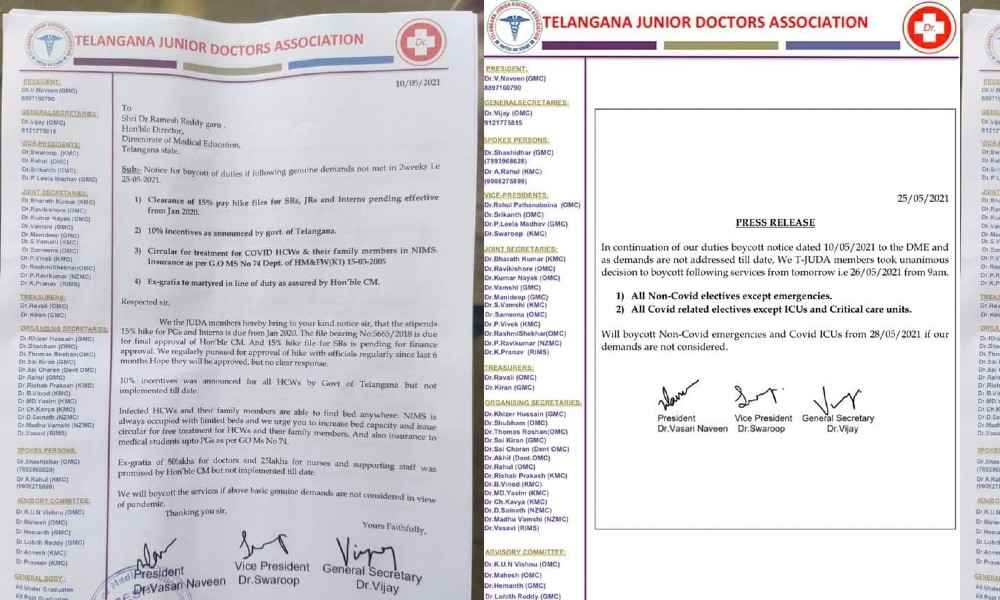 Dr. Gaurav, a junior doctor, said that if the government makes a promise, it should keep it. "The majority of the doctors come from low-income families. The Delhi government has offered a Rs. one-crore ex gratia if a doctor dies on the duty. And the (Delhi) government is going to the residences and handing out cheques, as promised. This is how a government should stand with its health workers," he added.
Rahul stated that for the time being, junior doctors in non-emergency services are only taking part in the strike. "If the government does not act within 48 hours, we will stop providing emergency services as well. In Telangana, the pay of a Member of Legislative Assembly (MLA) has been increased from Rs 50,000 to Rs 1.5 lakh, while the health workers have only received false promises," he added.
Dr. Lavakumar Reddy, President of the Indian Medical Association (IMA), Telangana State, said that they are asking the Telangana government to accept the demands of junior doctors, which are extremely fair. "The government announced LINK a 15 percent increase, so they should keep their word. Announcing ex gratia to doctors who died in the line of duty is a humanitarian move that the government should follow. We have asked the T-JUDA not to discontinue providing emergency services because the covid-19 situation is so bad right now. We are also in discussions with the state government on meeting the needs of junior doctors. I believe the government should act positively because we are talking about young doctors who are trying to save people," he added.