The Kerala Fibre Optic Network (KFON), which aims to provide quality internet at reasonable rates to the poor and free internet to BPL families, will take longer to complete due to Covid-19.
Kerala: Kerala government's 'revolutionary' KFON initiative, which was supposed to provide free internet to 20 lakh citizens by December 2020, has been delayed because of the pandemic.
During these tough times, some of the poor families in Kerala who had hoped for a better future with the help of the KFON project are still struggling due to the digital divide. As schools have shifted to online classes, digital devices have become essential for children. They will have to wait for a longer period of time to receive the benefits.
Sajith Raghavan, resident of Thalaserry said, "Our district is yet to be covered by the KFON project. Children who take online classes, need high-speed internet; their studies cannot be hampered by a poor connection. Our wifi is often unstable, making it difficult for my children to attend their online classes.''
Since its launch in May 2020, the KFON network has connected over 1000 government offices in seven districts providing them with high-speed connectivity. It was established with an aim of connecting 30,000 plus government institutions, as well as providing free internet to economically disadvantaged families and subsidised internet to others. The project's first phase was launched in the districts of Ernakulam, Thrissur, Palakkad, Pathanamthitta, Alappuzha, Kollam, and Thiruvananthapuram to help connect users in government colleges, hospitals and offices first.
Moses Rajkumar, Project Head of KFON said, "Due to the pandemic and political transition, our project will take more time to complete. In the first phase, we will bind government schools and colleges, but expanding to all districts will take time. During this time, it is difficult to find workers. The second phase of our project will begin as soon as possible. The BPL families will get internet connection in the second phase.''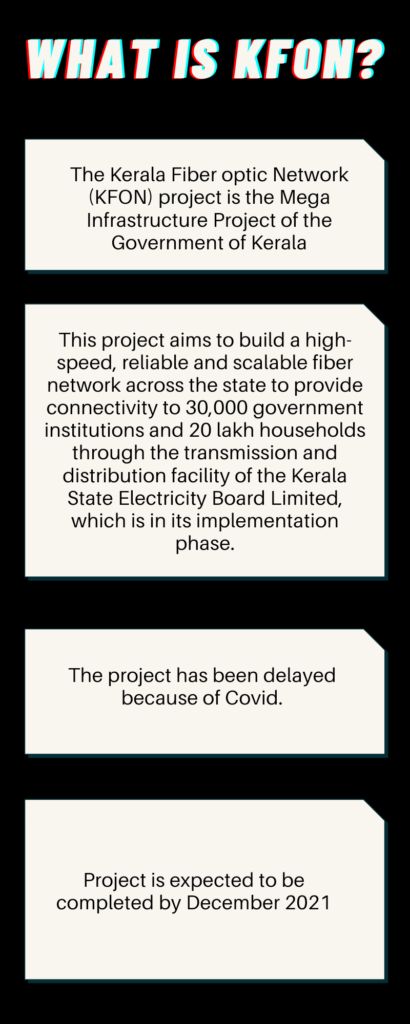 Kerala Chief Minister (CM) Pinarayi Vijayan said at the project's launch that it would help the state transition to a knowledge economy and become an information technology hub. He also said that this initiative would bridge the state's digital divide and push it to new heights of development by connecting both homes and offices to an optical fibre network. The CM had also informed that a 35,000-kilometer-long optical fibre network is being laid throughout the state's 14 districts and this will be the world's largest, once completed.
The infrastructure will cost Rs. 1,548 crores. To avoid the extra expense of laying underground cables, the optic-fiber network is laid using the city's electricity poles.
Falgunan.K, Former head of Economics Department of Brennen college, Thalaserry said, "KFON is a remarkable and effective government programme that will assist many people in need during these trying times. When finished, it will be able to compete with other private companies. There are several network issues in Kerala, so this project should be expanded to full power in all districts as soon as possible."
"Kerala would see a significant shift as a result of this. Today, every work is done online, it is important to provide people with high-speed internet. At this stage, all we can do is wait for the project to be completed,'' he added.
The project is a joint venture between Kerala State Information Technology Infrastructure Ltd (KSITIL), Kerala State Electricity Board (KSEB), and the state, with each corporation owning 49 percent and the state owning the remaining two percent. The project is being carried out by a consortium led by Bharat Electronics Ltd (BEL), which will be in charge of the network's operation and maintenance for the next seven years.
The Kerala Fibre Optic Network (KFON) initiative was included in the 2016 election manifesto, and in 2017, it was declared a fundamental human right, which was upheld by the Supreme Court in September 2019 rulings.