Designed to provide relief during hostile situations, especially during times of war or emergencies, Delhi Civil Defense is now an opportunity for people looking for jobs in the pandemic.
Delhi: Seema* (name changed), 35, a volunteer at Delhi Civil Defense (DCD) reported on duty the day after her father expired from kidney issues. For her, DCD is an essential source of employment. "Till when will my parents support me? I am married and I have two kids," said Seema. She filled her form in August and started her paid duty from 10th April 10, 2021. "I have personal, family matters due to which I joined DCD. There are money matters too which, to a great extent, were caused by the lockdown. There is pressure from my husband to support the family, also," she added.
Pankaj Singh, 24, a volunteer who works with Seema mentioned that during COVID-19, a lot of people joined the civil defense in the hope of earning extra money.
Swarn Singh, divisional warden, CR Park, Southeast district, said, "In mid- 2019, we had about 3,000 volunteers, and now today we have more than 20,000 volunteers."
Similarly, Irshad Ali, divisional warden, Mandawali, East district, said, "In my division, before March 2020, we have about 80 volunteers and today this number has crossed 1,000 volunteers. And given there are 13 divisions, there might be about 10,000 to 13,000 volunteers today. Before COVID-19, this number would be about 3,000 volunteers for the whole district."
Since the COVID-19 pandemic, the Delhi Civil Defense has been working with Delhi Police and other such enforcement agencies to provide additional manpower and work at places where the police would not. For example, DCD is most commonly seen deployed at dispensaries, vaccination centers, and COVID-19 positive households and as marshals in Delhi Transport Corporation (DTC) buses.
Swarn Singh mentioned, "There is no age limit in this service. A volunteer should be 18+ and physically fit, there is no upper limit and the minimum qualification is eighth grade."
However, many seem to misunderstand the idea of civil defense. They forget that it is not a job, but a social service. Suresh Mittal, senior chief warden, North District said, "Today, the definition of civil defense has changed. Civil defense started as unpaid, social service. But today, volunteers join in with the motive of earning money. I tell volunteers that this duty is a call of duty. That means that you will get paid for the number of days you have been assigned eight-hour duties at about Rs. 750 per day. This is not a job where you will get a salary for 30 days and you will retire at the age of 60."
He mentioned that his district had about 12,000 volunteers for several years since 2017 when he became senior chief. This number remained static for several a number of years given that as people joined in, many left too.
He said, "We had about 13,000 volunteers before March 2020 when the first lockdown was initiated. That number has increased to 19,000 volunteers." He added that the fact remains that if so many people would have joined the service, they would have not been in a position to give out as many services that they do.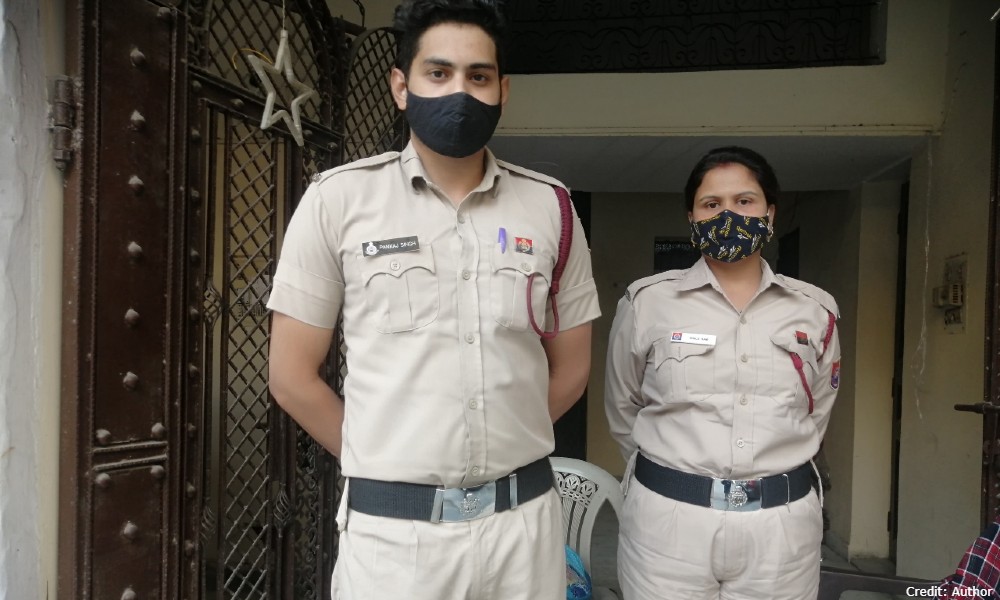 Some occupational hazards too
Irshad Ali, the divisional warden said that there is no formal provision for medical help for a volunteer if they get wounded while working. "There is nothing in writing. It all depends on how much pressure we put on our superiors," he added.
Shubham, a volunteer said, "If one of us gets wounded or injured on duty, seniors usually refer us to government hospitals. The Kejriwal government said that if any volunteer dies of COVID-19 while on duty, they will pay Rs. one crore to their family, and one person will have this amount too."
Shubham said that he received both shots of the COVID-19 vaccine.
He added, "People on night and evening shift usually face problems related to mosquitoes and for that we arrange for ourselves. The department provides us with masks, gloves, and sanitizers."
Pankaj who works from 2 pm to 10 pm in the night said that he sometimes sits with two incense sticks in his hands to deal with mosquitoes.
"It all depends on where you have been assigned your duty. Some people are welcoming and offer us tea, chairs, and even table fans while some look at us with suspicion as to what we are doing here," he added.
Seema said, "There are issues related to duty everywhere. You tell me, anywhere you will work in any department, in any company, there are some of the other issues. If you want to work, you will have to bear with some issues."
Needs and motivations
Professor Tanuja Agarwala specializing in human resource and organizational behavior said that this whole situation is a classic example of Maslow's Hierarchy of needs. The theory says that a person's needs are divided into five-staged-hierarchical-model. The most basic needs are related to food, water, warmth, rest, while the top tier needs are related to self-actualization of one's potential and creative abilities.
"The most important ingredient here is: Service. Now if that service orientation is lacking, the quality of service will also be not very good. What would be important is to continuously ingrain in them the value of service because if they keep on looking at this as some kind of livelihood then that sense of dedication that is required in such jobs would not come," she said.
"Given the condition in our country where people are fighting for survival, today particularly, to expect them to do selfless service is also too much to ask," she added.
She explained that a person's attitude is not towards achieving internal peace (Maslow's fifth stage) they might receive by performing a service to others but towards fulfilling their own basic need of food and shelter (Maslow's first stage). Since the objective is different, the quality of service given is negatively impacted.