New business models in the gaming industry have pushed retailers and resellers of video games to closing down.
After 15 years of being in the retail gaming business, Rehman has decided to leave the industry for good. His store, Rey Castle Games is hidden inside a commercial complex in Jayanagar. Only with a banner of the store's name, is it overshadowed by other shops in the complex, hidden away from public view. The company has lost 60 percent of its income because of the disruption in the global supply chain.
Not just Rehman, but several other small retail shops that sell gaming accessories in the city are also on the verge of closing down. One Game Stop, another store that sells gaming accessories has confirmed that they too have been facing losses.
One Game Stop has stopped operating from its physical shop located in the fourth block of Jayanagar. "There has been a drop in the sales of consoles over the years," said Suresh, owner of One game stop.
A report by Ampere, an analytic firm specialising in the gaming industry said, 'The global games and services market is forecast to contract 1.2 percent year-on-year to $188 billion in 2022.'
Another reason why small businesses like Rehman's are closing down is their inability to compete with online retail giants like Amazon.
Rehman said that his decision to leave the industry came after facing continued losses. While cleaning the gaming accessories of a PlayStation 4 (PS4) he said, "Production has been affected due to the disruption in the supply of chips used to manufacture the consoles."
"Amazon has been the reason for the deaths of retailers like me," said Rehman. He added that people want ease and if they can get their products with just a click, no one is going to physically enter a retail shop.
Despite the world moving towards Amazon to get their income, many small game business owners such as Rehman are still unable to trust them.
"When I sell my products online, it is not me who is in control," said Rehman about his scepticism towards Amazon. He believes that going on Amazon would constrict him from doing business on his own terms, while deciding the rates of gaming products he would have to restrict himself to the options provided by the e-commerce giant.
Global Chip Shortage
The issue with the shortage of semiconductor chips started back in 2020 during the pandemic and it is still a cause of worry for the small businesses that sell video games.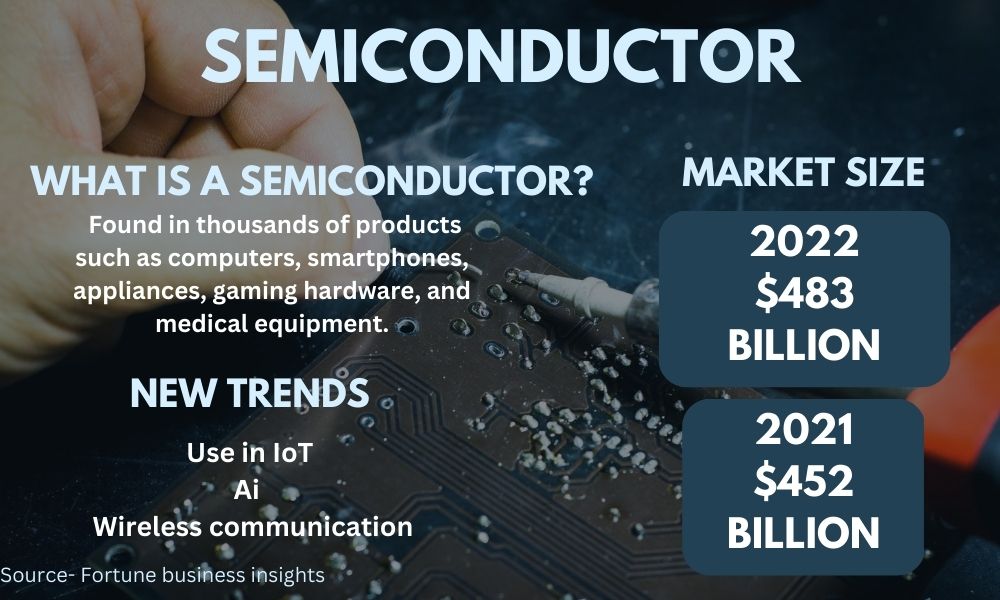 As per the Semiconductor Industry Association, semiconductors are also known as integrated circuits (ICs) and are made from 'pure elements, typically silicon or germanium, or compounds such as gallium arsenide.' These chips are used in every electronic device from video games to smartphones, said the association.
The Ukraine-Russia war has further aggravated the situation. A McKinsey & Company report says, 'Ukraine supplies 25 to 35 percent of the world's purified neon gas, and Russia supplies 25 to 30 percent of palladium, a rare metal used for semiconductors.' Apart from this, the transportation cost of raw materials required for semiconductors has also increased.
India has to import 100 percent of its semiconductor requirements, said the Department of Science and Technology. To fulfil this requirement, India imports semiconductors from countries such as China, Singapore, Hong Kong, Japan, and the United States.
Seeing this, India has been pushing towards manufacturing its own semiconductors. India Semiconductor Mission (ISM) was set up by the government of India to push India towards manufacturing semiconductors and a 'display ecosystem to enable India's emergence as a global hub for electronics manufacturing and design' said the ISM project.
Jeetendra Singh, Advisor at Karnataka's Department of Electronic and Information said, "We are pushing so that Karnataka becomes one of the states where the chips are manufactured." He added that manufacturing a chip is a complex process which is highly expensive and requires heavy capital investments.
Another issue with setting up of a chip manufacturing industry in Karnataka is the requirement for clean water for the chips. "We can set up one near the Kaveri River but it led to the wrath of the farmers nearby as even they are dependent on this source of water for their agricultural activities," he added.
Singh said that the department is pushing for setting up the industry for manufacturing semiconductor chips. However, the amount needed for it is huge as the department does not have adequate funds for it. "Only the central government has the power to roll out such funds."
Dr Jayesh MP, Assistant Professor in Economics at Christ University, Bangalore said "We are in a inflation where demand is high and supply is less." He added that digitization in the country has increased the demand for semiconductors. These chips are used everywhere, from agriculture, animal husbandry to various other places.
"Decisions are not taken as fast as it is taken in China as we are a democratic country. Thus, this leads to a delay in taking decisions from governments side," he added.
Rental Business
Another business model that has emerged in the gaming industry is rental services. New start-ups are now renting out gaming accessories such as consoles to interested customers for a set period of time.
One such startup is Simply Gaming. "The pandemic has been the period where our services of renting accessories started increasing," said Amey Desai, one of the founders of the startup.
Animesh, a gamer who rents games said, "It is cheaper this way." He added that it allows him to have a wide range of experience as he can rent and test the games that are new to the market and see if they are really worth investing in. Animesh said that when a person rents out a gaming console, he only pays Rs.300 per day instead of investing Rs.50,000 to buy one.
Animesh usually rents single-player experiences but when he is with his gamer friends they rent the games that they wish to play.
The impact of shortages of semiconductors felt by the rental businesses is lesser. He further added that the supply of gaming products was less due to the semiconductors. "Our company had to buy them at a hiked rate but as I can recover this extra amount since I will rent it, we are able to afford it."