Non-functioning signals in the large junctions in the city cause unregulated traffic movement and threat to people's lives.
Savyata Mishra
Traffic signals at various places in Bangalore are not functional. Due to this, commuters face confusion on the road increasing the chances of an accident.
Out of the 350 traffic signals in Bangalore city, about 30 to 35 signals are currently not functioning. Some of these signals are at locations like 15th main HSR layout junction, GD Mara junction, JBS junction (Banashankari), Guruppanna Palya junction, Pipeline road junction (Vijayanagara) — the Traffic Management Centre (TMC) helpdesk coordinator, Arun, informed The Softcopy. Due to this, commuters face minor accidents on a daily basis and cases of  chain-snatching incidents have also been recorded. "Over two-hundred offences at Pipeline Road junction have been recorded with the Vijaynagara Police Station," Sashidhar, the constable said. Places like Dairy circle have not had a working traffic signal since January this year, according to TMC.
Pedestrians who frequent these roads said they don't feel safe while walking on such roads since people over-speed because the traffic is not regulated. Akshay who has an automobile shop at the pipeline junction, Vijayanagara, said the traffic lights haven't been working for the last eight months. "Since the last two years the new bridge has come up causing more traffic congestion, still there is no traffic signal and minor accidents occur every day," he said.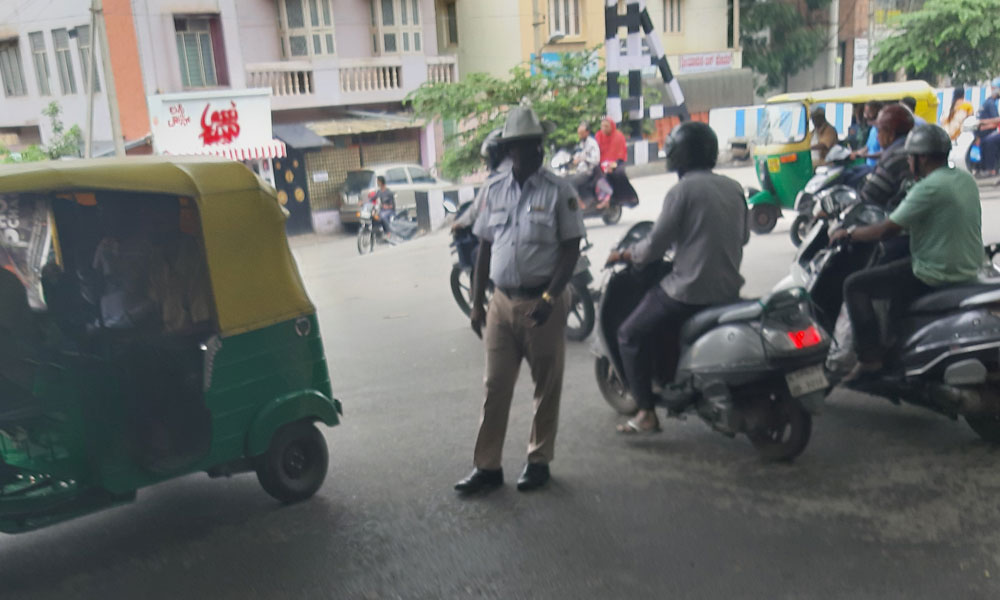 Kattapa who owns a mobile case shop said, "traffic signals are crucial for pipeline road due to the huge traffic. Authorities should repair them at the earliest." Citing the reasons for this disruption, Arun informed, "while at some places problem arises due to programming going haywire or short circuiting due to rainwater, at other places it is because of miscreants stealing the wire which they later sell in the market for money. HSR layout is such a case." Complaints for such problems are usually high during rainy seasons than at any other time of the year, he said.
Suresh of Suresh Pharma located at Kuvempu circle, Vijayanagar, said , "Signals are not required for this junction since there is not much traffic." He also said that miscreants snatch mobiles and chains from people and speed away on their bikes due to the absence of signals.
The head constable of Vijayanagara Police station, Ramachandra said, "In absence of signals, traffic police regulate the traffic. Sometimes we turn off the lights on public's demand when the signals become the reason for congestion," he said.
Traffic personnel were not seen at the junction.
M.N. Sreehari, a traffic expert, said, "traffic signals are increasingly becoming solar-powered, reducing any disruption in their working. LED lights are also preferred because they don't fuse. A junction is supposed to have two to three traffic inspectors which can vary with the timing of day. Generally, a junction that receives more than 5000 vehicles per hour should have a traffic signal."
Public complaints regarding traffic is received through social media posts of commuters. Bangalore traffic police's public eye twitter account takes account of traffic violations raised by public and tries to resolve the issue. "Issues regarding traffic lights are generally resolved within three to four days. Major issues take longer to get resolved. Priority is given to VVIP and VIP areas," Arun said.
The Bangalore Traffic Improvement Project (B-TRAC) envisaged in 2010, aims to reduce the traffic congestion by 30 per cent by utilizing traffic management surveillance technologies and intelligent transport system. This will be controlled and monitored by the TMC. It also aims to set up "centrally automated traffic enforcement systems" that will achieve proper coordination between various traffic systems of the city.