With the change in generation and lifestyle, parenting dynamics have changed as well. Rattle toys and building blocks are replaced with mobile phones now.
Bengaluru: The sight of playful, giggling toddlers crawling behind scattered colorful blocks has now changed to small eyes glued to the screens and tiny hands scrolling through them.
Psychiatrists say that, these changes being as convenient as they are, also lead to an extremely negative impact on the brain and development of toddlers.
Dr. Sandeep Goyal, a clinical child psychiatrist said that there can't be any specific number or data to express how many toddlers are under the influence of mobile phones, television or any other gadget. "Since parents are unable to focus on the behavioral changes of their child, the cases are not reported unless they become extreme," he said.
He added that in a recent survey, he found out that children had less attention span, they were hyperactive and aggressive. "These are the common behavioral issues found in children these days. Parents of this generation are occupied with their gadgets, they somehow try to cover their unavailability up by introducing gadgets to toddlers," Goyal said.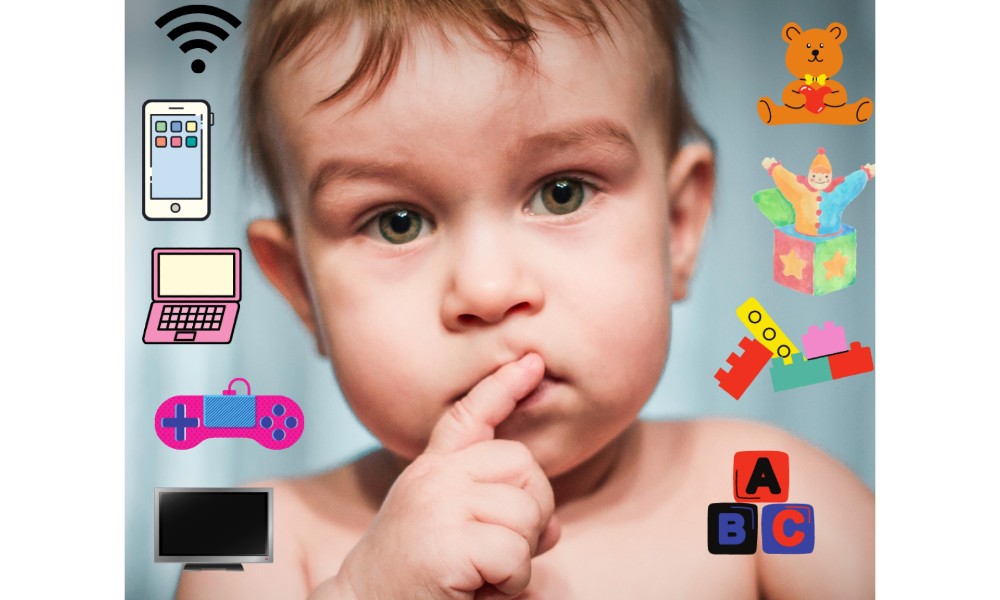 These behavioral changes in the primary years of development, lead to several problems later in life. School going children of five to 15 years of age are noted with more screen time and less attention span, which affects their studies and other productive activities.
Jitender Kumar, father of a one-year-old said, "The motive behind introducing phone to my son is just to distract him when he cries or is irritated. Sometimes, feeding the child is not as easy, therefore playing rhymes or showing cartoons, helps. Parents have always used things to distract their children. The only difference is that with generations, those things have changed from toys to phones."
He added that since parents themselves use their phones constantly, the child will be attracted to that device. "After working the entire day, there's no energy and patience left, therefore it is more convenient to distract the child with an animated video clip that helps us feed the child."
Psychologists say that playing with bright toys, building blocks, puzzles, introduction of hard cover books with colorful pictures is what helps in better development and stimulation of a toddler's brain. Gadgets on the other hand negatively affect the language, communication and social skills of a child.
Lovely Arora, grandmother of a five year old said, "I used to sing lullabies, show toys and talk to my sons when they were toddlers. Now the scenarios have changed. I see my grandson playing on mobile phones more than toys. As soon as he cries, he's distracted by mobile phones."
She added that she used to spend all her time with her children. "Now, since parents are themselves occupied with work, their time and attention is divided," she added.
Shivani Singh, a psychologist said, "Fine motor skills of children are most affected by early introduction of devices. All they do is play with touch-screen devices instead of learning how to hold, pick up and keep things. Hand-eye coordination is also affected. One can notice how children these days are not attracted to toys, as much as they are attracted to gadgets," she added.
Shivani also said that that there has been a rise of 10 percent in complaints regarding this issue. There were very few cases of such small children being hyperactive or aggressive four to five years ago. Whereas now, most of the cases she receives for children of one to three years of age, are focused on this.
"Parents can find better alternatives for their children. Small efforts in parenting can lead to much better impacts. Introducing a pet, taking the child out to parks, introducing books and toys that promote growth of a child can easily replace mobiles," she added.