Recovering from the pandemic has been hard for organizers who plan trekking adventures in Bangalore.
Bengaluru: Trekking has continued its mountainous fight against the pandemic.
In Bengaluru, trekking activities haven't picked up their pace post-Unlock. Trekking organizations are struggling to recover from their lockdown-induced losses.
"The bookings for trekking have resumed but are yet to gain momentum," said Clement from Operations and Administration at Bangalore Mountaineering Club. "There are not many trekkers in Bangalore as of now. The people who had gone back to their hometowns during the lockdown haven't returned. Most of them are still continuing to work from home. Even our usual trekkers have not yet resumed trekking."
He added that this year the Club saw only 40 percent of the bookings they had last year.
"We haven't been receiving many trek registrations," said Chandan, owner of Trekkers, Bengaluru. "During this time pre-lockdown, we used to have many more registrations. We're seeing a 30 to 40 percent decrease in bookings." He added, "I'm not sure if the situation will improve soon. The summer season is right around the corner anyway, there might not be more registrations. It will take a few more months for the trekking industry to go back to the way it was."
In some cases, the organizers have decided to not resume trekking activities altogether.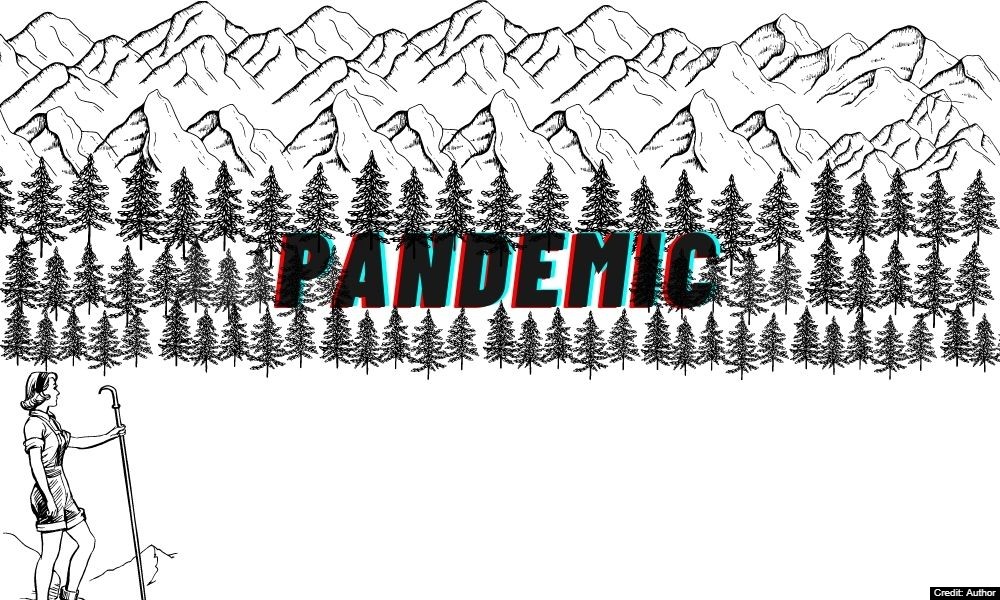 Santosh, co-founder of Bangalore Hikers believes that the COVID-19 threat is still very much real. "We have not resumed our trekking services because we feel that the pandemic is still not under control," he said. "We simply do not think it's safe."
Santosh added that there's also an environmental factor. "Trekking contributes to a lot of environmental pollution like, say, throwing garbage on the sites, polluting the rivers, etc. We aimed to be considerate of that and follow all the safety rules and regulations. Accordingly, we do not think trekking can be resumed as of now," he said.
A Trip to the North
The northern summits seem to be experiencing a slightly different trekking landscape.
Although trekking organisations like Bangalore Mountaineering Club and Trekkers report a low incidence in trek bookings, India's largest trekking organization, Indiahikes, has observed a sudden hike in their trekking expeditions — organized in the northern parts of the country — ever since the lockdown was relaxed.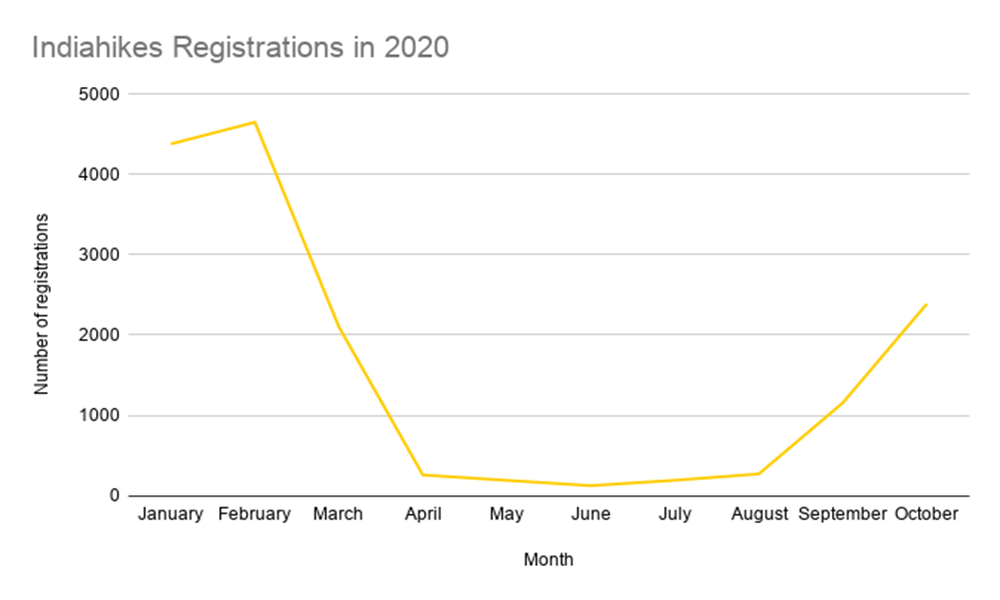 "This year (2021), the trek registrations have increased in January and February. It was not a similar case during the same time last year," said Sneha, Assistant Experience Coordinator, Indiahikes.
She said that the organization does not organize trekking adventures in and around Bangalore. The extended trekking period is more frequently spent in the Himalayan region up north — Manali, Nainital, Dehradun etc.
"People do not really travel/trek in January and February because it's too cold but since the lockdown ended they've preferred to trek in January as well. We had three trek batches for every week in January 2021. That's great progress," she said. "The month before that, in December 2020, we had batches for trekking every day. Overall, we're seeing a good improvement."
However, other organizations have seen otherwise.
"Treks at only famous sites, say like the ones organized by Indiahikes, are seeing some traffic," said Dharam, owner of a Delhi-based organization, Rocksport. "Although trekking has resumed, regular trekkers from abroad have stopped visiting trek sites because of COVID-19. Mountaineering has started, yes, but at a slow pace. When compared to the pre-COVID-19 economic reality, only 10 to 20 percent revenue is being generated right now."
He added, "Overall, the trekking industry, including the trek organizers, has been majorly hit by the pandemic. It'll take time before it recovers."
Gaurav Punj, trekking expert and travel writer explains the reason behind this sudden boost in trekking expeditions for organizations like Indiahikes. He said, "Pent up demand and restrictions on international travel means domestic travel will get a boost." He mentioned that if one follows certain precautions, it surely is safe to trek. "Travel in small groups, not more than 12 people in one group," advised Punj. "Spread out and don't go to popular treks."
"I have been on many hikes after the lockdown ended," said Vinit, a freelance trekker. "I went to Kalsubai, Harishchandragad, Kalavantin (sites in Western Ghats), Kothaligadh, Rajmachi, Korigad, and Padargad (places in Maharashtra)."
He added that the case in Bangalore is slightly different. "First of all the area doesn't have proper mountain ranges and a good trekking experience. Secondly it is more known for rock climbing," he said.
"The treks are relatively safe," he continued. "Organisations have started taking some basic precautionary protocols such as carrying oxy-meters, sanitizing buses etc. Everyone makes sure that at least some basic precautions are covered at the start."