Food-stall owners are using disposable utensils to minimize contact with customers and ensure safety from coronavirus.
Indore: Food-stall owners, who earlier used steel plates and glass tumblers, can now be seen serving food and beverages in plastic and paper disposables to ensure safety from COVID-19. The leniency of the authorities in collecting fines has contributed to the increase in demand for disposable utensils.
Ritesh Agarwal, owner of Jindal Plastics, said that demand for disposable utensils has increased by 20 to 25 percent. "Plastic cups, bowls, plates, and lunch trays are the most in-demand items," he said. "The pandemic has started a new eat-drink-throw culture at eateries. This has benefitted us a lot," he added.
Shyam Sharma, owner of Madhuram Sweets at 56 Dukan, said that apart from a few food items like dosa and pav bhaji, they serve everything else in plastic disposables. "To keep our business afloat, we have to do what the customer wants. Customers fear coronavirus and demand use-and-throw utensils," he said.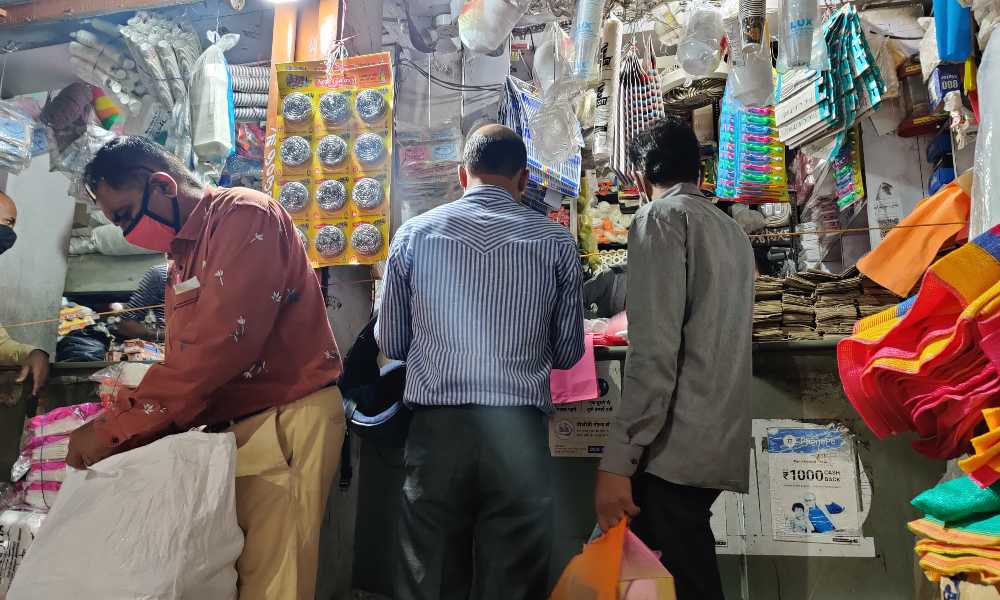 The 56 Dukan locality was given the 'Clean Street-food Hub' tag in 2019. The shops maintained proper hygiene, stopped using single-use plastics, and used stainless steel utensils for serving food. "The municipal corporation order to ban single-use plastics aimed at reducing plastic waste in the city. We followed the orders earlier, but the authorities are not saying anything since ease in lockdown restrictions," Shyam Sharma said.
Mahesh Sharma, Superintendent Engineer, Swachh Bharat Mission Department, Indore Municipal Corporation, said that they have effectively banned single-use plastics. "We had temporarily stopped collecting fines from shop-owners who are caught with single-use plastics. But now we intend to bring those spot-fines back soon," he said.
Some other food-businesses had started using disposables since the onset of the pandemic to minimize contact with customers. "We got rid of glass tumblers months ago. We did it for our own safety," Vicky, owner of Sanjay Tea Stall, said. "We have to keep our families safe. We cannot risk our health by washing utensils used by hundreds of customers," he added.
Pyarelal Malviya visits a local tea stall three to four times a day. He is pleased that the tea stall is now using disposable cups. "I have to worry less about Corona now. Otherwise, I would keep wondering if the glass was washed properly and how many people might have used it," he said.
Dr. Rajkumar Sisodiya, Medical Officer (Pulmonologist) at ESI Hospital, believes that the risk of contracting coronavirus is not eliminated but considerably reduced while using disposable utensils. "Maintaining a minimum of six feet distance is extremely important while at eateries because every customer has to remove their mask while eating. Washing hands and using sanitizers frequently is also crucial for ensuring safety," he said.
Some customers, however, think that the use of plastic utensils can be minimized. "Use-and-throw utensils are good, but shops can use more eco-friendly options like paper or leaf utensils," Anjali, a customer at 56 Dukan, said.
A few food stall owners realize their responsibility towards the environment and have opted for eco-friendly variations of utensils. Vijay Singh, owner of Johnny Hot Dog at 56 Dukan, said that they have started using paper bags instead of steel plates and bowls. "The paper bags we use are very thin. Around 300 of these thinner bags can be produced from a single tree as compared to 100 thicker ones," he explained.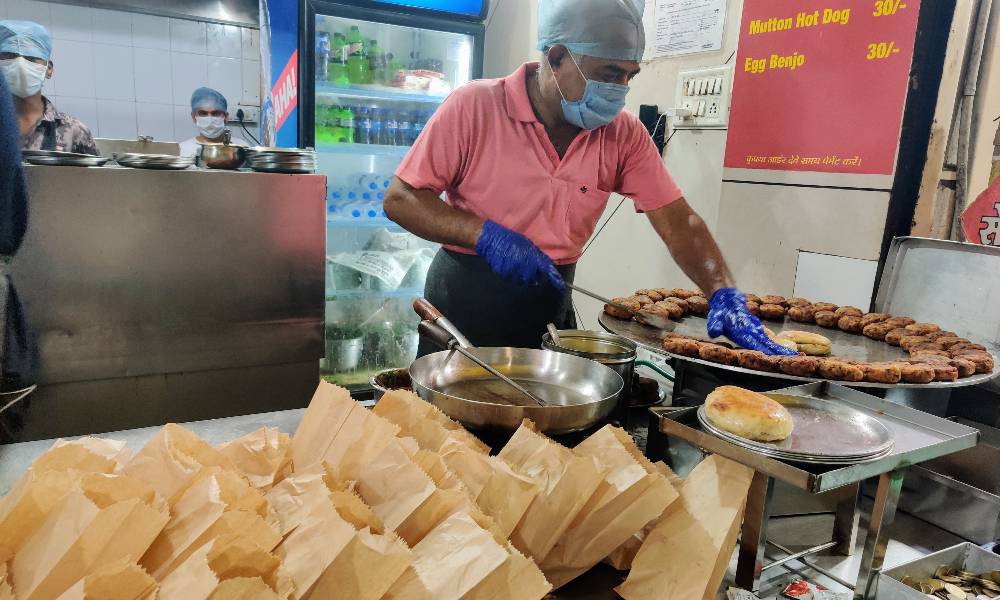 The paper bags used by Singh satisfy multiple purposes. They have stopped providing tissues. "Customers can wipe their hands using the same paper bag, and it is ideal for take-ways too, as no extra plastic containers are required," he said. "We have found the perfect way to save trees, keep customers safe from the virus, and maintain cleanliness while successfully running our business," he remarked.
Despite an increase in the number of food stalls using disposables, some plastic utensil manufacturers have not seen any increase in their sales. Shah Nawaz of Cash Trading Company, a supplier and manufacturer of disposables, explained that most food stalls and restaurants use disposable utensils almost throughout the year. "Our main sources of income were weddings and parties. Since they are happening in limited numbers, our business is not great," he said.
Although the demand for plastic disposables has increased, the amount of plastic waste collected in the city has not changed. "Big events like weddings and parties are the main source of plastic waste. Food-stalls do not generate much plastic waste as compared to big events. Since big events are not taking place like earlier, so plastic waste generation is low," Mahesh Sharma said.
Central Pollution Control Board's report suggests that only 60 percent of the 9.4 million tonnes of plastic waste generated in India every year is effectively recycled. The remaining waste is left unattended and causes land, water and air pollution. Indore has an efficient plastic-waste management system. Plastic waste is no longer burnt. It is given to cement plants to use as fuel or is used in construction of roads.
Dr. P. N. Mishra, Director, School of Economics, Devi Ahilya Vishwa Vidyalaya, explained that businesses have time to adjust if financial and social changes are gradual. "With COVID-19, the changes have been fast and violent, and business-owners had little time to adapt to the situation," he said. "The most important thing that food-businesses can do to ensure profitability is assuring customers' safety," he added. "Restaurants and food stalls must maintain proper hygiene in the kitchen and at the time of delivery," he suggested.