Reports suggest that abortions carried out by medically untrained persons or outside of health facilities are a leading cause of maternal morbidity and mortality in India.
Indore: Unsafe abortion is the third-largest cause of maternal mortality in India, contributing to eight percent maternal deaths annually. Around 78 percent abortions in India are done outside of health facilities by untrained people or by illicit methods.
Data released by Sample Registration System, Office of the Registrar General of India, suggests that the Maternal Mortality Ratio (MMR) has dropped to 113 from 122 during 2016-18. Reports, however, indicate that safe and legal abortions are still not an option for all.
A report by Ipas Development Foundation (IDF) says that only 22 percent of women know that abortion is legal in India, and 62 percent of them believe that abortion is a sin. "Unsafe abortions are common because women don't want others to know that they sinned by killing their foetus," Praveen Gokhale, Secretary, Pahal Jan Sahyog Vikas Sansthan, said. "The problem is they don't even know the duration till which abortion is safe. Many women lose their lives," he added.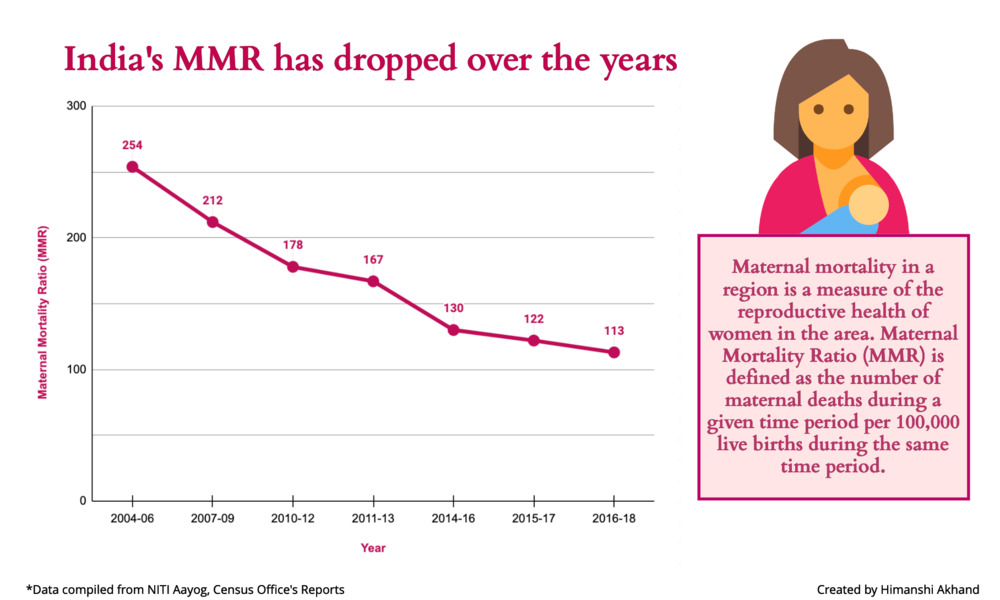 The IDF report states that only one doctor every 2 lakh people is available for abortion in most Indian states. Private gynaecologists are concentrated in urban areas, and 20 percent of districts have no private gynaecologists providing abortion services. "When we consider rural settings, health centres are located far off," Gokhale said, "many women die on their way to a hospital."
This situation worsened during the nationwide lockdown, imposed earlier this year, IDF's report, Compromised Abortion Access due to COVID-19, suggests. "In usual times, 3.9 million abortions would have taken place in the three-month period. Of these, access to 1.85 million abortions or 47 percent is likely to be compromised due to a combination of factors impacting the health system, supply chain of abortion drugs and mobility of women/their partners in lockdown," it said.
Any abortion that is carried out outside of health facilities or by an unauthorized person is unsafe, Dr. Komal Vijayvergiya, Gynaecologist, said. "Women buy pills without prescription, drink various concoctions, sometimes even eat a lot of papaya fruit thinking that it will help them abort," she said, "but these are just myths." It becomes difficult to save their lives when they come with severe complications like excessive blood loss and infections, she added.
In her 15-year-long career as an Accredited Social Health Activist (ASHA), Hemlata George has never come across any woman who wanted her help in undergoing an abortion. "But I have seen cases where women come to me with severe complications (after undergoing an unsafe abortion), and they ultimately have to undergo surgery," she said. Unsafe abortions are common because women want to keep it a secret. "They ask their husbands to bring any medicine available in the market and pray that it works," she added.
An increase in cases of unsafe abortions can be attributed to the restrictions laid down on gynaecologists under the Pre-Conception and Pre-Natal Diagnostic Techniques (PCPNDT) Act, Dr. Komal said. "Earlier, a per-vaginal examination used to be enough before terminating pregnancy. Now, sonography is mandatory," said Dr. Komal. "Sonography is expensive and not easily accessible. Women from economically weaker sections go to public health centres where generally only one sonologist is available," she said. "Instead of wasting time in filling forms and waiting in lines, unsafe methods of abortion seem much easier," she added.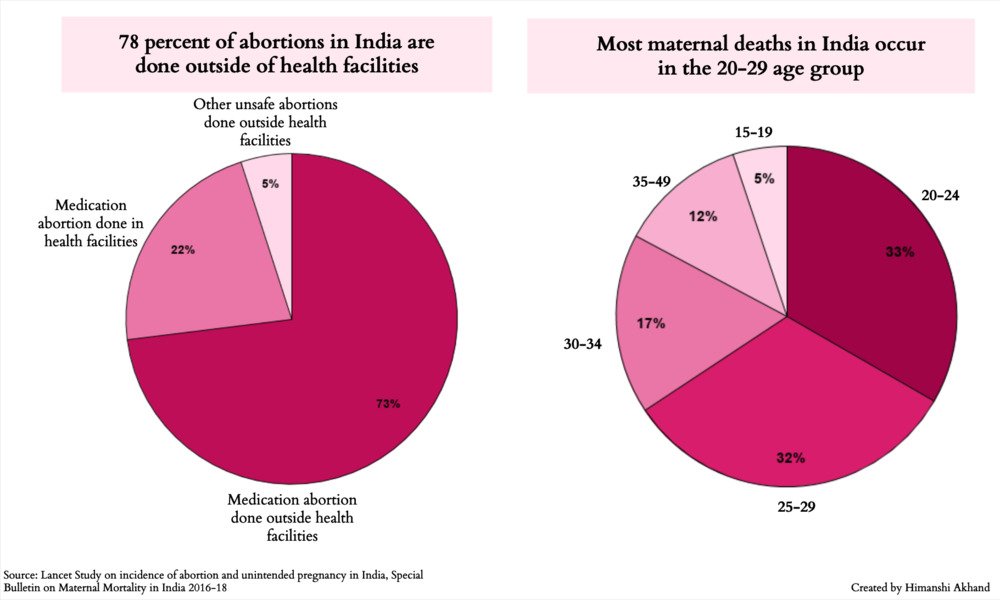 Priya (name changed) underwent an abortion recently. She never thought about any unsafe methods to terminate her pregnancy, because her family supported her decision. "As soon as I learnt that I was pregnant, I reached out to one of my relatives, who is a doctor," she said. She terminated her pregnancy free of cost at a government hospital. "I had to wait two hours for the sonography," she said, "had I not known one of the doctors, it would have taken four to five hours or even more." If you wish to save money, you have to compromise with time and facilities, Priya remarked.
A report released by Pratigya Campaign says that 243 cases have been filed over last one year and three months in various High Courts to seek permission for an abortion. Before that, 175 cases were filed over three years. In 84 percent of the cases, permission to terminate the pregnancy was granted, and 74 percent of them were filed post the 20-week gestation period.
The Medical Termination of Pregnancy (MTP) Amendment Bill, 2020 was recently passed by the Lok Sabha, and it increases the duration in which abortions may be carried out. "The pregnancy which could be terminated up to 12 weeks with only one medical practitioner's consent, can now be terminated up to 20 weeks. The upper limit is increased to 24 weeks but is not absolute. The law will allow abortion beyond 24 weeks in case of foetal abnormalities," Shraddha Gome, Advocate, Madhya Pradesh High Court explained. The bill also includes "any other woman" apart from those married in its scope, she added. "The 2020 amendment is a landmark step especially in recognition of women's right to reproductive autonomy," she remarked.

India is currently working towards reducing the MMR to less than 70 per 100,000 live births by 2030.