The pandemic has made it difficult to rescue working children in Cuttack district.
Cuttack, Odisha: Authorities in Cuttack district have been unable to conduct child labour rescue drive since June this year due to the Covid-19 pandemic.
Banamali Mohapatra, District Labour Officer said, "This year between June and October only three children could be rescued while 19 were rescued in 2019 between June and October."
Pragati Mohanty of District Child Protection Unit said, "No child labour rescue drive has been conducted in Cuttack since June this year." She also said, "While in 2019, three official rescue drives were conducted between June and October, this year due to pandemic, rescue drive could be conducted only once."
Amiya Bhushan from the Child Welfare Committee, Cuttack said, "Labour department should conduct the rescue drives. However, because of lack of staff in the welfare department, there have been no follow-ups and no rescue drives."
According to Census 2011, Cuttack is more prone to child labour as compared to other commercial districts like Khurda and Puri. According to the census, 2.4 percent of children between 5 to 14 years of age were engaged in work in Cuttack, while in Khurda and Puri it was two percent and 1.4%, respectively.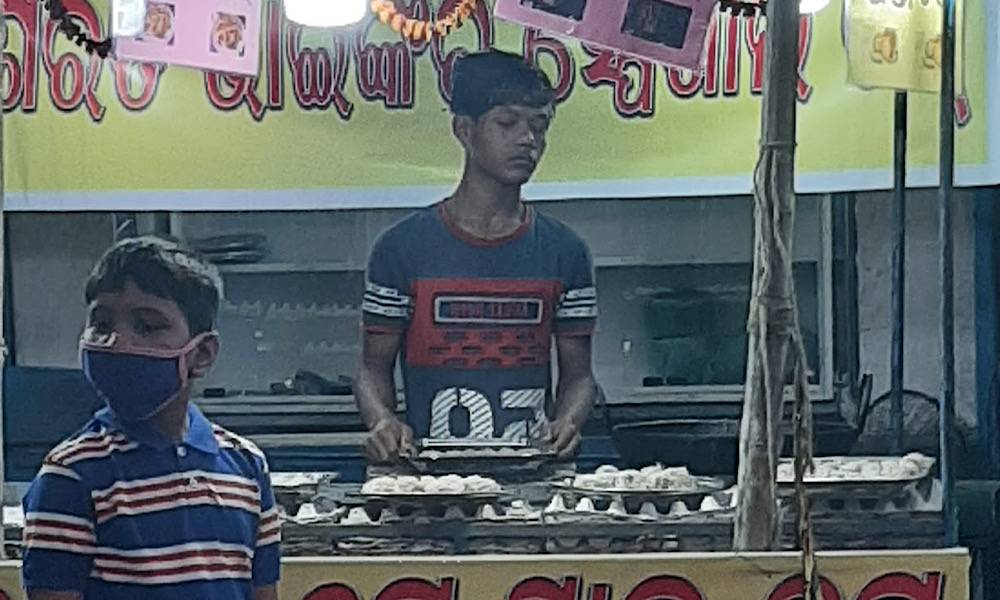 Cuttack is a major railway hub of the east coast and attracts migrants from various rural areas, pointed out Prasant Kumar Behra, Assistant Professor of Economics at Central University of Odisha and Subhasmita Das, Lecturer, in mathematics at Central University of Odisha, explaining the high rate of child labour. They said that these migrants mainly reside inMalgodown, Tulsipur, Nayabazar and railway station, in the city.
"Cuttack district has more rural-based areas and the itta bhati (brick factories) in Jagatpur attracts more children migrant workers," said the founder of Aashra NGO. "NGOs lack funds to conduct awareness campaigns," he added.
"NCLP (National Child Labour Project) Schools were working well. Children enrolled in these schools used to get stipend money but these schools were shut down midway by the Central government in 2014. The government has not yet paid the last working year's money to NGOs for running these schools," he added.
Madhushmita Swain, in-charge of NCLP Schools in Cuttack said, "NCLP schools were shut down in 2014 due to change in guidelines and students were mainstreamed before that. NCLP was supposed to get established again as a Special Training Centre in March 2020 but it got postponed due to COVID-19."
NCLP is a major scheme for the rehabilitation of working children. According to Labour Directorate of Government of Odisha, under National Child Labour Policy, 40 schools were sanctioned as Child Labour School in Cuttack and by 2012, 38 were working. Around 1900 children were enrolled and 5839 children were mainstreamed.
Amiya Bhushan said, "The flood in the state forces people from the rural area to shift to urban areas in search of work and permanent residence every year. Due to the presence of small-scale industries and roadside dhabas, income sources are easily available in Cuttack."
Sai Sarthak, owner of a restaurant in Cuttack said, "The officials come for checking at regular intervals and ask the waiters in the restaurant their age. Initially while applying for food and trade license, the details of the workers along with their age were asked by the officials to check the existence of any child labour."
A child working as a street food seller in Cuttack said that he is helping his father by working during this pandemic while schools are closed. He also mentioned he prefers working in order to earn money, instead of studying.
To minimize child labour, child care institutions are established in almost every district. According to Women and Child Development, Odisha, 30 child care institutions are present at Cuttack, 29 at Khurda and 14 at Puri. Pragati Mohanty said, The children brought to these institutions are mostly drug addicts.They often run away as they find it difficult to get accustomed to a disciplined lifestyle and prefer earning money."
"Strict steps have been taken in recent times to control child labour in Cuttack," she added. "Frequent raids have been conducted at various places in Cuttack. Baliyatra, which is one of the largest fairs of Cuttack during the month of November attracts large number of children to work as street vendors but in the last two years due to constant checking and raids by police, no case of child labour has been reported during Baliyatra," she said.