A study says 6.4 percent of girls who get early menses have chances of getting lifestyle diseases like diabetes, cardiovascular diseases, and in 8 percent cases even depression.
Chandigarh: Depression, diabetes, cardiovascular problems, breast cancer are more prevalent in girls who get menses at a young age. A study by the American Academy of Pediatrics says that mental health is severely affected by the age at which the girls get their first period.
The hormones triggered at a young age cause depressive symptoms, as per the study. The luteinizing hormone, follicle-stimulating hormone, and the female sex hormones estrogen and progesterone have started triggering the menarche in girls sooner.
A 2014 study, examining data from 2005 to 2014 by the National Center for Biotechnology Information (NCBI) shows that the age of girls when they get their first period has dropped from 14 years to 12 years.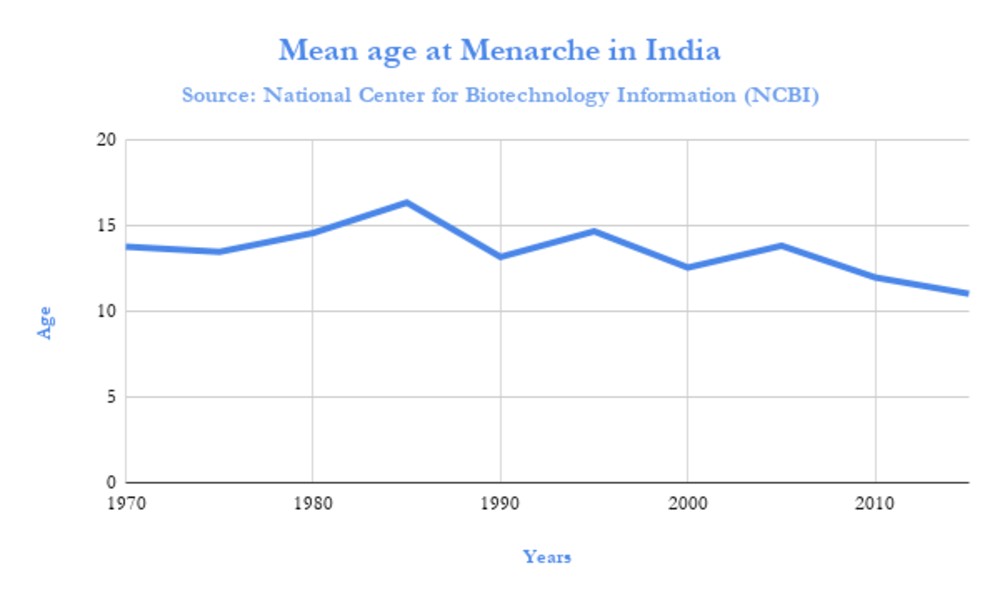 This happens because of a lack of proper diet, and hormonal imbalance at an early age, said Dr Jyoti Sekhon, a gynaecologist from Chandigarh. Lack of physical activity can also be one of the reasons, she said.
The early menses hinders the growth of young girls, thus they stop gaining height once they start menstruating, says Dr. Sekhon.
"Along with physical changes, the child also feels mental pressure," said Mrs Kulwinder Kaur a mother of two daughters (age 14 and 9). She also said that once her daughter started menstruating she became more self-conscious and started asking questions that were a lot more mature for her age. "A child is not ready for this – mentally and physically – at an early age and this causes pressure on the child's mental health," said Mrs Kaur.
"Proper counselling is very important," says Ms Shehnaz who teaches classes 6th to 10th in a government school in Chandigarh. She also mentioned that under the "Samagra Shiksha program, the school invites various resource personnel to help the students." The required menstrual products are made accessible in the schools.
"One needs to be gentle and carefully handle the students," says a teacher from a private school in Chandigarh "We try to be approachable and if we handle it well and make the environment comfortable the children open up and start sharing their problems." She also said that various companies like Whisper and Stayfree visit the school to provide the students with information about menstrual hygiene.
"Nowadays children are opening up more and are aware of their surroundings, this subject is no more of a taboo as it was during our generation", said Mrs Kaur. Exposure to the internet makes the child more curious, they find answers while searching the internet. While mostly they find good information, sometimes they stumble across negative content which can cause more harm to their mental health at an early age.
A report by NCBI says that girls who get early menarche are at a greater risk of psychosocial problems such as delinquency and risky sexual behaviour, as well as physical health problems such as obesity, diabetes, cardiovascular disease, and breast cancer. Dr Sekhon also confirms this by saying that early menarche can cause various lifestyle conditions like hypertension, diabetes, heart problems at a later stage in life.