There are around 35 million fewer women in the country compared to men.
The present sex ratio in India (according to the 2011 census) at 943 to 1,000 is a drastic decline from 1901 when it was 972 /1,000, according to the National Health Profile, 2018.
Sex ratio is determined by calculating the number of women per 1,000 men in the population. Nine hundred and forty-three as sex ratio means there are 943 women per 1000 men in the country.
A report from the United Nation's International Children's Emergency Fund (UNICEF) states that in 1901 there were 3.2 million fewer women in India compared to men. It adds, "A hundred years later the deficit increased over 10 times to 35 million at the time of the 2001Census 2001."
[media-credit id=43 align="alignnone" width="300″]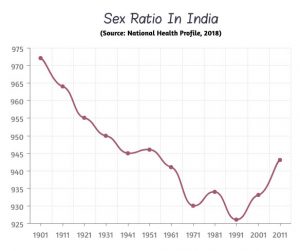 [/media-credit]
The report describes the sex ratio among children aged 0-6 years as the most disturbing decline. From 1,010 in 1941, it dropped to 927 in the Census of 2001. In the most recent census of 2011, Child Sex Ratio dropped even further to 919.
The UNICEF report attributes various causes to the decline such as female infanticide, abortions female feticide, and various other violent practices meted out to girls children all over India. Abortion on the basis of the gender of the fetus is a common practice mostly in the northern states.
The 2011 Census states that the Haryana has the lowest Child Sex Ratio at 834 and Arunachal Pradesh has the highest at 972.  In Karnataka, the Child Sex Ratio stands at 946 which is a decline from 965 in the 2001 Census.
Bangalore has the lowest sex ratio among all the districts in Karnataka. According to the 2011 Census, the sex ratio in Bangalore stands at 908, same as the last Census in 2001.
Moreover, Bangalore shows a weak number in Child Sex Ratio as well. At 916 in the 2011 Census, the Child Sex Ratio has only increased a little from 908 in 2001.
[media-credit id=43 align="alignnone" width="300″]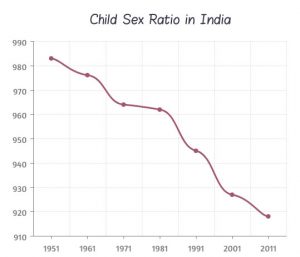 [/media-credit]
Saaniya Nanda, a gynecologist, said, "Sex-selective abortions can be attributed as the major cause from such a weak sex ratio in Bangalore, as well as in India."
Many families, who are deeply rooted in their patriarchal ways consider a girl child as a burden. To them, a male child is more lucrative as he will eventually become a source of income, in contrast to a girl child as they will have to pay for her dowry. In villages or even urban areas, doctors do ultrasonography for sex detection although it is prohibited by law.
She also added that women are generally considered weaker sex and traditional patriarchal society has always tried to avoid the burden of a girl child, that has resulted in an overall decline in the sex ratio of the country.