Bengalureans have been waiting eagerly for the Bangalore International Film Festival (BIFFES). This year, it is also going green with almost zero plastic usage and an interesting theme of music to bind the festival together. Playback singer Sonu Nigam will perform at the inauguration following the theme.
By Sanchari Ghatak
February 25, 2020
The 12th edition of the Bengaluru International Film Festival (BIFFES), supposed to kick start from February 27, will feature internationally acclaimed films, special regional films, biopics and workshops on script writing.
Over 255 movies will be screened, out of which 52 will be Kannada movies. The theme for this year is 'Indian musical tradition in cinema'. It will also be an eco-friendly event as there will be almost no use of plastic in the whole event.
Laxmi, a movie buff has been waiting for the film festival since the Oscars. She is looking forward to watching Oscar-nominated movies here. "I am a student so I got a delegate pass for only Rs. 400, which is a 50% discount on the original price," she said.
Besides students, senior citizens, film society members and film professionals can avail delegation passes at a discounted rate of Rs. 400. For others, the registration fee is Rs. 800.
Delegates can watch screenings on all seven days with just one delegate pass.
Vignesh, a student of Ramaiah Institute of Technology, thinks this is a great initiative as not only is the pass cheap, but also encourages students like him to experience the ambience of a film festival."I don't really have time to go to PVRs. Even if I have time, the tickets are costly. This is why I am here, even after missing the deadline for online registration," he said.
Sahana Shivanand, Art Manager at the Karnataka Chalachitra Academy said, "BIFFES 2020 will have a grand opening ceremony at the Kanteerava Indoor Stadium, where Chief Minister B S Yediyurappa will inaugurate the event. Celebrities like Sonu Nigam, Bonney Kapoor and others will also be present at the inauguration ceremony."
The registrations for the festival have started online from February 5 and the portal closed on February 24. However, students as well as movie buffs can now walk into the Karnataka Chalachitra Academy and register until February 26.
Movie buffs have been already pouring into the PVR Cinema at Orion Mall with their many enquiries about the festival. The registration desk at the Karnataka Chalachitra Academy was swamped with students from all across Bangalore trying to avail a delegate pass.
"In a first, Navarang Theatre in Rajajinagar will also be hosting the film festival this year. Seven to eight thousand people can simultaneously watch the screenings there. This decision was taken owing to the overwhelming response from movie buffs all across the state," Shahana added.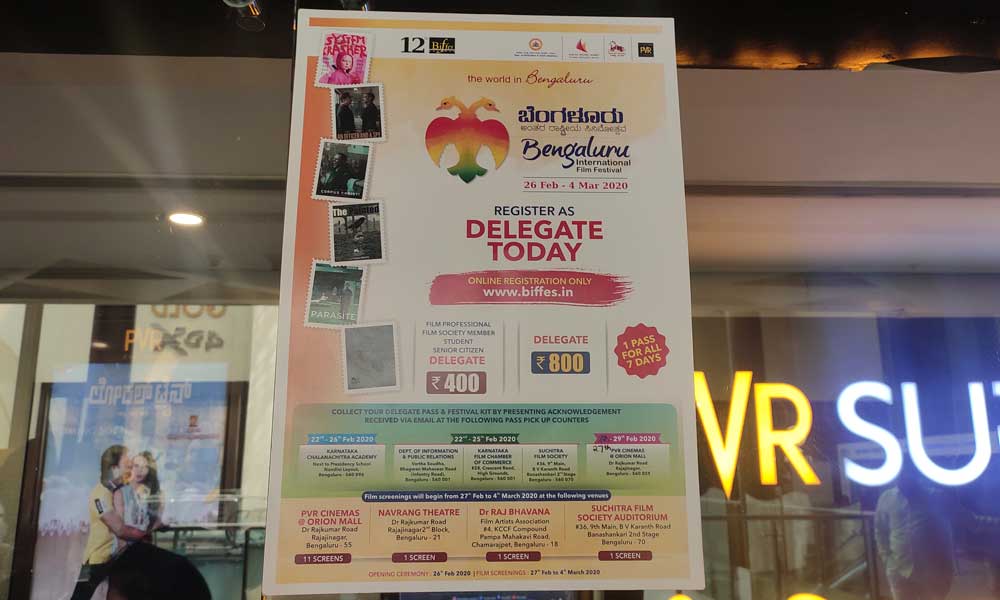 A two-day workshop will also be held as part of the film festival. The workshop will focus on techniques of writing effective and meaningful script, piracy, censor rights and web series. For this the Karnataka Film Director's Association (KANFIDA) has partnered with the BIFFES, in another first, to educate amateur artists and movie enthusiasts. "Cinematographer A S Kanal will be conducting workshops on VFX technology and virtual reality in cinema. 'Revisiting classics' is a section added to the festival to commemorate 125 years of cinema," Vidyashankar N, Artistic Director, BIFFES, said.