The opinion is divided over government agencies' move to provide a dedicated lane for BMTC buses on the Outer Ring Road (ORR).
By Jagriti Parakh
Bengaluru: Providing a priority lane to the Bangalore Metropolitan Transport Corporation (BMTC) buses and manning the traffic on the ORR has worsened the traffic gridlock in the areas like Marathahalli, Mahadevpura, K.R. Puram railway station, and Tin Factory. Private vehicle owners and cyclists complain of increased chaos on the stretch.
According to BDA's Revised Master Plan 2031, the stretch of ORR between Marathahalli and Iblur currently carries five times its rated capacity. With the introduction of BMTC priority lane on this three-lane stretch, all other vehicles (including other buses) will have to be diverted to the other two lanes, thus bringing them to a grinding halt by further reducing the travel speed on those lanes.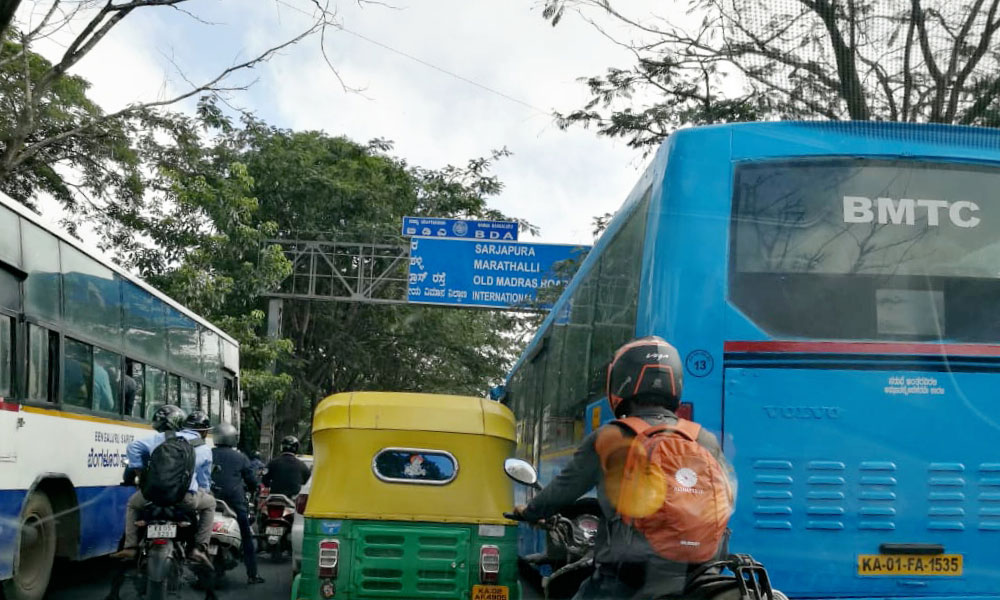 Private vehicle owners say that the traffic jams on the ORR stretch have worsened.
Rashmi Kandi, a resident of Baiyappanahalli, said, "Ever since the introduction of the priority lane, I can see an increase in congestion between Tin Factory junction and NGEF Layout. All the U-turns have been blocked. They (BMTC and BBMP) are only thinking about BMTC-users, not other commuters, which is just pathetic."
A group of techies who started the #CycleToWork movement in Bengaluru are also infuriated because of this "unplanned move."
Shilpi Sahu, who usually cycles to work from ORR-Iblur junction, said, "By default, the leftmost lane is used by cyclists, but now that it is meant only for BMTC buses, where should the cyclists ride?"
Commuters and office-goers working in tech parks on the Outer Ring Road, who generally pool cars or travel by cabs, said that cab drivers have not been informed about the bus lane. They do not know where to stop for pick-up and drop because the leftmost lane is now reserved for buses.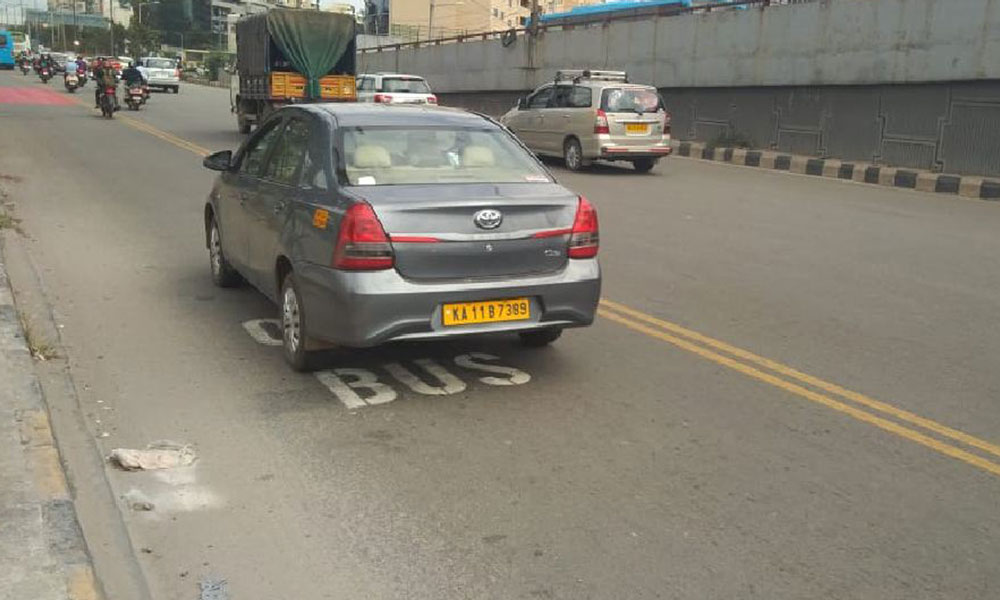 Many people have also reported reduced travel speed because of the increased vehicular density on the part of the road. They also complained about the stalled Metro project on the ORR.
Radhika Gupta, a resident of Marathahalli, said, "This part of the city (near ORR) has more than 50 heavily crowded public places including tech parks and malls. Hence we need a metro here. A bus priority lane cannot handle as much traffic volume as the metro, without disturbing other commuters. But the Namma Metro project has been stalled indefinitely."
The city's iteration of dedicated bus lanes was first presented in 2003. About 16 years later, BMTC, BBMP, and other agencies have started a priority lane on the stretch between Silk Board and Tin Factory. The full-fledged operation began on November 15 between KR Puram and Iblur. BBMP's Zonal Commissioner of Mahadevpura and Bommanahalli tweeted on the same day, saying "Work is under progress from Iblur to Silk Board Junction and will be ready by November end."
Deepak N., Public Relations Officer, BMTC, said, "This project is expected to improve travel time in the city, reduce congestion and improve the quality and reliability of bus commute. It will reduce the number of vehicles in one of the most congested corridors in the city.
He added that there will be over 800 buses on that route, taking more than 4500 trips daily. More than 80 buses will take rounds during peak hours to facilitate speedy mobility for workers and office-goers.
Pawan Mulukutla, Head of Integrated Transport at World Resources Institute, said, "The project can be implemented effectively by providing technical support, sensitizing sustainable development and building capacity to increase the number of daily commuters. The public will agree to bear the extra pain that comes with bus lanes only if they can look forward to some exciting results. They will not cooperate if no outcomes have been set for the project."
Watch this video to know more: