Fake calls and scams in the name of jobs are still quite rampant in Bangalore.
Batchu Rushali
People from Bangalore receive fake calls for jobs and are demanded to pay money for job confirmation after sharing their details in various online platforms seeking for employees.
The Cybercrime police department confirms that the rise in figures each year warns about the alarming condition of the job scams in the city. In 2017, 172 cases were reported and in 2018, 382 cases were reported throughout the year whereas 415 cases have been recorded till October 2019.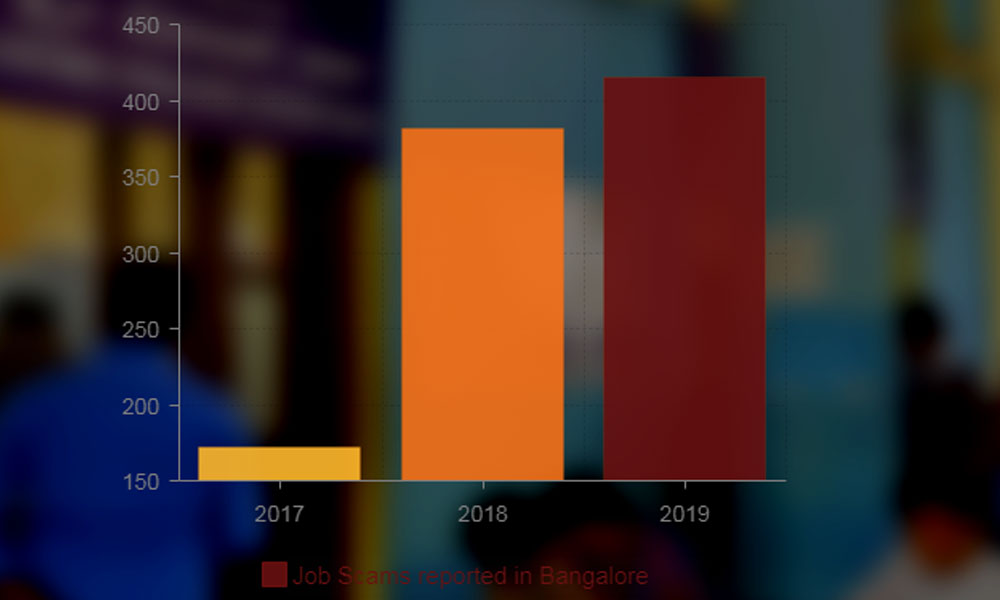 Bhavani, who's still looking for job, experienced the fraud and went through a hefty transaction. She said, "I got a call from the recruitment cell and before confirming my job they asked to deposit money along with enquiring about my details. After the transactions, I didn't even receive a confirmation letter. In fact, I am unable to connect with the person anymore. I cannot rely on the online platforms for anything now."
Deepti Ayathan, an advocate, said, "I think one should be extremely cautious when they get a job call from a company. These days, fraudsters ask you to submit your data and documents only to steal it for other illegal purposes. As a consumer, you should critically weigh in the pros and cons before sharing any information or paying any money online. Performing a thorough background check and following the standard protocol before walking-in to an interview, is extremely necessary."
After registering into the online platforms in search of jobs, most people fall prey to fraudsters as they demand money and personal details before confirming the jobs, thereby getting trapped in the vicious net of fake calls of job offerings. It is the online social platforms that give a wide variety to people when it comes to jobs but at the same time, it is these websites which can cause huge losses to its users by allowing access to their bank accounts or by exposing their personal details.
Raghu Ram from Monster, an online platform, said, "We try and create awareness through different social media platforms, advertisements and SMS. Job seekers are desperate to get a job and that's where the problem lies. They receive calls from different numbers and eventually get cheated. People should be careful on a personal level too and should be aware of fraudsters." .
He added, "Regularly, around 2-3 complaints are registered from all over India. We have not been able to control fake calls completely. Our back-end marketing team takes the job of preventing fake calls very seriously."
Advocate Deepthi said, "Most people don't want to pay for the account they create on these job websites and thus should take the risk of what happens thereafter."
Along with complaining to the online platforms, people can seek help from the Cyber Crime Police Station to get their money back.
Sunil, the head constable at Cyber Crime Police Station, said, "After a complaint is lodged, we try to figure out the beneficiary account and the account number along with the details of the person and from where he is accessing the account with the help of the associated bank. Since the bank account is linked with either Aadhar card or phone number, sometimes both, we ask the bank to check the transaction history and try to get hold of the person through the bank account."