Business for the shopkeepers in the Tibetan market has gone down by 60 percent
By Surbhi Jain
Bengaluru, April 9, 2019
Located in the heart of the city, the Tibetan market is suffering a massive loss of revenues due to the coming up of the online marketing business. Shopkeepers are complaining how the market has gone down tragically and selling even a single product of clothing and other products seems difficult.
According to a shopkeeper name Pabitra Rai who owns a clothing shop in the Tibetan shopping centre located on Church Street, in the Mahatma Gandhi Road neighbourhood, "I am from Darjeeling, and this is my first shop which I opened here in 2013 and since then the market has got down and I feel that it is majorly due to the online shopping these days. I never thought of an online business. My job is to increase my sales, but right now selling one piece a day is difficult. It is hard to make money now."
[media-credit id=41 align="alignnone" width="288″]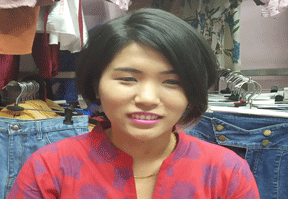 [/media-credit]
Tenzing  Namdol from Tibet runs a shop on behalf of her parents in the market. She mentioned, "I have a page on Instagram too but just for the purpose of advertising the business. But I feel the business has gone down not just because of the coming up of the trend of online business but also due to the coming of demonetization. Business in India is not good at all. Our products come from Thailand and honestly the market is far better in Thailand. Anyway, we are planning to shut down the shop within two years from now and permanently shift to America."
Another shopkeeper in the Tibetan market named Tenzing Tsering said, "I have been running this shop here since the last 14 years and believe me the market has come down by around 60 percent. Initially, brands did not use to be that cost effective like it is now. Any denim in Zara initially used to cost around 4,000 rupees, which now has almost come down to 2,000. People now get branded clothes at cheaper rates. You have brands like H&M and many others. Brand now comes first for all."
Some 20 customers come around in a day and monthly business comes up to one to one and a half lakhs a month including the cost price as well as the profit.
According to Shreshth Bhansali , a chartered accountant who works for Ernst & Young ad agency mentioned, "Proper promotion and advertisement  are very much needed for small businesses. Not having a fixed customer base is now negatively impacting their business with online stores being filled with a larger variety of products at cheaper rates. Government policies and also help from non-governmental organisations (NGOs) are required to keep the traditional markets striving."
When asked about what kind of government policies can help, Shreshth said," By organising trade fair's sponsored by the government  or setting up of trade unions with keeping the products of the sellers  tax- free and not only that but also custom or duty free.