Dhanmapadais a festival in memory of Acharya Buddharakkhitq Bhantejie's 98th birthday.
By Sharath Nair and Samanth Lanka
Bangalore, March 21, 2019
The Maha Bodhi Society in Bangalore is celebrating 'Dhanmapada', a festival in memory of the Most Venerable Acharya Buddharakkhitq Bhantejie 98th birthday. The weeklong celebration started  March 14 and culminated today.
It is considered in Buddhist history that Acharya Buddharakkhita Bareda Bhantejie was a remarkable Buddhist.
[media-credit id=47 align="aligncenter" width="300″]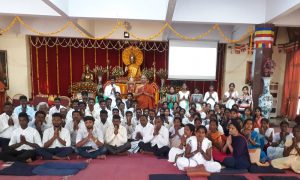 [/media-credit]
He founded the Maha Bodhi Society Bangalore in 1956 and served the cause of Buddha Sasana through several spiritual and humanitarian activities throughout India.
'Dhanmapada' is a book collection of sayings by Lord Buddha. The Dhanmapada festival has been celebrated only in Bangalore for the past 65 years. The Maha Bodhi Society in Bangalore houses some  130 monks who hail from different parts of the country.
V.V.Rajaram, in charge of the Maha Bodhi Society, says" The Maha Bodhi Society has been providing training in meditation, learnings in Dhammapada, and free education. The seminar was compiled by Ven Bhikku Pannaloka and Buddhist Knowledge Quest by Nyanatissa in Kannada".
The Maha Bodhi Society during the Dhanmapada festival serves the society in various ways. This year, they provided service to 'Maha Bodhi Burn Centre'. Community service had also been organized during the festival.
S.Reema, a Buddhist follower, said" My life has completely changed by following the teachings of the Dhammapada, that i have been  following  for the past 15 years".
Anant Bhante, held a seminar in the Kannada language. Today, being the last day of Dhammapada, Upasak and Upasaikas were invited to be introduced to Dhanmapada to help them follow the path of good and righteousness in order to live a happy life.