There were rumours about people not buying mangoes and meat from Muslim sellers in several Bengaluru markets.
"Politicians and their games. Sitting in power and doing nothing"—these were the words from one of the Muslim mango sellers from the Mango market on Jayachamrajendra (JC) road.
"I have not faced any business loss over my religion. There was no such discrimination from people who were here to buy mangoes," said the mango seller.
Another mango seller from the JC road market said that he also did not face any such discrimination.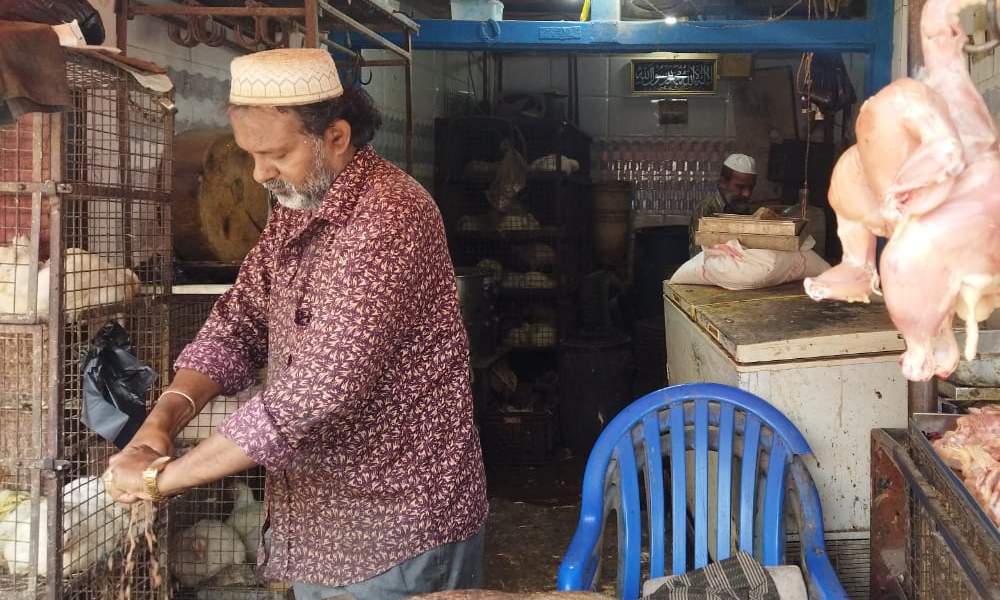 Home to one of the biggest mango markets in the city, the mango market on JC road has more than 20 stalls that sell varieties of mangoes from all over the country.
"With the news of halal meat, people are spreading fake news.. It is all the work of the political leaders who have nothing to do," the Muslim mango seller said.
From Russell market
As two policemen patrol the lanes of Russell market, business continues as usual for shopkeepers.
"I heard about people not buying meat from Muslim sellers in other parts of Karnataka. But no such thing is happening in the market," said one of the meat sellers in Russell market.
One of the employees of the Shaheed group, a poultry center in Russell market echoed similar views. "It's business as usual here, no such thing happened at our shop," said the employee.
Hamresh, the sub-inspector of Shivaji Nagar police station said that no such controversy or harassment is happening.
"When Muslims refuse to buy meat from Hindus, why should you insist Hindus to buy from them?" he said.
Bharatiya Janata Party (BJP) national general secretary C.T. Ravi on March 29 said that halal meat is part of economic jihad that is carried out by the Muslim community.
"Bharthi Nagar is home to 70 per cent Muslims. We have also not faced any controversy in our locality," said Hanumanthappa Reddy, constable at the Bharathi Nagar police station.
Hamresh said that the two policemen, who were patrolling in Russell market, were out for routine patrolling.
Quazi Arshad Ali, former member of the Karnataka Legislative Council, journalist, and author of Karnataka Muslims and Electoral Politics explains the bigger picture.
"It is nothing new. Even before independence, this was happening. But nowadays, there are two things. Firstly, there are elections next year. Political parties are playing their normal games. They are setting the environment of hatred in the state.
Secondly, in Karnataka, the ruling government is facing a tough time and due to this, they are playing petty games," he said.
People of Karnataka will show them the truth in the 2023 elections," she said.
Shanthala Damle, vice-president of the Aam Aadmi Party's Karnataka division said that the BJP is dividing people. "The BJP administration has failed in the state and center. They are unable to keep their control over the price of petrol. So, to keep their vote bank alive, they are playing the game of divide and rule.