The increase in LPG prices and a decrease in customers make Ironers' business go cold.
The shift from charcoal iron boxes to LPG iron boxes for ironers' isn't profitable anymore due to increase in LPG prices. In fact, charcoal iron boxes are comparatively profitable.
Muslayya, an ironer at Oleff Road who uses LPG iron boxes, said that he spends Rs. 1800-2000 for a 19kg cylinder in a month and makes profit of Rs. 13000 per month. Before the LPG price hike, he used to spend Rs. 1200 and make a profit of Rs. 20000.
Stanley, an ironer in Richmond Town, who uses a charcoal iron box, said that he currently spends Rs. 800-900 on coal and manages to make approximately Rs. 15000 per month.
Muslayya said that, regardless of the fact that coal is more profitable, he does not want to return to it because his customers prefer LPG box. "I get customers because I use an LPG iron box," he said. He also said he finds it more convenient and efficient. However, he said that the revenue he earns from ironing is insufficient, so he takes on driving jobs to supplement his income.
Asha, a customer, said that it does not matter to her which box is being used as long as her clothes are well ironed. "When a charcoal box is used, there is a probability of coal stains. However, my clothes mostly never get stained. Maybe once in a blue moon they do," she added.
Vijay, an ironer in Shantinagar who uses LPG iron boxes, said that the increase in the price of LPG cylinders would not have been a problem if the number of consumers had also increased. "Many people no longer go to the office and some choose to iron their own clothes." He added. Because of decrease in profits, it has become difficult to manage household expenses and also, take care of schooling of my children," he further said.
Stanley said, "The LPG iron box is not as heavy as the charcoal one. Clothes get ironed better with the coal box and works well for all kinds of fabrics, which the LPG iron box fails to do." He added that the probability of charcoal staining the clothes is rare because the box is locked well before use. . He said that he wouldn't buy an LPG iron box as it costs Rs 6500-7000. Also, the monthly cost of Rs. 2000 for a 19-kg cylinder is more than what he pays for charcoal. However, he also mentions that getting charcoal sometimes becomes a problem due to the unregulated markets and fluctuating prices.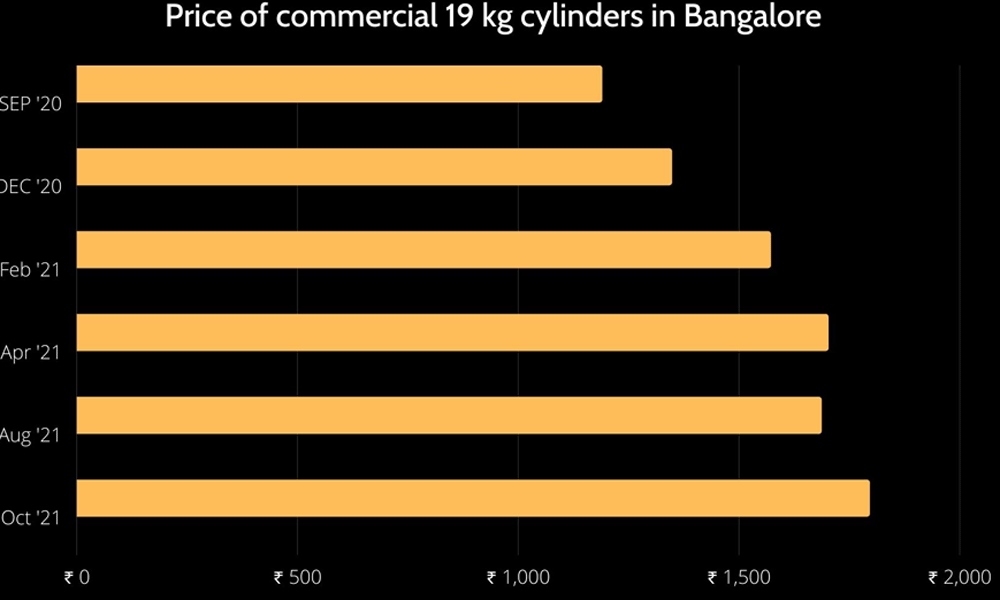 Ram, an LPG iron box distributor, said that although ironers' are aware that LPG iron boxes are an option, they do not buy them because most of them cannot afford them. He said that he has sold around 150 boxes in the last six months. He added that these boxes are prone to theft, as there have been 40 such instances reported to him in the past.
Mr. Mani P, a seller of LPG iron boxes, said that many people have not paid the EMI's from the previous sales yet. He also mentioned that these boxes are a good choice only for shops that are out in the open. Most people who have a shop and a well-built space opt for electric and steam irons rather than LPG.
Cyrus Jose, who works with Udhyam Vyapari Foundation, an NGO that had run a program in 2018 to make ironers' around the city to switch to LPG iron boxes, said that post pandemic, the sales of the boxes have slowed down. "While we have sold 1000 boxes in the city, the majority of them were sold pre-pandemic. Only about 300 boxes have been sold since last December," he said data from the NGO shows that there are currently around 2000 ironers' who use LPG iron boxes.
Dr. A.N. Yellappa Reddy, chairman of the Bangalore Environment Trust, said that the process of carbonization is hazardous to the environment, but once it takes the form of charcoal, it does not cause as much harm. However, the proper disposal of charcoal ashes is critical. If an ironwala disposes of the ashes properly, they become manure; if he does not, they become fly ash, which has negative consequences. According to him the usage of charcoal iron boxes has little negative impact on the environment.