50 percent decrease in road accidents caused by Bangalore Metropolitan Transport Corporation BMTC buses.
Bengaluru, Nov. 21, 2018.
Accident ratio has decreased of Bangalore Metropolitan Transport Corporation (BMTC) this year as compared to the previous last two years, according to the data of the department. Heavy traffic in peak hours of the day and narrow roads are the primary causes for accidents.
"Due to traffic congestion, it becomes difficult to complete the trip in time. Now, traffic rules have become strict that everyone follows it which made the commuting smooth to some extent better than before'', said M.Krishna, a BMTC driver.
According to the statistics of BMTC number of fatal accidents has been decreasing by 50 percents it was noted that 44 incidents took place in 2016 (April to March). In the year 2016, the recorded death toll was 45 which came down to 25 in 2018. Injurious accidents which were reported in 2016 were 314 and in 2018 they were 106. In addition to this, 162 cases were damage related in 2016 and 65 in 2018.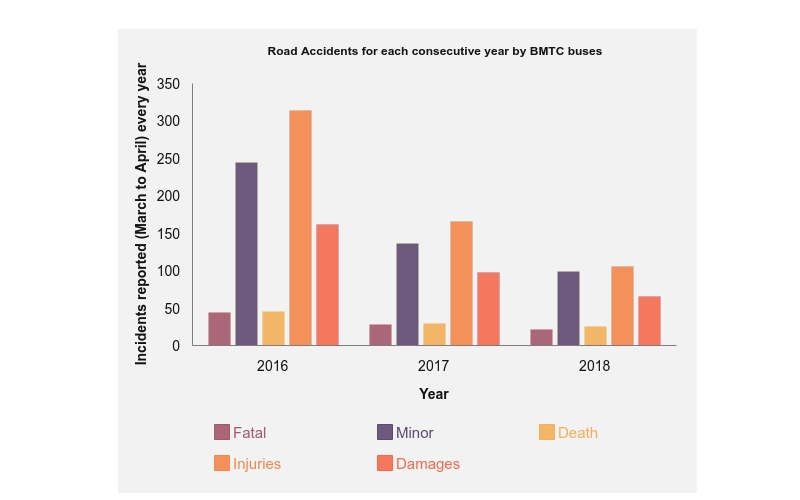 Recently, BMTC has strictly banned the use of mobile phone in working hours and is implemented as two commuters lost their lives in a week. The ban was implemented earlier also but after two deaths in a week has turned the department to implement the action.
''Drivers are well trained but accidents take place unintentionally'', said K.R Vishwanath, Chief Traffic Manager BMTC.
Deepak, Public Relation Officer, BMTC said, "In case of minor injuries and accidents, drivers can be suspended up to three months. Drivers are then sent to training centers again to learn driving skill even better. We have several directions to the drivers like stick to the average speed and remain more conscious in most traffic congested areas to avoid any damage to the public and property. Assuring the safety of commuters we are more careful about doors being opened in the buses and let the passengers get down at a safe place".
"It takes 40 minutes to one hour for one trip and drivers have to give their mobile phones in respective depots before getting into the bus. To manage any unexpected incident, we have one separate squad to monitor all around the city and observe if any driver is using the phone. Call records are checked by the squad to see the timing and duration of the call if the driver was talking continuously '', he added.
According to the intensity of offences, BMTC takes action and can suspend the driver up to three months or slap them with 4,000 rupees fines. Bus conductors are allowed to keep phones and drivers can use them in an emergency.
Azad Singh, a resident of Majestic said, ''BMTC has improved its safety more and this week two deaths were noted down when I was in the police station for my personal work. BMTC is implementing new things that can make a great change which is necessary for the public''.