The two Sewage Treatment Plants of Bangalore to get an upgrade.
Bangalore, Nov. 21, 2018.
The two Sewage Treatment Plants (STP) at Cubbon Park and K&C (Challaghatta) Valley are going to see an upgrade from 1.5 million liters per day (MLD) to 4.0 MLD, proposed G. Parmeshwara, the Deputy Chief Minister (DCM) during a press event at BWSSB (Bangalore Water Supply and Sewage Board), Nagasandra. An STP with the capacity of 4.0 MLD is can supply water to around 40,000 people.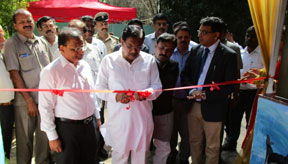 The upgradation was proposed due to the need for massive water supply of non-potable water to not just Cubbon Park, but also for Vidhana Soudha, Raj Bhavan, Indira Gandhi Fountain, Bangalore Golf Club, Nehru Auditorium, etc. The DCM, however, couldn't answer questions raised by reporters about what's happening at Peenya Industry and if there's going to be any development in the area as Peenya's waters, under or above ground, as the area badly needs functioning STPs for the cleanliness of Peenya's heavily polluted water.  It was also proposed that the STPs are being upgraded because it would be used to generate electricity that would be supplied to the nearby areas.
In addition to that, the press release also suggests that the importance of all the STPs at K&C Valley is the recycling of secondary treated effluent to fill the lakes in Kolar district.