Bengaluru, Oct. 11, 2018 : Man-animal conflict is becoming a grave issue as animals are continuously moving out of their habitats to the cities, hunting for prey. In 2018, Karnataka has had instances of 143 leopards entering the cities. Extreme urbanisation, poaching and even farming in wildlife zones are big threats to wildlife.
According to Dinesh ,a safari driver at Banerghatta National Park " just four months ago, a leopard ran out of the national park to the Nice Road area, but fortunately no harm was caused to anyone and it was hunted and put back into a cage.
Dr. Shankarayana Rao, a neurophysiologist in the Centre of Animal Research Facility, in NIMHANS says "Animals should have their own space but it is a sad truth that extreme urbanisation in the wildlife zones is tarnishing away the wildlife. Urbanisation in such zones is an act of stupidity. People who keep dogs and cats or any other animals as pets should not keep them if they cannot protect them. Use of electrocution to control animals is a severe hindrance caused to wildlife."
Aaditto Sen, a forest farm owner in Birbhum District in Bengal, runs a farm where he has made cottages of mud and believes in the purity of the environment. He says "Wilderness Farm was my parent's concept, which I merely try to keep secured. He talked about a long-standing ecological revolution called permaculture in the United States which is the principle around stimulating or directly utilizing the patterns and features observed in natural ecosystems..
He also mentioned that "Instead of clearing away the forest cover to follow agricultural practices, we should learn to grow things within the forest cover, so that way we can utilise the natural biodiversity and follow natural systems of pest control while growing fruits and vegetables. Sadly, humans have chosen to push out nature from their lives and as a result, we have all the modernist problems like pollution, pest infestation, soil degradation and so on. But the fundamental point remains which the western scientific world tries to hide from society is that even after all our great advancement in scientific understanding, we actually have a very little understanding of the nature and the natural phenomenon."
According to Tarachand Jain, Chairman of finances of the Jain society of Jharkhand, and the Regional Chairman of 26 cattle ranches in Jharkhand, stated " Lord Mahavira once said, Live and let live because if we humans have the right to live then animals have the same right too. Humans do not have the authority to kill animals and eat their meat. On one hand, the people of India pray to cows as an avatar of god, and, on the other hand, calves are used as bulls for farming purposes. It is a harsh reality that the animals are in trouble. Especially cows as they are killed in slaughterhouses. Trade of cows has turned into a great business in places like
He added that "In 2006, the Jharkhand Government introduced the Gau Hatya Nished Adhiniyam law which states that if cows are taken to slaughterhouses or are used for trade via truck from places to places without permit, the trucks would be stopped forever and the accused will be put behind bars for a time period of seven years. There is an urgent need for the protection of animals as they are a part of nature and are extremely important to maintain an ecological balance".
Avinash Krishnan, a Research officer for the International A Rocha Conservation and Hope stated "Forty percent of the northern part of the Bannerghatta National Park is within the municipal limit and very much a part of the city. There are almost one million people around the park, which puts immense pressure on the park and affects the wildlife. Extreme and continuous urbanisation is harming wildlife and the natural resources and especially the elephants. The accident that led to the death of the 46 year old elephant Ranga was a tragic one.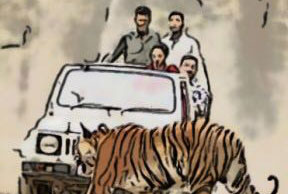 According to an annual report by the Karnataka Forest Department, the state has 25 percent of the country's elephant population. Karnataka's leopard population is around 2000 and there are more than 100 deaths recorded over the last four years. Some died of being shot ,some died unnatural deaths and some died of accidents or poisoning, poaching, beaten by villagers in places likes Tumkuru, Mysuru, Belagavi, etc.
Remeen Firoz, an environmentalist who works with the Department for International development mentioned "Man-animal conflict is more heart-breaking when it comes to elephants.It is important to leave space for other life forms to thrive as wildlife is necessary to maintain the ecological balance".