Surge in far-right support disrupts political establishment and creates confusion amongst the German populace
By Aniruddha Ghosh
Bangalore, March 15, 2018:
Germany is politically polarized and there's uncertainty regarding the country's path towards the future as Angela Merkel won a close vote on Wednesday to become Chancellor for a fourth consecutive term.
Sushmita Poddar, a student at Uniklinik Freiburg in Freiburg, Germany said, "There is no clear consensus amongst the people, there are some who support her and some don't like her. They are not sure about her being in the government again but the thing is they don't see any other option."
The German parliament, the Reichstag, voted 364-315 in favour of Merkel with nine abstentions. German President Frank-Walter Steinmeier then proceeded to formally appoint her. Shortly after that, she took the oath of office.
However, her appointment comes after nearly six months of political gridlock in Germany, which was ushered in after an inconclusive September 2017 election.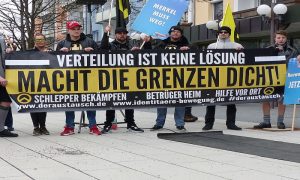 The Alternative for Germany (AfD) party, right-wing populist made a sudden rise, securing 12.6 per cent of the vote in the electionswhich deprived Merkel of a majority and thus started the deadlock in government.
Poddar says, while the AfD is popular amongst the older demographics, there are many who reject them but most people are unsure about them.
The grand coalition which has now formed the government consists of Merkel's centre-right Christian Democratic Union and the centre-left Social Democratic Party.
Germans are however still on the fence regarding the politics in the country.
Isha Pandit, a student at the University of Hindenburg said, "I saw pamphlets all around town with her photo and many of them were vandalized. People drew on them to make her look like a demon. People don't like her and are not sure about her but they see no other option. It's a very mixed scenario."
The AFd came in third in the elections and after the formation of the grand coalition is now the main opposition in the German Parliament.
"Germans are very particular of not being racists and they try not to propagate racism, so I don't think the AfD will rise to a considerable level."
Regarding the immigration policies in the new coalition government, she said the mass migration which happened was unpopular and the coalition won't make that mistake again.