Around 3.5 million workers sought jobs under MGNREGA in 2020 but many are yet to receive their job cards.
Only 42 percent of workers under Mahatma Gandhi National Rural Employment Guarantee Act (MGNREGA) have received job cards under the scheme, despite an increase in demand for work, according to data provided by the Ministry of Rural Development.
"It was extremely difficult for me and my family to get a job card when we registered," said Huchchamma, a beneficiary of the MGNREGA scheme in Kurdi village, Raichur district. Initially, they did not know what it was and no one told them anything about it, she added. Later on, they had to fight a lot to get the job card, she added.
"Workers do not find the right form and are not given proper information about job cards," said Sharada Gopal who is part of the Right to Food campaign in Karnataka. They are usually discouraged from applying for a job card, she said. "Why do you want a job, you can go find it yourself," is what the officials tell them, she added.
The MGNREGA scheme aims to guarantee the "right to work". Under this scheme, every job card holder is eligible for wage employment against the demand for work for a period of 100 days. In fact, research suggests that MGNREGA workers enjoy a higher sense of job security and higher wages if they hold a job card. However, data provided by the Ministry of Rural Development shows that out of 176.93 lakh workers registered under the scheme in the state, only 75.88 lakh have been given job cards.
Around 45.04 lakh job cards are active in the state currently and 33.15 lakh households have been given employment for 2020-21, said Ashwini C K, MGNREGA officer from Karnataka.
However, even after 15 years since the implementation of this scheme, workers in every new village that unions visit, still do not have job cards, said Abhay, from Grameena Koolikaarmikara Sanghatane (GRAKOOS). "People in the village usually do not have a job card or their job card is with someone else," he said. Since the scheme is a demand driven project, the government uses the excuse of not enough demand to not issue job cards, he added.
Lack of awareness about the process of acquiring a job card is one of the reasons for lack of demand for work, said Shashikant Gautam, a policy expert. "If the workers are not aware about their rights, they might get exploited as they are at the suffering end," he added.
This holds true especially for the vulnerable communities. "Mainly people from communities like Dalit, and Adivasi women are the ones who are in need of land and employment but they do not have any information about the card," said Gopal. In fact, research has pointed out that the number of person-days of Scheduled Caste employment increased to over 80 crore until 2009-10 but has registered a steep decline to around 50 crore in 2017-18.
But in some areas such as North Karnataka, there is almost 100 percent coverage of the number of workers who have been issued a job card, he said. In such places, there is not much demand for work which does not create demand for more job cards, said Abhay.
However, this comes at a time when the number of job applications across the country saw the highest increase in a decade in 2020, with 3.5 million new workers seeking jobs under the scheme, according to reports. Additionally, the demand for work under the scheme for 2021-22 was higher than pre-covid levels, according to the Economic Survey report tabled during the budget session.
Despite the increasing demand for work, the rate of increase in the number of job cards issued has seen a decline. The MGNREGA program started by issuing 3.78 crore job cards in 2006–2007, and reached a maximum of 13.14 crore in 2013–2014. Since then, it has stabilized at 12-13 crore between 2013 and 2018. Research suggests that this indicates the saturation of job cards issued by the year 2013–2014.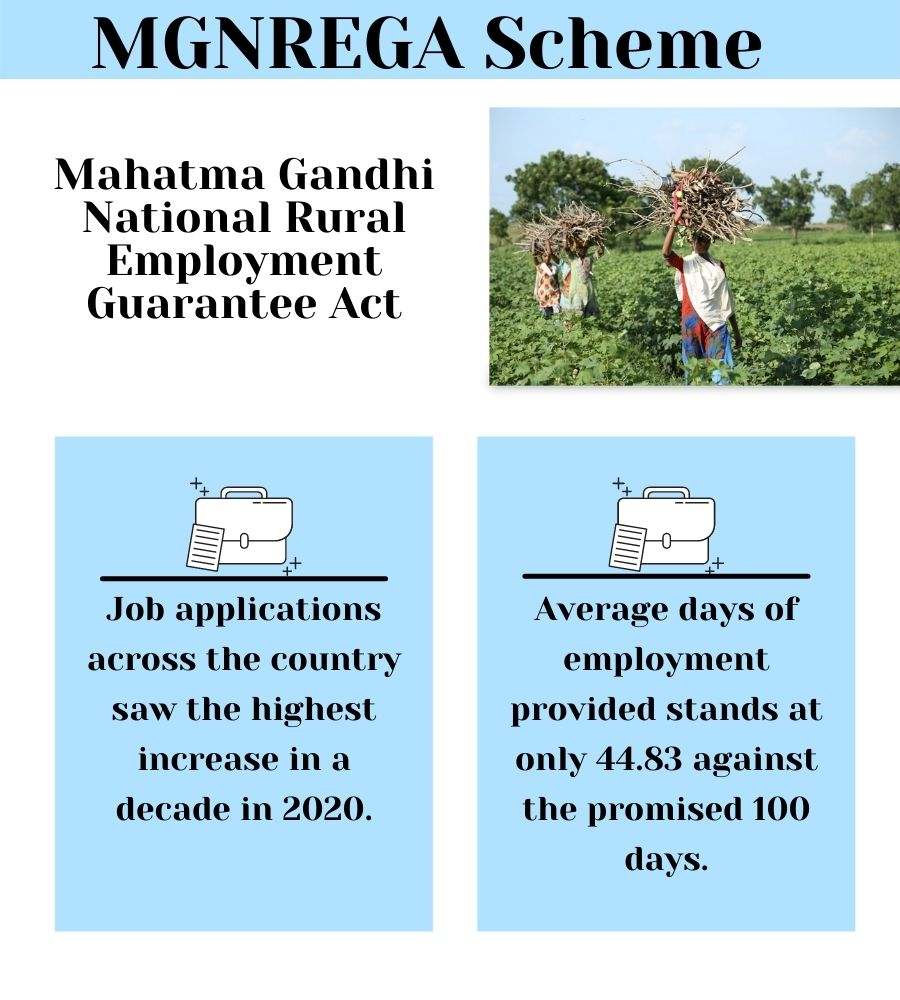 While lack of awareness among job seekers is a problem, there could be mismanagement from the administration side as well. Sometimes, job cards get deleted from the MGNREGA Management Information Systems (MIS) due to administrative failures, said Gopal. "Just like ration cards get deleted from the system, job cards could suddenly get deleted as well," she said. While in some cases the cards deleted are fraudulent, reports have suggested that some of the cards have been canceled as they failed to meet targets of linking them with their Aadhaar cards . In such situations, workers are made to go through the process of applying for a card again when it was not their fault, Gopal added.
The situation in other states such as Bihar is similar to that of Karnataka. Research shows that both the states had less than 50 percent of unfinished work in until 2018-19. However, the process of applying for a job card in Bihar as well is not a smooth process. "The government will charge around Rs 100-200 for the registration and people who do not have that money will not get jobs," said Ashish Ranjan from Jan Jagaran Shakti Sanghathan (JJSS), a trade union. The system that is supposed to be there is not and unions have to pressurize the government at the grassroot level to make the job cards, he added.
Currently we are not facing any difficulty in giving people job cards, said Ashwini. "We are collaborating with the labour department and not facing any problems," she added. While experts say that the allocation for the scheme in the budget has been significantly increasing in proportion to the demand. However, the funds allocated for this scheme under the Union Budget 2022-23 have been slashed by 25 percent. Funds have declined from Rs 98,000 crore last year to Rs 73,000 crore this year.