Regular work commuters worry about timely metro feeder buses for their office trips while others are unaware of the service.
Narayan Rao gets off at the Rajarajeshwari Nagar metro station every day. His office is approximately three kms away from the station. A working professional at an insurance company, he runs down the stairs, books an auto and catches his breath only when he sits in it.. He yearns for a bus service that can reduce this hustle in morning hours and take him to his office, peacefully. But, on the other exit of the metro station, a few buses stand empty, waiting for passengers, leaving with three commuters. The bus conductor swipes off the sweat of his forehead and exclaims, "Why do people not know about the metro feeder buses?"
Metro feeder buses for achieving last-mile connectivity have failed to meet their desired revenue and targets due to less frequent buses for work commuters. Moreover, lack of information among commuters and less ridership numbers have reduced the number of metro feeder buses on roads.
Shanta, a working professional at Public Works Department (PWD), said, "The frequency of metro feeder buses is really less and during the peak hours of mornings and evenings, there are no buses. Sometimes, the bus comes at a gap of 20-30 minutes and I cannot wait for that long to reach my office and hence I book an auto."
Another regular work commuter, Revathi said that the frequency of the buses was better before the pandemic but now the waiting time has increased. She used to take a metro feeder bus from Jayanagar metro station to a stop near her office in Indira nagar and the waiting time would be around five minutes, three years ago, she added. Since the service is cheap and required amongst working professionals, the frequency and waiting time should be worked upon for faster connectivity, Revathi further said.
The metro feeder buses are cleaner, safer and better maintained than Bangalore Metropolitan Transport Corporation (BMTC) buses that are crowded, Shanta said. "Metro feeder buses are required for daily commuters because they charge significantly less, just Rs. 20, compared to Rs. 100 charged by auto-rickshaws for the same distance," she further said.
Bangalore Metro Rail Corporation Limited (BMRCL) and BMTC had come to an agreement of metro feeder bus system after the commencement of Bengaluru Metro Reach 1 Project (M.G. Road to Baiyappanahalli) in 2011. The aim was to connect feeder services to nearby areas including metro stations and locations between the metro stations.
But, these services are incurring losses due to low usage and high operational costs, as stated in a study conducted by the Center for Study of Science, Technology and Policy (CSTEP). The Karnataka government had asked CSTEP to conduct technical research in suggesting ways to better integrate BMRCL and BMTC for last and first mile connectivity.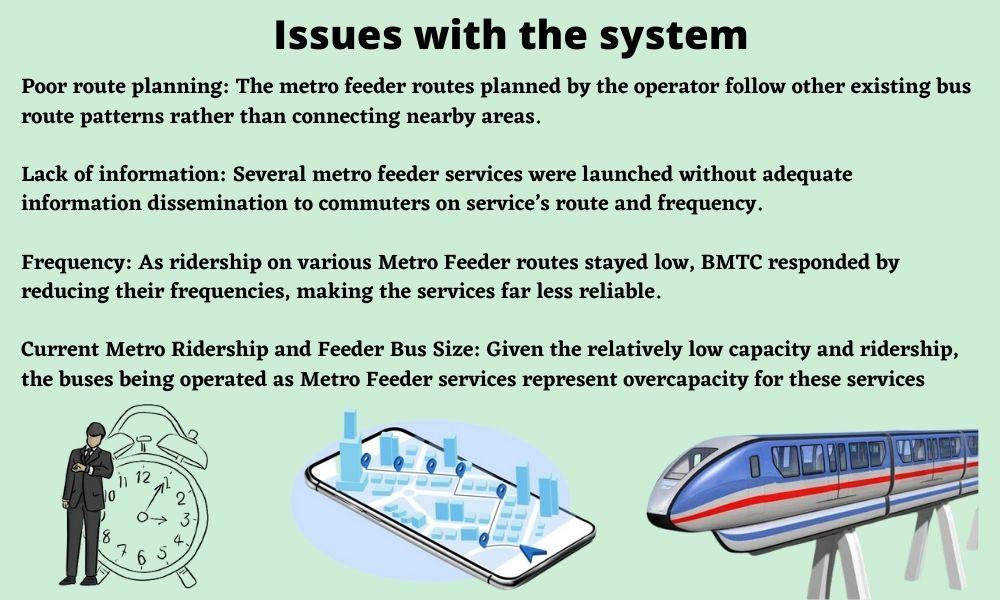 Moreover, in a report by World Resources Institute (WRI) for examining the metro feeder service in Bangalore, it was found that several bus routes failed to gain significant ridership turning the project into a heavily loss-making service. This in turn, was followed by a cut in the number of buses leading to further infrequent timings.
In 2018, the buses reduced from 192 to 155 further reducing the frequency of rides. Since work commuters are time-specific, infrequent bus timings are unlikely to convert them into regular users of the metro feeder buses.
Additionally, the commuters were not given enough information about the metro feeder bus services which led to less ridership numbers. Rao said, "I have never heard about the concept of metro feeder buses. But if there is actually a service like that, it would be really beneficial for me."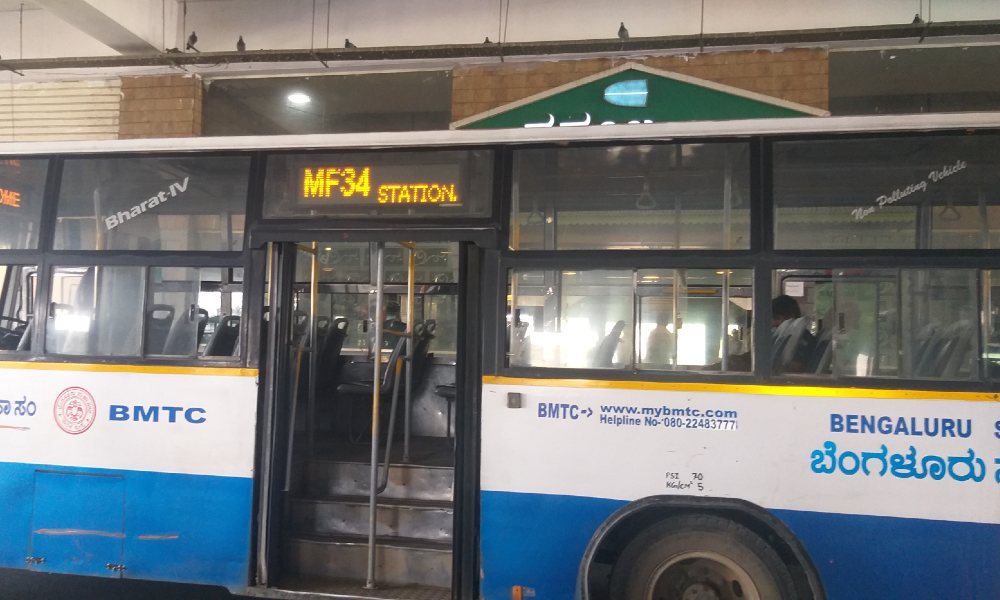 However, Annaraya, the bus conductor from BMTC at Rajarajeshwari Nagar metro station said that eight metro feeder buses run from the metro station but the ridership is really low, about 15-20 people at a maximum. "The frequency of these buses varies from 20 to 30-45 minutes and the passengers do not wait for that long. They either take an auto or a cab. People do not wish to take these cheaper options as they immediately want to move further after exiting the metro station."
The issue of frequency troubles commuters at other metro stations too. Manju, a security professional at the Kengeri Bus Terminal metro station said, "There are many metro feeder buses but they come every 30 to 45 minutes. Commuters do not wait for that long and hence they take a bus from the depot nearby." He directs and informs people about various buses at the exit of the metro and he sees them take other vehicles instead of waiting for a metro feeder bus, Manju added.
R Muniveere Gowda, Deputy General Manager(DGM), Connectivity, BMRCL, said that since the agreement of the metro feeder buses was with BMTC, they handle the operations of these buses and BMRCL does not have track of the buses or their ridership numbers.
However, Ajit B. Torgal, Public Relations Officer at BMTC said that the metro feeder bus system is working efficiently though they do not have data regarding the ridership numbers.
Last and First Mile Connectivity
The concept of feeder systems was introduced to make the public transport system accessible to the people. Ajinkya S. Mane, a transport industry expert and researcher said, "Using public transport system requires people to first reach a metro station or a bus stand from their homes. The feeder system thereby fills this Intermediate Public Transport (IPT) gap to board people from places near to their houses and take them to the respective public transport (metro station or a bus stand)."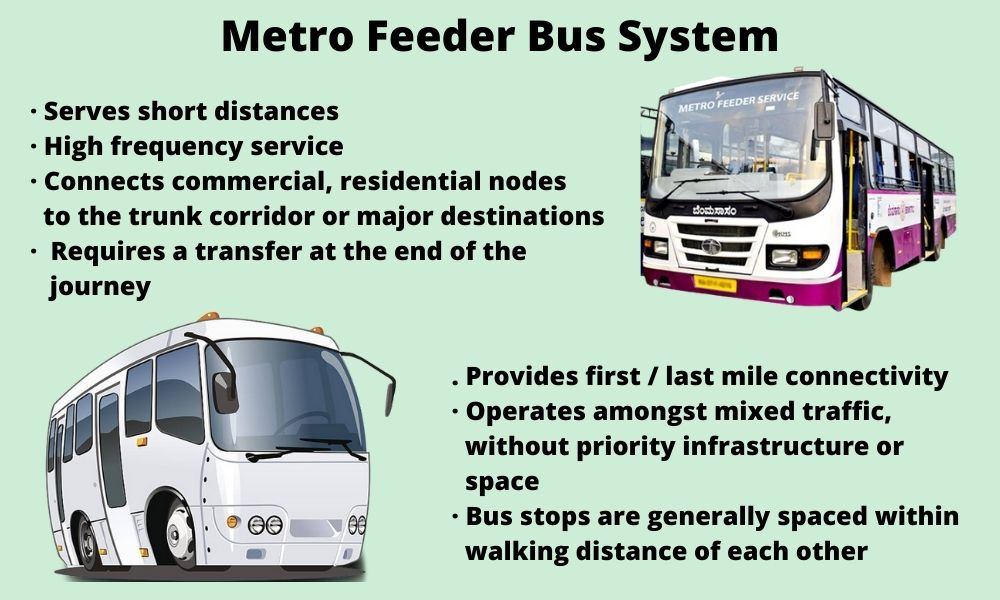 Covering the distance from home or office to the nearest metro station, is termed as last and first mile connectivity. The aim of metro feeder buses is to help people use these services at a walking distance, he added. "Further, the need of such systems is to reduce carbon emissions from vehicles as cabs are booked for a single person which increases the number of vehicular emissions on the road," Mane said.
The feeder bus systems can be efficient by surveying people's requirement and demands of frequency. If the system is generating low revenue, it is because of lack of coordination and strategic planning within the system, Mane further said. Hence, a privatized feeder system might be helpful, he further said.
Another challenge lies in the fact that not all destinations have high ridership numbers. Hence, running good frequency buses for less visited places would be financially difficult, Mane added.