Bengaluru has seen a sharp increase in the number of fire accidents thanks to a lack of safety measures.
Bengaluru: Buildings burn; fire brigades rescue. More and more buildings are burning in Bengaluru. The latest NCRB data shows the cases of fire accidents have risen from 2808 in 2018 to more than 3114 in 2019.
In 2015, a state-wide audit of fire safety violations in high-rise buildings in Karnataka by the Fire and Emergency Services Department found that over 14,000 buildings in Karnataka were not following safety measures. Out of these, 13,214 buildings were in Bangalore.
Cracks in the building
Radha Chanchani, Managing Associate, Research and Practice, EMBARQ India, recently looked at the building fire safety norms and found discrepancies. Buildings are supposed to be regulated by the city's master plan, which in this case, is the Revised Master Plan (RMP) 2015.
According to RMP 2015, a high-rise building is supposed to be 24 meters tall. But BBMP, which follows the national building code, maintains the height at 15 meters. This leads to discrepancies in the regulations for the building like ground cover, setback and building height. A setback is the minimum open space required around a building. The taller a building, the higher is its setback, according to Chanchani. So, in case of fire emergencies, the fire engine can find sufficient space to move around.
"In most buildings in Bangalore, setback violations are rampant. In some buildings where the minimum setback should be two meters, the setback is something around half a meter," said Radha. There are special fire safety norms for high-rise buildings.
But, according to Radha, the fire safety requirements lack clarity. This article talks in detail about how the fire-safety norms in high-rise buildings in Bangalore are confusing. "There are a lot of rules lacking clarity. There isn't enough monitoring and enforcing the norms either," Radha added.
Since there are so many buildings in Bangalore that have violations in their setback, the Akrama-Sakrama 2020 guide has planned to regularise the violations if the setback limit exceeds 50 per cent for residential buildings and 25 per cent for commercial buildings.
The issue isn't just with high-rise buildings. Low-rise buildings and bars were also found violating fire-safety norms.
On Prevention
Major Prashant Rai, ex Indian Army officer, who started fire prevent services in 2012, believes the basic fire safety norms in a building are being maintained. "The Karnataka government has mandated 70 per cent of the residents to avail training under the fire department on fire and emergency aid," said Major Rai, "They have to get certified. Only after this, the apartment gets the no-objection certificate."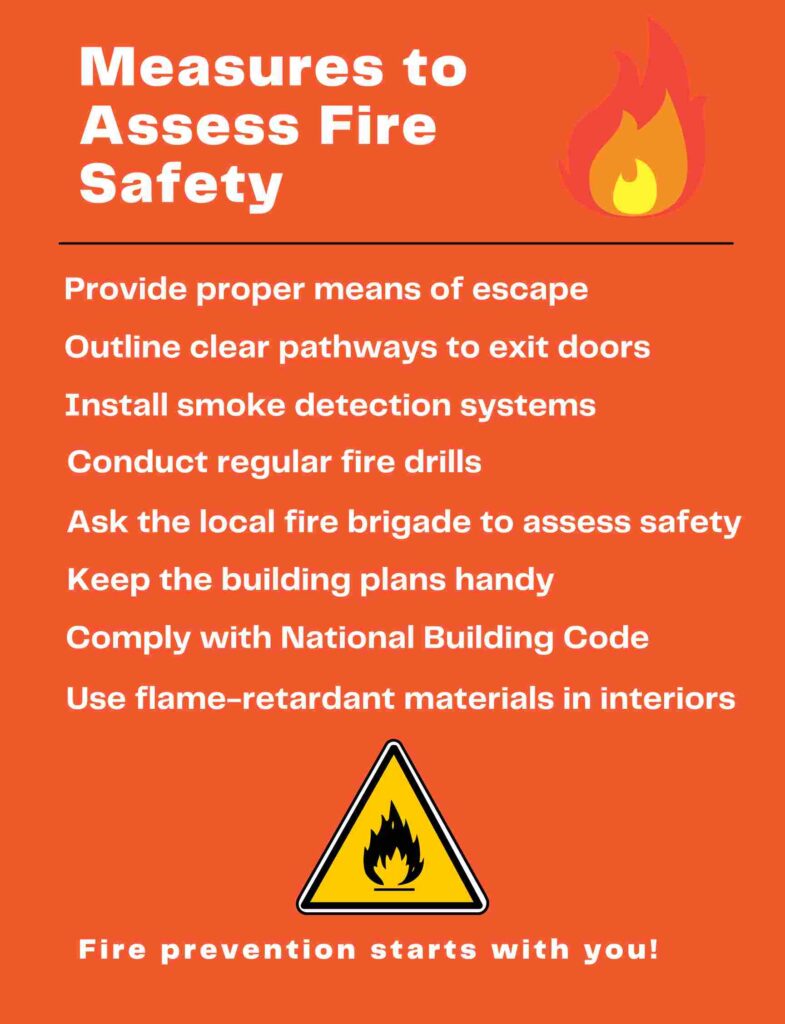 Every apartment complex has a hydro-hydrant system. This system generally consists of the fire hose, sprinkler and various pumps. Fire Brigades use this system, right at the injection point, in case additional water is required. Then there is the control panel which controls the alarms and the detection systems.
Lastly, there are various types of fire extinguishers. These extinguishers are kept at all critical and common areas of the apartment premises. So, they can be used in case of a fire.
"These basic things, not under the purview of the government, are generally being done. Various companies maintain an annual maintenance contract for these apartment complexes to keep the conditions of the fire equipment in check," added Major Rai.
According to the Fire Safety notification by the BBMP, every high-rise building needs to have a fire officer, who shall keep a check on the fire-safety regulations. The BBMP considers a 15-meter- tall building to be high-rise.
Ritwik Mohapatra, a resident of Krishna Krupa Apartment in Kaggadassapura, lives in an 18-meter-tall (four storeyed) building. "The building is over 20 years old. We don't have an emergency exit or a fire officer," said Ritwik.
The Case for 2020
The NCRB 2020 report hasn't been released yet. Hence, an accurate estimate of the number of fire accidents cannot be made. But on January 5, 2021, a fire broke out at a battery factory.
On January 19, 2021, another fire broke out at a dry waste dump near Nadaprabhu Kempegowda metro station in Majestic. Rishabh Shetty, an actor, was injured in a fire accident on the sets of a movie on March 2, 2021. On November 16, 2020, a Bengaluru pub met with a fire accident. On August 12, 2020, five people burned to death after a private bus caught on fire in Karnataka's Chitradurga. A gas turbine exploded at a power plant injuring 15 on October 3, 2020. A fire broke out at a chemical factory on November 10, 2020.
Fire and Safety Association of India (FSAI), conducted a survey and found that around 4000 hospitals in the state were not following fire safety protocol. Two years later, the same situation continued.
Not Yet Translated Into Action on Ground
According to information shared by Beyond Carlton, there are only two hospitals for victims of fire accidents in Bangalore. The state government has announced that February 23 will be observed as the Fire Prevention and Awareness Day in memory of the Carlton Towers fire of February 23, 2010.
A gazette notification released by the Karnataka Home Department in 2011 stated the measures for ensuring fire safety in high-rise buildings. According to this report, the release of the notification in 2011 put a lot of pressure on the fire department to check for violations, but no action has been taken.
Bengaluru only has 21 fire stations when it should have 71. This leads to a delayed response in fire rescue. City traffic has been stated as a major cause for delays. The fire department has written to the Karnataka government to build 20 more fire stations in heavily populated areas.