The city is running with 21 fire stations, whereas the final report of Karnataka State Fire and Emergency Services suggests that it should have 71.
By Labani Mahanandy
It was just two months since a fire from cylinder blast claimed the life of a mother-daughter in Chandra layout, and various other fire hazards in the country sparked concerns over the fire safety system of the city. The final report of Karnataka State Fire and Emergency Services (KSFES) which was published in 2011, suggests that the required number of fire stations in Bengaluru is 71 to cover the whole area under Bruhat Bengaluru Mahanagara Palike (BBMP) whereas the city currently has 21 fire stations available. As per the KSFES norms, there is supposed to be one fire station for every 50,000 population. Bengaluru currently has a population of 12.9512 Million.
The data provided by the KSFES say that in the year 2018, the fire calls were 2808, whereas, in the year 2019, the fire calls rose to 3114."We have been conducting inspections in various high-rise buildings and public places regularly to ensure that the people of Bengaluru do not fall prey to more fire accidents. We suggest building owners keep their entrances clear to allow free space to bring in our vehicles in case of a fire emergency. In the year 2018, we got over almost 2500 calls, while last year the number of fire calls was way above 3000," Manjunath, Chief Fire Officer of KSFES control room told the SoftCopy.
Bengaluru is comprised of various risk zones and the suggested response times for that vary according to their individual risk factors. For high-risk zones, the response time is three minutes while for high, medium and for low-risk zones it is five minutes. K. Shivakumar, KSFES Department Director said, "Owing to the increasing amount of traffic in the city, the response times seem to be an impossible mark to reach."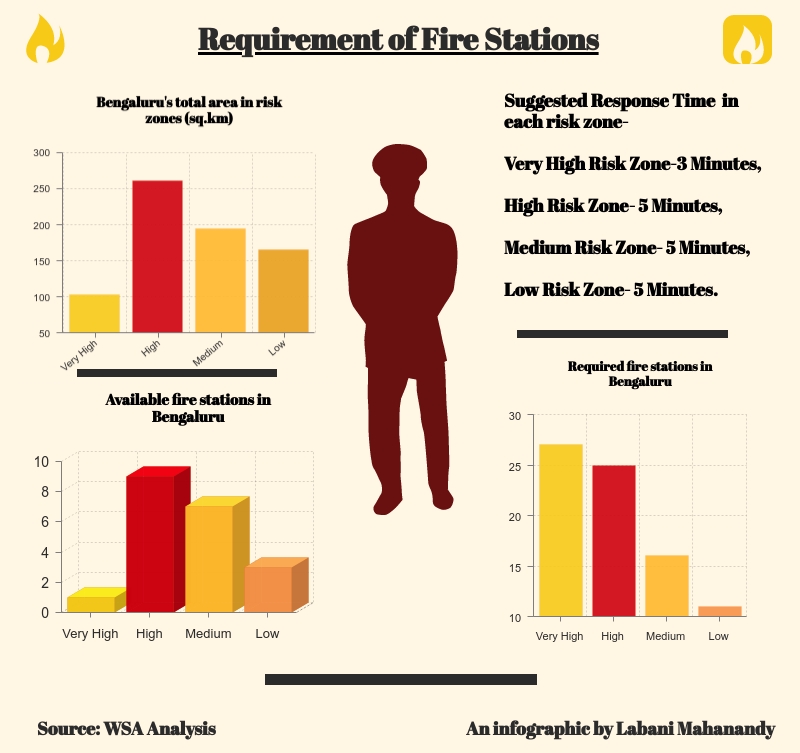 Bengaluru is functioning with 21 fire stations currently, thereby running behind by 50 fire stations. J. H. Ravishankar, Deputy Director, Karnataka State Fire, and Emergency Services said, "The norms say that we are supposed to have one fire station for every two-lakh people but currently we are running with only 21 fire stations in whole Bengaluru."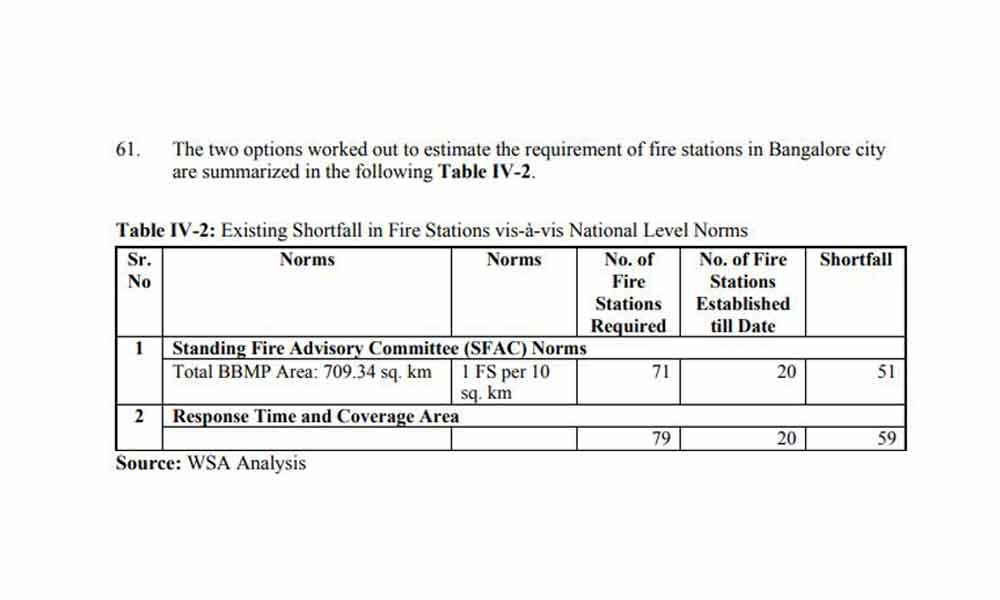 The founder of Beyond Carlton, the first city-specific fire safety community who is working to spread fire safety awareness, said, "This city keeps expanding and new layouts are being formed and they are given electricity and water then why not fire stations? This shows the lack of infrastructure that we are living with and it is a worrying point. We keep pushing the department to improve the infrastructure. Currently, we are pushing them if the stations could be built by private companies and donated to the fire department. Though places where people congregate like stations, malls—should have an internal fire safety system. Given the traffic condition of the city and a handful of traffic stations, fire brigade can't reach in the suggested time."
"Ideally, multi-storeyed buildings, their fire system should always be working. We recommend checking their sprinklers, tanks, pumps to be checked regularly and maintained but those are hardly followed. So, in case of an emergency, we find that either the sprinkler isn't working or something else."
Subhash Kumar, director of 3S Life Safe Akademie, said, "Bengaluru is a developing city and currently has 170 pin codes compiling both the urban and rural areas, and each of them is supposed to have a separate fire station which is way too far from reality. Other than that, we should also be aware of the usage of LPG which can cause a fire if not maintained properly. There are certain measures that the citizens have to take to avoid any fire hazard given how the city hardly got 20 fire stations."