Due to lack of manpower, the Karnataka High Court drowns in huge numbers of pending cases.
Riddhiman Roy
An acute shortage of judges in Karnataka High Court is affecting the delivery of justice in the state. Only 32 working judges are there in the High Court as against the 62 vacant spots, leading to hearings getting prolonged.
Senior advocate T Nagappa said, "This court is suffering from a severe lack of judges, due to which hearings of most cases keep dragging for many years, especially civil cases that exceed more than three years."
 The National Judicial Data Grid shows that there are 2,52,260 cases still pending in the Karnataka High Court. There has been an increase of 17.1per cent in the number of pending cases as compared to last year. Litigants are agitated over cases being prolonged. More than 45 per cent  of the cases have been going on for more than three years.
"I spend most of my time in hearings. Most of thetimes the case is adjourned to the following month due to lack of evidence from the other party. It is very tough to get a date for your case's hearing", said Mr. Chandrashekhar T.N, whose civil property dispute case has been going for six years, and is still pending.
Manjunath M R, a Karnataka High Court advocate and a member of the Advocate's Association Bangalore said, "Almost 30 out of 50 cases are adjourned in court halls because of the immense pressure on working judges, who have to manage hearing all cases within the stipulated time."
Mr Nagesh Kumar, a senior advocate, said that retirement and transfer are two of the major reasons for the lack of these judges. "Seven judges had retired last year and six transferred to different states this year, adding to the vacancies", he added.
Former Chief Justice of India, Ranjan Gogoi, who delivered a convocation address at National Law university (NLU) in Bangalore in August this year, questioned the trend of law graduates choosing a corporate law firm over a government legal profession. He urged the graduates to not let their minds get swayed by the corporate world.
Data released by the Law Ministry in 2018 revealed that on an average, there are only 19 judges for every  10 lakh people in India. The data shows that while the subordinate courts have a shortage of 5748 judicial officers, the 24 high courts of India, face 406 vacancies.
Ravi Shankar Prasad, the Union Law Minister admitted to acute shortage of judges and bureaucrats in the Indian judicial system in July 2019. He said that although there are no vacancies in the Supreme Court, which has reached its full strength of 31 judges, for the first time since 2009, there were 403 vacancies in the high courts as of July 1, 2019.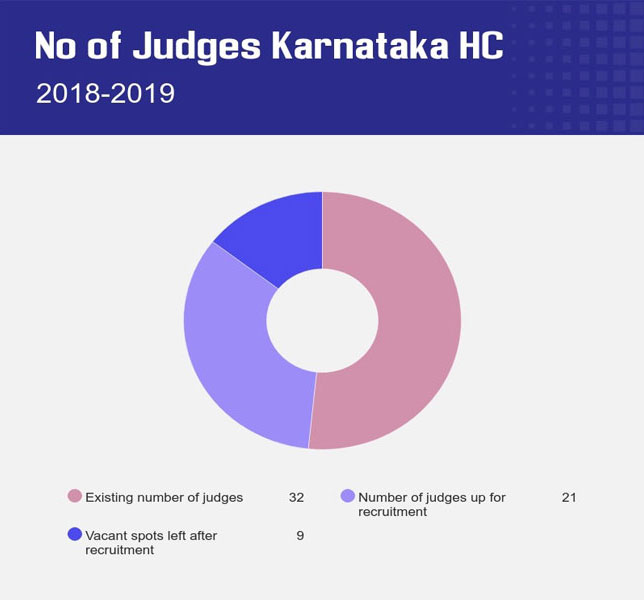 A notice for recruitment of 21 judges was issued by the Karnataka High Court website in  October 2019. Even after all the 21 seats put up for recruitment are filled up, nine seats will still remain vacant.