Number of internet shutdowns in India from 2012 to 2022
By Yogada Sharma
India has seen the highest number of Internet shutdowns for four years till 2022 in the world. Of the 106 shutdowns, 85 were found in Jammu and Kashmir alone.
---
Countries with highest non-internet users
By Navya Sruthi
India is the country with the highest number of people not using the internet, which is followed by China, according to the data till 2022.
---
Top 10 Countries with highest internet freedom,2022
By Rakshanda Sharma
India ranked 51st on the Internet freedom index of 2022. Iceland lead the chart with 95 points, followed by Estonia and Costa Rica
Top search engines used by Indians
By Aditi
Source: Statcounter
Google is the most used search engine among Indians. Around 98% of the Indians use Google as their search engine.
---
Most common languages used on the internet
By Janvi 
English was the most popular language online, representing 25.9 percent of worldwide internet users. Chinese was ranked second with a 19.4 percent share. The Spanish language was the third most used language online. The top ten languages accounted for 76.9 percent of global internet users.
"Rest of languages means the other languages except the one presented in the infographic."
---
Number of Internet users worldwide
By Anuja Mistry
Source: Statista
Over the years the number of internet users has increased. Asia has been in the lead since 2011, in 2022 Asia has reached more than 2.9 billion internet users. It is followed by Europe with more than 750 million internet users.
---
Top 8 Countries with the Highest Number of Internet Users (2022)
By Shreya Chekkilla
This graph is a comparison of the population and number of internet users of the top eight countries with the highest number of internet users in 2022. China stands at first place, with India and USA at second and third places respectively.
---
Most followed politicians across social media platforms
By Sneha SK
Leaders of populous countries have more followers compared to other countries. The most followed politicians are mostly all men. The most followed world leader across all platforms is Indian Prime Minister Narendra Modi.
---
Most popular websites worldwide
By M. Surabhi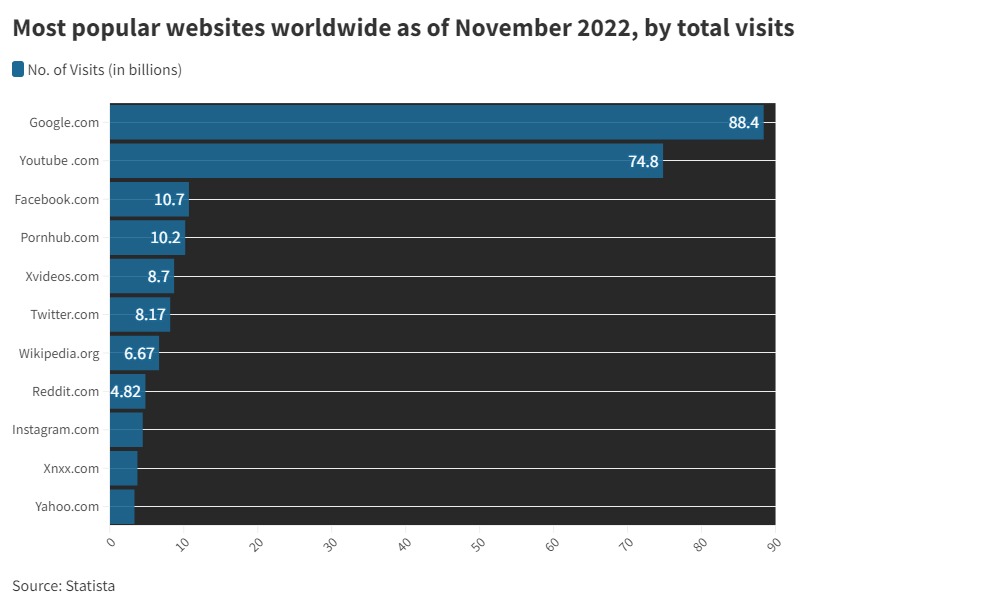 ---
The Internet User Gender Parity Score
By Sai Aravindh
In all regions, the gender Internet divide has been narrowing in recent years Thus, the global gender parity score has improved from 0.89 in 2018 to 0.92 in 2020.
---
Internet penetration rate in India over the years
By Ajay Rag
Internet penetration in India is on a rise over the last decade. The penetration rate surged over 40 percent from 2007.
---
Most popular tweets on Twitter as of 2023, by number of likes
By Aanchal Kumari
A tweet from Thunberg which was published on December 27th 2022, went viral, which was a response to American- British media personality Andrew Tate who requested her mail address so that he could submit a collection of cars each one's corresponding emissions.
---
Top 10 fastest mobile internet in countries in 2022
By Deepali
Qatar rocketed to first place on the Speedtest Global Index ahead of it hosting the 2022 FIFA worldcup with a median download speed of 176.18 Mbps in November 2022 from 98.10 Mbps in November 2022.