Customers from Hospet, Gorakhpur, Mohali etc. lead online luxury spending in the country. However, most luxury brands in the country are still accessible only in the metro cities.
Glittery shoes, flashy handbags and expensive watches, all on display behind clear glass walls. They scream wealth and are in stores whose names are hard to pronounce for most people. They cater to clients who, say store managers, are "elite, sophisticated and mostly from the metro cities." However, a new report shows that online luxury sales in the country are mostly driven by people living in Tier 2 and Tier 3 cities.
'Atlas of Influence' a report published by The Voice of Fashion magazine is India's first white paper on the luxury market. It shows that spending on luxury products online, especially after COVID-19 has gone up in non-metro cities. According to the report, 64 percent of respondents said that they bought luxury products online for the first time during the pandemic. Farfetch, Ajio Luxe, and Tata CLiQ Luxury are some preferred websites to shop luxury in the country. Among the super spenders on Ajio Luxe is a couple from Jamnagar, the report says. "Jointly they spent more than Rs. 26 lakh online in the last year on luxury goods," shows the report.
Accessibility
Shreyas.M, a student of Hotel Management from Welcome Group Graduate School of Hotel Administration, Manipal, said, "Where I stay there are none of these premium stores. So, it's easier for me to buy online." Shreyas, who is from Mysore said that the location he lives in is also a factor for online shopping. "Since Mysore is not a metropolitan area, the delivery takes longer. It takes about five to six days for me to get a product," he said. He recently bought a Dolce and Gabbana perfume from Ajio Luxe.
Ritesh Ahuja, a luxury retail expert said that the customer base for luxury items in Tier 2 and Tier 3 cities will expand in the coming years due to the increase in the per capita income of the people living in these areas. "Luxury brands in India may want to consider rethinking their marketing strategy to make themselves more accessible, given the growth of the market in non-metro cities. This can include opening showrooms, increasing online and offline marketing efforts and also potentially adjusting price and product offerings to cater to the preferences of customers in these cities," he said.
Among the Top 100 spenders on Ajio Luxe are customers from Hospet, Gorakhpur, Dadri, Mohali, Panipat, Kohima, Ludhiana and Lucknow. These include people like "principal of a nursing school, a first-time book author, a clinical psychology intern and a few junior politicians besides other professionals." Their average annual spending on this one online platform is Rs. nine lakhs.
Ajio Luxe currently delivers to 13,300 pin codes, making it accessible to a large population. However, most luxury and premium brands are only available in metropolitan cities. Archita, fashion consultant at Michael Kors showroom in UB City mall said that the brand is available on Ajio Luxe and Tata CLiQ. Their physical stores are only available in Mumbai, Delhi, Bangalore, Kolkata, and Chennai. They now plan to open their store in the Kempegowda International Airport as well, Archita said. She said that most of their customers are from Tier 1 cities and are between the age group of 18 to 50 years. She said that their clientele is all high-income individuals as the prices of their handbags start from Rs. 35,000. She added that 60 to 70 percent of their sales are from customers living in Tier 1 cities.
Similarly, Sumanthi, a fashion consultant for Rareism, a premium clothing brand, said that very few of their clients are from Tier 2 and Tier 3 cities. "Even if we open a store or deliver to those pin codes, we may only get one or two sales," she said.
Gitanjali Saxena, Business Head, Tata CLiQ Luxury, told BusinessLine, "Apart from metro and Tier I cities, our strategy also focused on customer acquisition in Tier 2 and Tier 3 markets, where we have noticed an increase in demand. The non-metro markets contribute to almost 40 per cent of the platform's revenue." She also added that online luxury websites is helping brands reach high income individuals in Tier 2 to Tier 4 cities to grow and expand their customer base.
According to a report by Euromonitor, India's luxury market is expected to grow from $6 billion in 2021 to $8.5 billion in 2022, a 42 percent increase.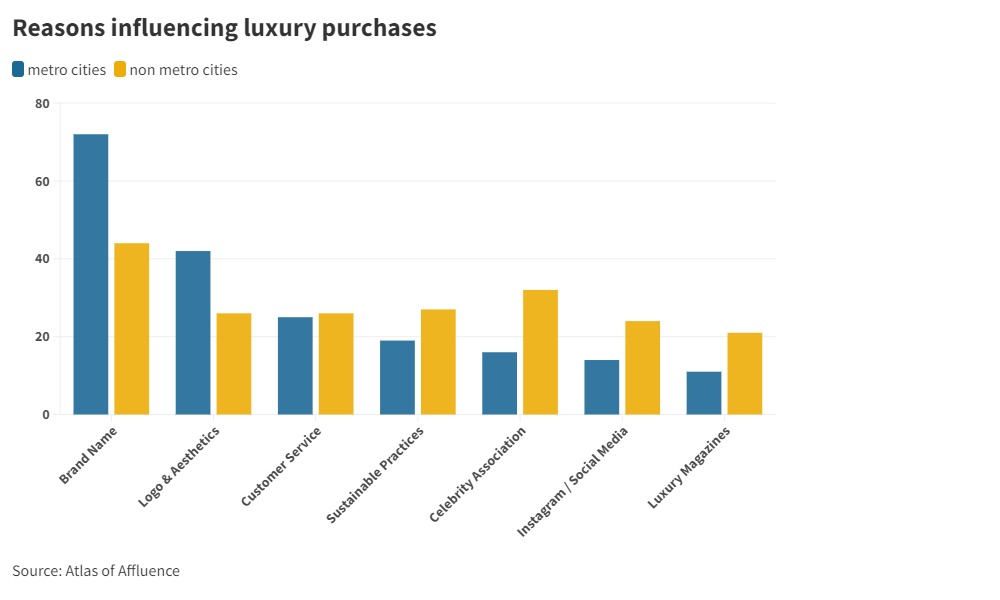 Personal Touch
Customer service is an important aspect of the luxury shopping experience. The consultants greet each customer that walks into their store with a bright smile and say hello. A consultant is by their side immediately as they step in, guiding them around the store. According to the report, 65 percent of those shopping online said that they are "eagerly" waiting for the stores to open. Abhirup Roy, a resident of Bangalore said that he prefers buying luxury products in-person than online. "It is better to go and check yourself before buying a luxury item. You can get the touch and feel. This is not possible online," he said. He added that if some brands have a no-return policy, then it is hard on the customer.
Anshu Mishra, General Manager, Metro Cash and Carry India said that luxury brands can emulate the personal shopping experience online through various ways. "Using Artificial Intelligence (AI) to personalize product recommendations based on previous purchases, using live chat support or virtual shopping assistants to help navigate the website, using high quality images and product descriptions can help create a loyal customer base," he said.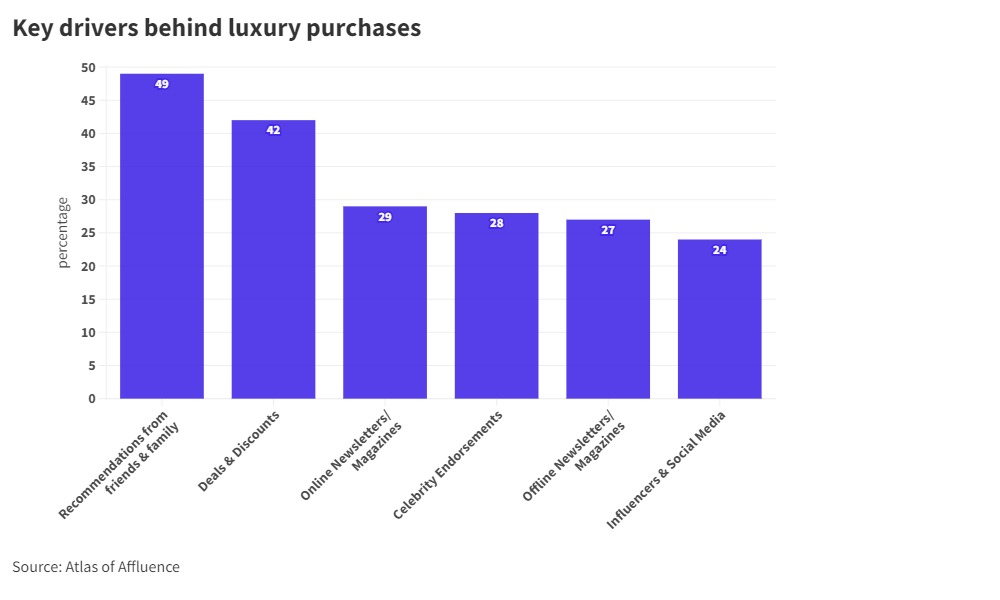 Aspirational
Sustainable practices, celebrity association and social media presence are all factors rated highly by customers from non-metros in influencing their decision to buy a luxury product. "It is evident that luxury triggers and desires remain high in non-metros," the report stated. Rising wealth and the aspirational quality behind owing luxury products may soon make India an important market for international luxury brands said Mishra. "Changing consumer attitudes towards luxury and a growing appreciation for premium products and experiences are also contributing to the growth of the luxury market in India," he said. "International luxury brands are taking notice of this trend and looking to tap into this market," he added.
Expansion
"Luxury brands considering expansion can no longer be relevant unless they extend their footprint to India's non-metropolitan cities," the report stated. Having a physical presence in these cities can help increase brand visibility and appeal to customers and help build brand awareness and trust which is important in the luxury goods market, said Ahuja. "However, this decision should be based on careful consideration of factors like consumer demand, market size and competition. Cost and logistics involved in operating stores in these cities should also be factored in," he said.
Having pop-up stores and events to engage with potential customers, partnering with local retailers in to showcase and sell the product and developing targeted marketing campaigns that resonate with customers in to appeal to their lifestyle and preferences are some ways that luxury brands can make their products accessible in smaller cities, said Mishra.
Chandigarh, Ahmedabad, Raipur, Indore, Jaipur, Pune, Surat, Lucknow, Nagpur and a number of other centers are all ready for the luxury explosion, the report shows.