Political parties in the state are promising welfare schemes if elected to power. However, parties say their opponents are offering short term incentives and not long-term solutions.
Cash transfer of Rs.2000 for housewives, 200 units of free electricity, free education. These are some of the promises made by political parties in the state to woo voters ahead of the upcoming assembly elections.
The Congress has said that if elected to power, it will provide 200 units of free electricity and will give all women who are the head of a family Rs.2000 per month in a direct cash transfer. This will help people living in rural areas, according to the party. Anand Prasad, Karnataka Pradesh Congress Committee (KPCC), said, "The 200 units of free electricity is a huge bonus for people in rural areas as they end up saving money. Secondly, Rs. 2000 per month adds up to Rs.24,000 per year. This is a huge amount which can be used for paying school fees or even paying for healthcare." In an article in the Times of India, the free electricity promise is expected to cost the state an estimated Rs.9000 crores yearly and the cash transfer Rs. 36,000 crores.
The Aam Admi Party (AAP), in response, said that other parties in the state are "copying" their policies. Ashok Mruthyunjaya, party spokesperson said, "We have been implementing schemes like free electricity for a long time. I do not think it is a freebie, it is a social economic benefit given to people who don't have it. Just because Congress and the Bharatiya Janata Party (BJP) copy our methodology does not mean we will leave our basics."
Similarly,  Janata Dal (Secular) (JDS) announced its 'Pancharatna' scheme, promising free education, healthcare and housing among others. State President and party spokesperson, Prathap Kanagal, said that other parties in the state are working on short term programs and they are not permanent solutions. "We are working on permanent upliftment programs. How long will you give money? Congress has promised Rs.2000 per month for women, we want women to earn Rs.20,000 per month," he said.
The ruling BJP  has said that their party is very clear in its stand on such schemes which it calls "freebies". "The prime minister has said that distribution of freebies is against the development of our country. We will educate people and give opportunities to people to work and earn money and not handout freebies. The schemes offered by other parties are not welfare schemes, as they are not sustainable for the economy or the government in the long run," said MG Mahesh, State spokesperson, BJP.
The Supreme Court, in its Aug.26 hearing, said that there needs to be a distinction between a handout and a welfare scheme. There is no official definition of what a freebie is and what is not.
Divya Mishra, Professor of economics, Sophia Girls College, said, "Anything free of cost is always a freebie. It is never a welfare scheme. A welfare scheme is something where you focus on upgrading society for a longer term, for transformation of society, rather than just helping them out for a short period."
On the other hand, free electricity for poor households will help in agriculture and may be productive and cannot be considered unproductive, said a political science professor, who wanted to maintain anonymity. "It is not safe to club welfare with freebies. Welfare is a state's obligation. Freebies many a time are short term electoral gains," he added.
The court observed that issuing freebies through tax payers' money by parties can have a serious effect on the economy. Currently, Karnataka's debt burden amounts to Rs. 5.2 lakh crore and interest payment on the debt is Rs. 14,178 crores, data from the state's mid-year financial review for 2022-23 shows.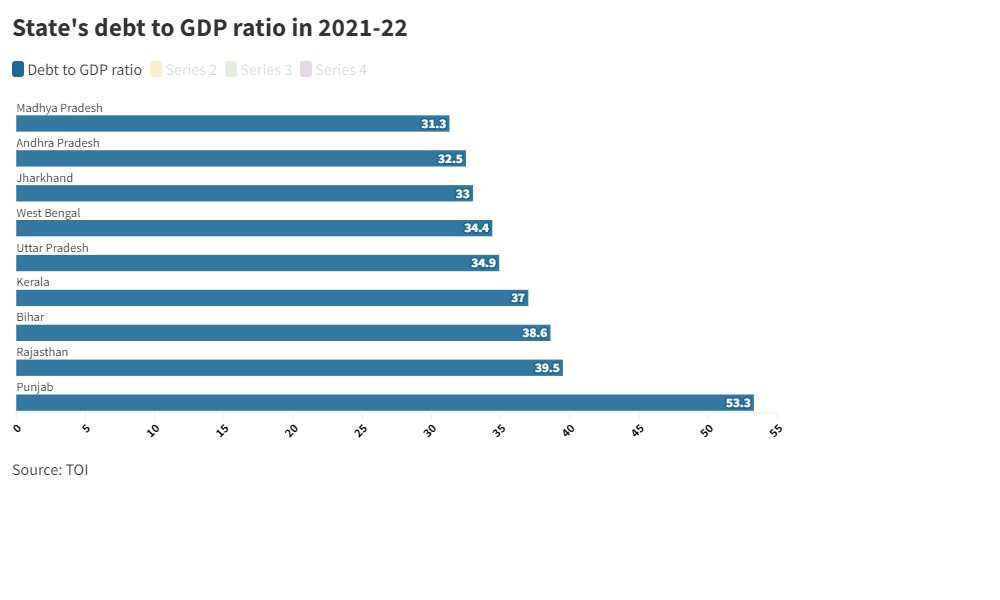 "Vote oriented; unproductive freebies will put a strain on the exchequer. But targeted, well designed welfare measures supporting productive capacity of the people should not be called pointless spending," he said.
Apart from welfare schemes, there have been instances of party workers distributing free pressure cookers, sweets and sarees across the state. These commodities are doled out to voters in the hopes that it will translate into votes for the party. However, it is just a perception that these individual benefits may garner votes, the (political science) professor said.
"During Pongal festival, the BJP party in our locality distributed free sarees, rice and other things," said Venkatesh, resident of Jalahalli. He added that giving free ration or sarees during festivals may be more valuable than giving away free cash. "The voters will remember those MLAs who gave them freebies and will be loyal to them," he said.
The Supreme Court has referred the petition seeking a ban on "irrational freebies" to a three-judge bench. The court questioned why there cannot be an all-party meeting to discuss ways to regulate freebies. However, party members say that the prospects of such a meeting happening are slim. "If we can regulate it, it will be a good thing, but I doubt that it will happen," said Kanagal of JD(s).