India freelancers earning in USD are seeing an increase in their income with the weakening of the Rupee by 11 percent in 2022.
The rupee's depreciation against the dollar throughout 2022 has been an unexpected bonus for freelancers.
"I received about USD 1100 monthly, which at the beginning of 2022 was around Rs. 82,000 and it gradually increased to Rs. 88,000 – Rs. 90,000. I was aware of the currency volatility in the past, but this 10 percent depreciation is a huge deal and this has also been an incentive to work," said Raghav, an editor of a United States based football blogging site.
While around 80,000 Indian IT and allied professionals are facing layoffs in the US, freelancers earning in dollars are receiving an increased income as a result of the Indian currency's depreciation against the US Dollar (USD).
The Indian Rupee had depreciated by about 25 percent since 2014, Finance Minister Nirmala Sitharaman informed the Lok Sabha on July 2022. The exchange rate of the Indian rupee against the USD was Rs. 74.29, and at the end of 2022, the rate depreciated to Rs. 82.61. This depreciation of over 11 percent is the currency's poorest performance since 2013. This depreciation was due to the aggressive monetary policy by the US Federal Reserve to curb US inflation.
Aathish, another part-time sports blogger, also said that this rupee depreciation has been a good incentive to write more as he earns on per article basis. "At the beginning of the year, I was earning around Rs. 150 for an article but that went up to Rs. 162 – Rs. 165 for that same piece," he said. He added that he earned around Rs. 45,000 per month, an increase of Rs. 5000 – Rs. 7000, solely attributed to rupee depreciation against the dollar.
Both Raghav and Aathish said that although this is not a big increase in their income, this can be seen positively as many IT professionals in India are being layoff due to economic conditions. "I read the news that many tech companies are firing employees to cut expenses, but we freelancers on the other hand are seeing our income increase by a slight margin for no work of our own," said Aathish.
A 2018 report from PayPal shows that one in four freelancers around the world is from India. Reports also show that in India around 15 million individuals are freelancers working primarily in industries such as programming, finance, designing, animation, content, and academic writing.
A study done by Razorpay shows that 60 percent of freelancers are under the age of 30 years and the average income of freelancers across India is Rs. 20 lakhs per annum.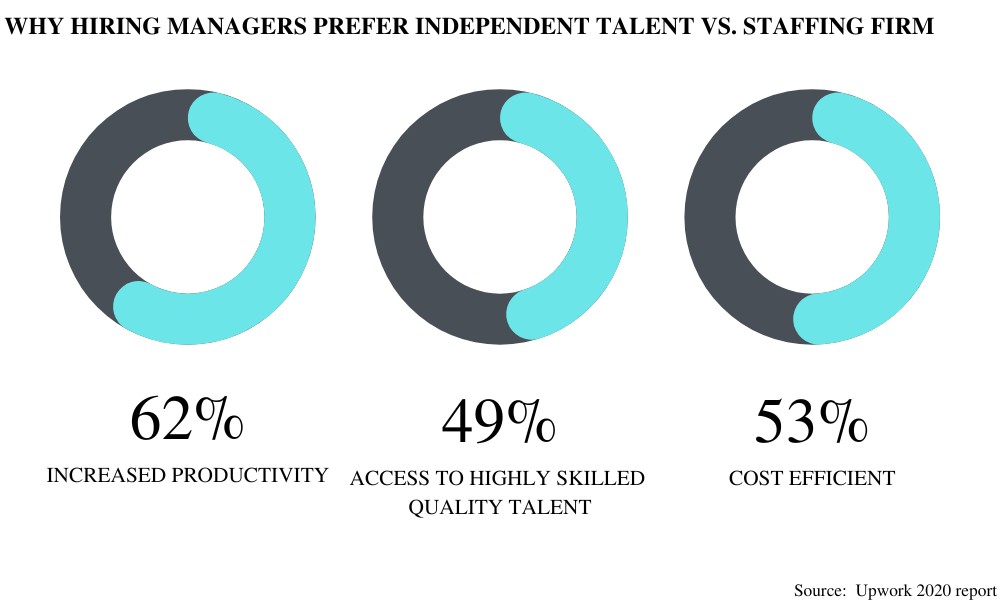 Kaibalyapati Mishra, a research fellow at the Indian Institute for Social and Economic Change, Bengaluru, said, "Freelancing has an important role to play in the economy given the sheer size of its market, but it might require some support from government to regulate the creative market."
He attributed this huge market due to the acceptance and adaptability to new technology, the higher unemployment rate, and the large youth population of the country.
Multinational IT companies, in the country, gained alongside side with the freelancers as a result of currency depreciation. The quarterly results of these companies show that the Year-on-Year (YoY) growth of revenue in Constant Currency (CC) terms has been less than the actual growth.
The revenue growth of TCS was 19.1 percent YoY, but in CC terms the growth was 13.5 percent. Wipro had revenue growth of 14.4 percent, but the same in CC terms was only 10.4 percent YoY. The difference between the revenue growth rate in actual terms and CC terms for HCL Technologies was 4.2 percent.
Ragul (name changed), a freelance trainer, who has worked with multiple companies said that currently, short contracts lasting three–six months seem to be the trend, and the demand for software freelancers is high because of the economic conditions.
"Software sector companies seem to prefer freelancers as they don't need to spend money on training and just get the job done quickly." He added that the animation and video editing sector is also on the rise.
Huge influxes of people who have been laid off are entering the freelancing market, which ultimately is bringing down the payout for freelancers, said Ragul. "My sector, which is training and development, is at a major low as people who do not know how to train or even conduct sessions are becoming freelance trainers and asking for lower payouts," he added.
Apart from freelancers, receivers of remittances from the US have also experienced an increase in the amount they receive.
Architect Manoj Venkatesan (AIA), Director of BIMtech, works in the US and sends monthly remittances of about USD 800 – USD 1000 to his parents. He said that with the rupee depreciating, his parents were able to benefit as they were able to receive and spend more. "Since the receivers are old-aged people, even a small increase in their remittance amount could be useful for their medical and other expenses," he said.
Manoj Venkatesan said that this depreciation also made him rethink the decision of sending in contract work to India. "I have not sent the job contracts that I made at the beginning of the year as I would have to spend more when the rupee depreciates. So, I had to cancel and do the work myself as it went out of my budget," he said. He added that this happened to four of his contracts as they were all on a fixed contract basis.
Kaibalyapati Mishra said that currency depreciation is like a double-edged sword, but with more negative repercussions than positive. "Major effect of depreciation is on the oil prices which will ultimately cause the inflation to rise." He said that keeping in mind the country's economic dependence on the US, depreciation will keep rising, and it is one of the reasons all financial and international agencies have forecasted a recession for the world economy in the coming years.