Among 25,000 registered cows under the Punyakoti scheme in Karnataka only 200 were adopted in six months. One new government owned Goshalas to be set up in each of the 31 districts by January end.
The Punyakoti Dattu Yojane (Cow Adoption Programme) launched by the Karnataka Government has seen 217 cows adopted among 25,640 registered cows in the 215 registered Goshalas (Cow Shelters), data from the Animal Husbandry and Veterinary Services(AH and VS)shows. The adoption scheme has received donation of total Rs.19,85,000, where the cost of adopting one cow for a year is Rs. 11,000.
Donations for cow feeding have been made by 422 people and Rs. 17,76,500 has been collected. For donations under other categories, Rs. 4,13,922 have been contributed by 2070 individuals.
In the Budget 2022-23, Rs.50 cores were allotted to increase the number of government goshalas from 31 to 100 in Karnataka. "One new government owned Goshala will be set up in each district of Karnataka by the end of January which will have the capacity to shelter 100 to 150 cows and in the future, it will be sheltering more cows,' said S.N Nagaraju, Joint Director, AH and VS.
The Punyakoti Dattu Yojane (Cow Adoption Programme) was launched on July 28, 2022 by the AH&VS Department. This programme was launched to encourage citizens to adopt cows. Citizens or organisations can adopt or feed a cow and can also donate to goshalas through the website. It provides the option of choosing a specific goshala and a specific cow. Cows can be adopted for durations varying from three months, six months, nine months or a year till five years and  the costs vary from Rs.2750, toRs.55,000.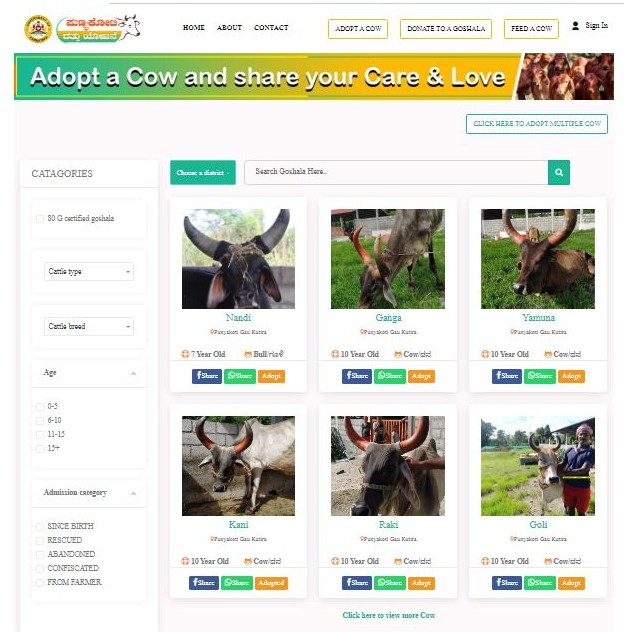 Deepak Jain of the Jeeva Daya Goshala has around 200 rescued cows and buffaloes which were going to be taken for slaughtering. Deepak says, "We have received Rs.30,000 as donation when three of our cows got adopted. Per day cost of maintaining cattle is Rs. 150 to 200 and yearlong it is approximately Rs. 36,000, so Rs. 11000 for a cow is a negligible amount but it helps." The goshala incurs expense around Rs. three to four lakhs per month.
More cows
The number of cows being sheltered in goshalas has increased after the implementation of Prevention of Slaughter and Preservation of Cattle Act, 2020. An official said, "It is very difficult to allot the full amount required for maintenance of goshalas from the government's side every year so this scheme is very important and will be successful through public donations."
Balayogi Mahant Shri Ganesh Das, from Udaseen Math Goshala said, "No cows have been adopted yet and we have not received any funds through the scheme, even though the website is updated with all the details. ." He also said that they were meant to receive the donation amount through Pay U, but so far they have not received any. An official of the department said the donations go directly to the goshalas and one or two percent of fee is collected by the people who run the app.
Pay U is a payment gateway app which helps in easy transaction of money on websites. It is also one of the partners under the start-up India initiative by the Department for Promotion of Industry and Internal Trade. An official of the AH and VS, said the donations go directly to the Goshalas and one or 2 percent of fee is collected by the people who run the app.
The goshalas to be eligible for this scheme have to be registered under thestate government. Once a goshala is registered a veterinary officer or a doctor of the said district inspects all the cows and the goshala for them to be registered under the scheme. After inspection the officer or the shelter owner can upload the details of the goshala and of each cow along with their photo, and breed, so donations can be made for specific cows.
Punyakoti Gau Kutira is registered on the website with 50 cows where one has been adopted and two donations have been made. Srinivasa, from the goshala said, "We have got only Rs. 15,000.It will be helpful if I receive funds from the scheme to buy fodder as it has now become expensive. I have to buy grass and because of too much rain the ragi crop I cultivated has also been destroyed."
Deepak also added that the initiative is good but to maintain 200 cows he says it needs that much labour, fodder and money.
Cause Celebre
S.N Nagarju said posters of this scheme with QR codes on them are being put up at public spaces like bus stands, milk booths, etc, to attract more donors and adoptions. He also added that Kannada actor Kiccha Sudeep has been appointed as the ambassador for the programme so it can gain more popularity. The actor has adopted 31 cows under this scheme.
The official also added that the Karnataka Milk Federation had been requested to donate and adopt under this scheme, while many government employees have also been donating and adopting cows.
The Chief Minister of Karnataka, B.S Bommai, had adopted 11 cows, and the Minster for Animal Husbandry had adopted 31 cows from each district of the Karnataka state when the scheme was launched.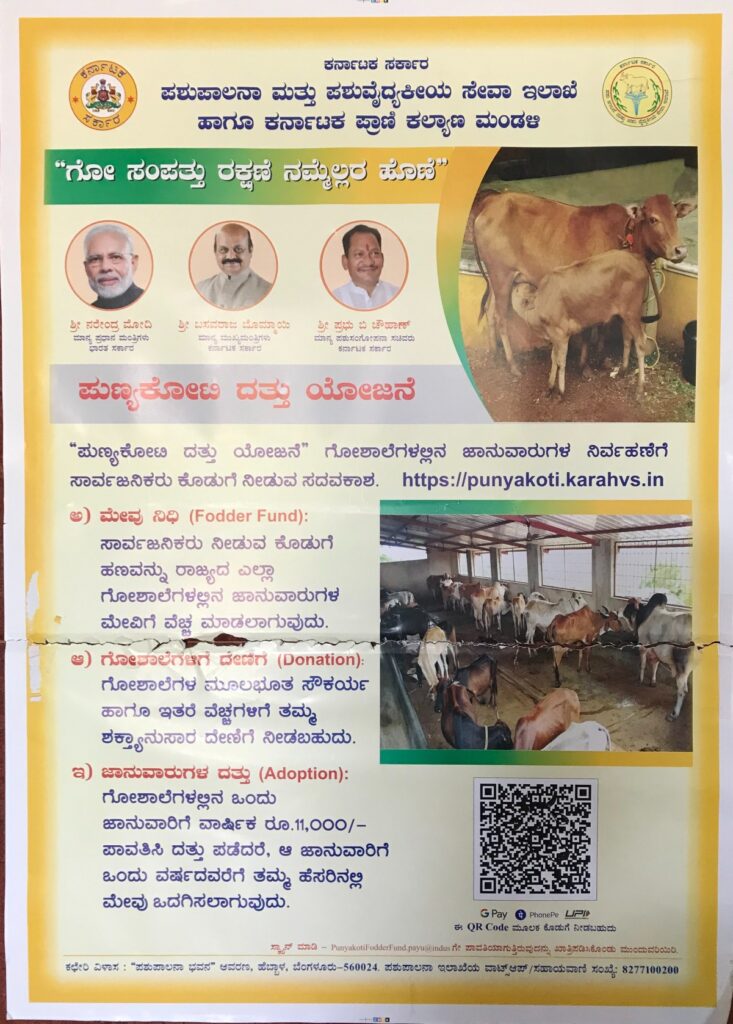 Govt. donations.
According to an article in The Hindu, CM Bommai has written to the Karnataka State Government Employees Association to urge Group A and B employees to adopt cows by donating Rs.11,000.
The article presented two opposing point of views where the Karnataka State Government Employees 'Association had supported and said 99 percent of employees were supporting the idea. Whereas D. Shivashankar, president of the SC/ST Government Employees' Association said, "Donating for cattle adoption scheme is not the duty of government employees. Instead, employees can at least be asked to contribute to the eradication of malnutrition among children, which will contribute to real nation building."
C S. Shadakshari, President of the Karnataka State Government Employees Association on Oct. 15 met the Chief Minister and handed him a consent letter to contribute towards the cow adoption scheme. The letter mentioned the consent of employees to make a one-time deduction from their October salaries. Group A employees would donate Rs.11,000 Group B and C Rs. 4000 and Rs. 400 respectively. This would fetch the Government around Rs.80 to 100 crores quoted an ANI article.
The Karnataka Government on November 16 had issued an order of permission where one day's salary would be deducted from government employees who were funding the scheme. A report by The News Minute says though the contribution were initially said to be voluntary later the employees who did not want to contribute should send a written request to the salary disbursing authorities by November 25.
Karnataka Milk Federation
Dr. Raghavendra, Joint Director, Karnataka Milk Federation said "The government has fixed a target of two animals per society for adoption at Rs. 11,000 per contribution per dairy cooperative society. Circulars for such contributions have been sent to the milk unions. The milk unions and the dairies that fall under them will make contributions according to the profits and losses they make under the cattle development funds falling under the dairy societies."
He also said on Jan.28 the Chief Minister has called for a meeting to discuss the Punyakoti Dattu Yojane and the contributions that have been made under it.